Construction sites both large and small require equipment that increases efficiency and productivity. Heavy equipment keeps timelines intact and projects within budget. Knuckle boom lifts, aka "articulating boom lifts", have remained a staple machine requirement on job sites for their versatility, ease of use, and ability to lift workers safely to levels of height. While they are knowing for lifting workers, they also provide cost savings to construction projects.
Improve Your Construction Site's Bottom Line

Increased Productivity

Because of their unique design, they have the ability to maneuver in tight spaces, making them ideal for indoor and outdoor use. These machines have also reduced the need for scaffolding or ladders, increasing job site productivity. They are also equipped with a variety of safety features such as outriggers, stabilizers, and emergency lowering systems, so employees can perform their jobs with confidence and security. Because of their ability to provide increased efficiency and enhanced safety, knuckle boom lifts have become an essential machine for many construction projects.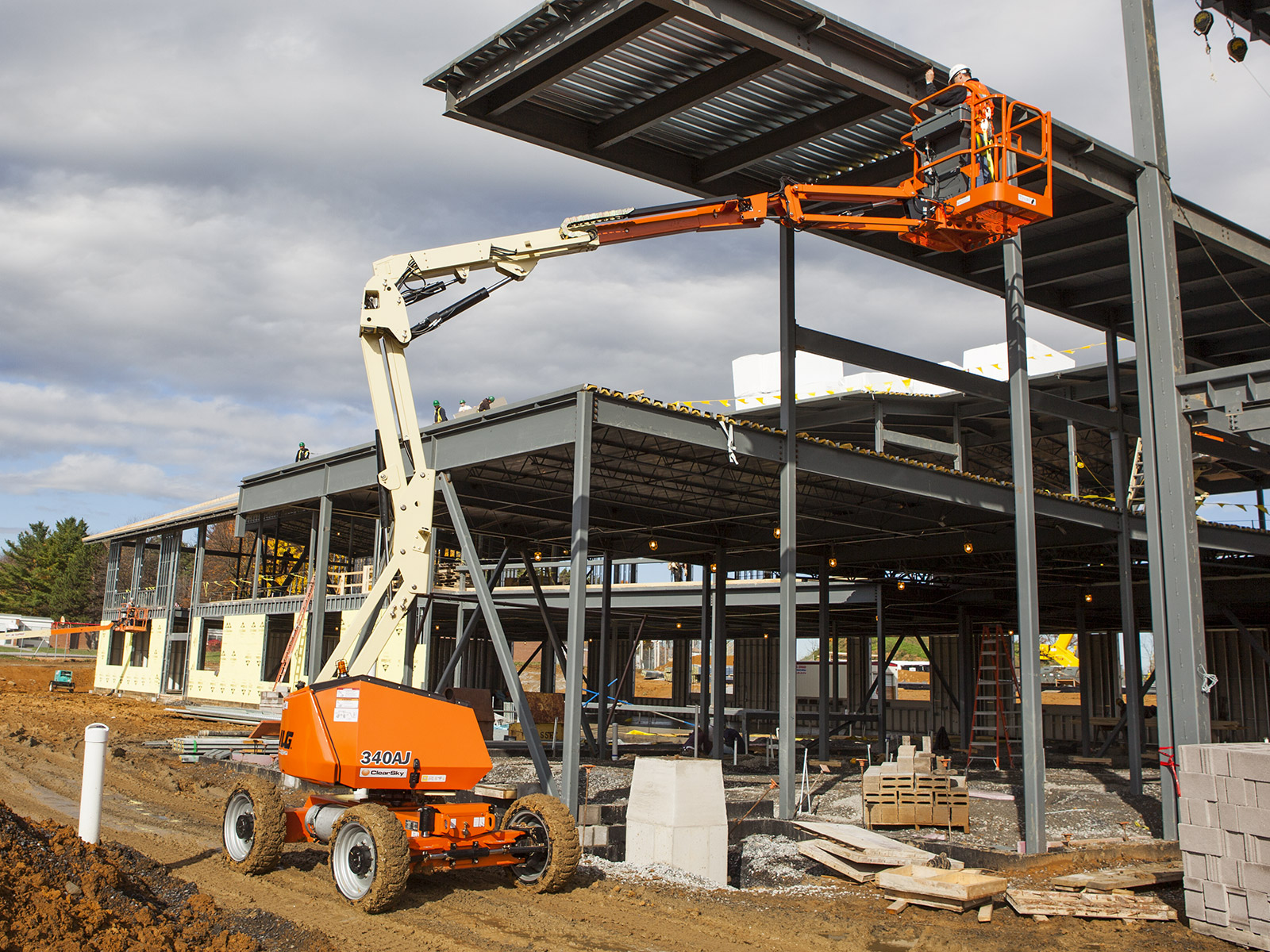 Reduced Labor Costs

These aerial lifts feature a telescopic arm with multiple joints, giving them the ability to reach higher and further than a traditional boom lift. The extended reach means workers can complete tasks that would otherwise take time to set up, which in turn reduces the need for manual labor (reducing labor costs). They can be used in a variety of construction related projects from paintining, roofing, electrical, maintenance, etc.
Improved Safety

Because of their ability to access hard-to-reach areas and leave a smaller footprint, knuckle boom lifts increase worker safety by reducing the risk of falls and injuries from manual labor. Knuckle boom lifts are also equipped with a variety of safety features that provide operators with the ability to lift slowly and with precision, reducing the risk of job site accidents. Some models have sensors that detect obstacles and automatically stop the lift if needed. With these types of safety features, operators can work with confidence knowing they have a safe and reliable piece of equipment.
Greater Flexibility

With their ability to articulate and bend at multiple ponts, knuckle booms can reach over difficult obstacles and around tight corners, making these machines ideal for projects in urban areas or on rough terrains. Features like outriggers provide stability during operation, reducing the risk of delays and accidents.
About All Access Services


Serving construction projects throughout Southern California with heavy equipment rentals, we have 3 locations in San Diego, Orange County, and Riverside to serve our clients. Each location carries a fleet of scissor lifts, telehandlers, boom lifts, and forklifts available for rent at affordable rates. We strive to provide the best customer service in the industry and hope to earn your trust and business!
Knuckle Boom Rental Sizes We Carry
Crawler Booms (Call for Details)