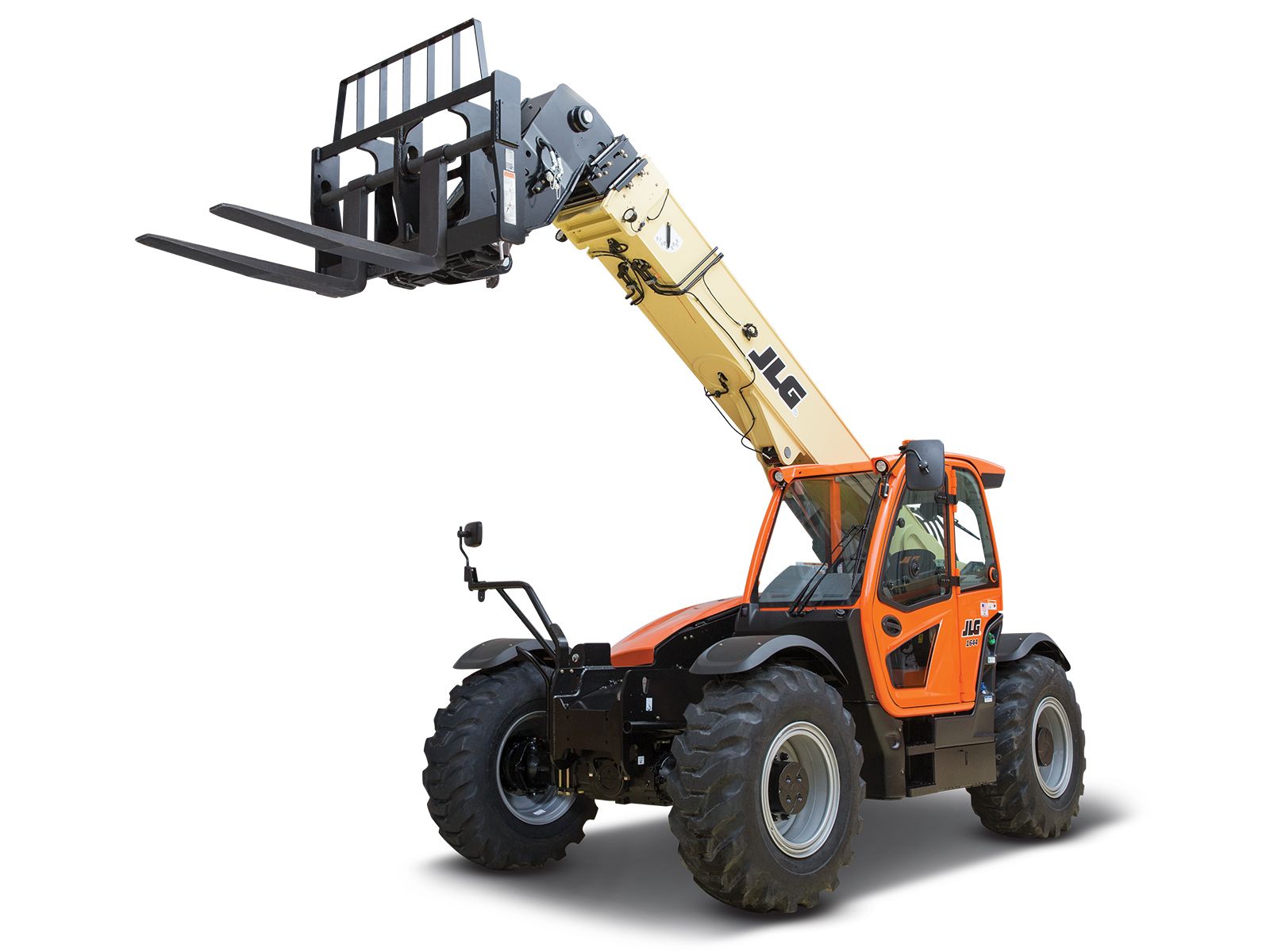 15,650 lb Telehandler Rental Key Features
Operator Comfort - Spacious cab with enhanced visibility, 2-speed hydrostatic transmission and optional boom float and ride control
Operator Confidence - Precision gravity lowering system, soft stop boom control, optional reverse sensing system and reversing camera
Versatility - Integrated tow hitch and a wide range of attachments for more options on the job site
SmartLoad Technology - Automatic attachment recognition and real-time load monitoring for enhanced productivity
GET A QUOTE NOW

888-777-5990

Request a Quote
15,650 Telehandler Specifications
Product Overview
MAKE: JLG
MODEL: 1644 High Capacity Model
EQUIPMENT TYPE: TELEHANDLER LIFT RENTAL
ENGINE TYPE: HYDROSTATIC
TERRAIN TYPE: ALL-TERRAIN
Product Features
PLATFORM HEIGHT: 43' 7"
LIFT CAPACITY AT FULL HEIGHT: 6750 lbs
PLATFORM SIZE: 96"L X 36"W
Maximum Reach: 31 ft 1 in. / 9.47 m
SPEED - MAXIMUM LIFT: 18.3 seconds
MACHINE HEIGHT: 8 ft 1 inch
LIFT CAPACITY AT MAX REACH: 2,000 LBS
15,650 lb Telehandler Description

The JLG 15,650 high-capacity telehandler is a versatile piece of equipment that is designed for heavy-duty lifting and material handling tasks. It's engineered to provide exceptional performance in construction, industrial, and other industries where high lifting capacities and reach are required.
The 1644 telehandler has a lifting capacity of 15,650 pounds and a lift height of up to 55 feet. This machine can also handle a wide range of materials and equipment easily. Featuring a robust telescopic boom that extends and retracts smoothly, allowing operators to position loads at various heights and distances easily.
This machine comes equipped with advanced hydraulics and controls, the 1644 model offer precise and responsive operation for safe handling of heavy loads. Comes with a spacious cabin that provides a comfortable working environment for the operator, along with excellent visibility and intuitive controls.
For challenging terrains, the JLG 15,650 lb telehandler features 4-wheel drive and stee capabilities, giving it the ability to maneuver with stability through rough conditions. It's also equipped with foam-filled tires for optimal traction and stability on uneven surfaces.
Safety features in the telehandler design include a load management system that provides real-time information about the load's weight and stability, allowing operators to make informed decsions during lifting operations. ALso comes with outrigger for added stability when working at max capacity or uneven ground.
To request a free quote, please fill out our "Request Estimate" form or give us a call to speak with a representative!