Serving all of San Diego with heavy equipment rentals, All Access Services has a fleet of articulating boom lifts available for rent on a short or long-term basis. We work with construction sites, warehouses, and contractors of all industries for their aerial equipment needs. All of our equipent is meticulously maintained to the highest industry performance and safety standards; our clients need the equipment ready to perform each and every day, and we make sure that it does. You simply let us know the day you need the equipment delivered and we will deliver it to your job site, once it's no longer needed, we pick it up!
We offer a free quote, please fill out our "Request Estimate" form or give us a call to speak with a representative!
What Is an Articulating Boom Lift?

Articulating boom lifts go by a few different names. Some manufacturers call them "articulating booms" or "up-and-over booms." Likewise, some contractors call them "cherry pickers" or "knuckle booms." No matter what you call them, these versatile machines get the job done.
Articulating booms are aerial lifts that rely on hydraulics to move up and down. While they come in different sizes, all models have great reach capabilities. They can lift workers dozens of feet in the air. Thanks to their hinges, or articulations, they can extend over walls, wires, and other barriers.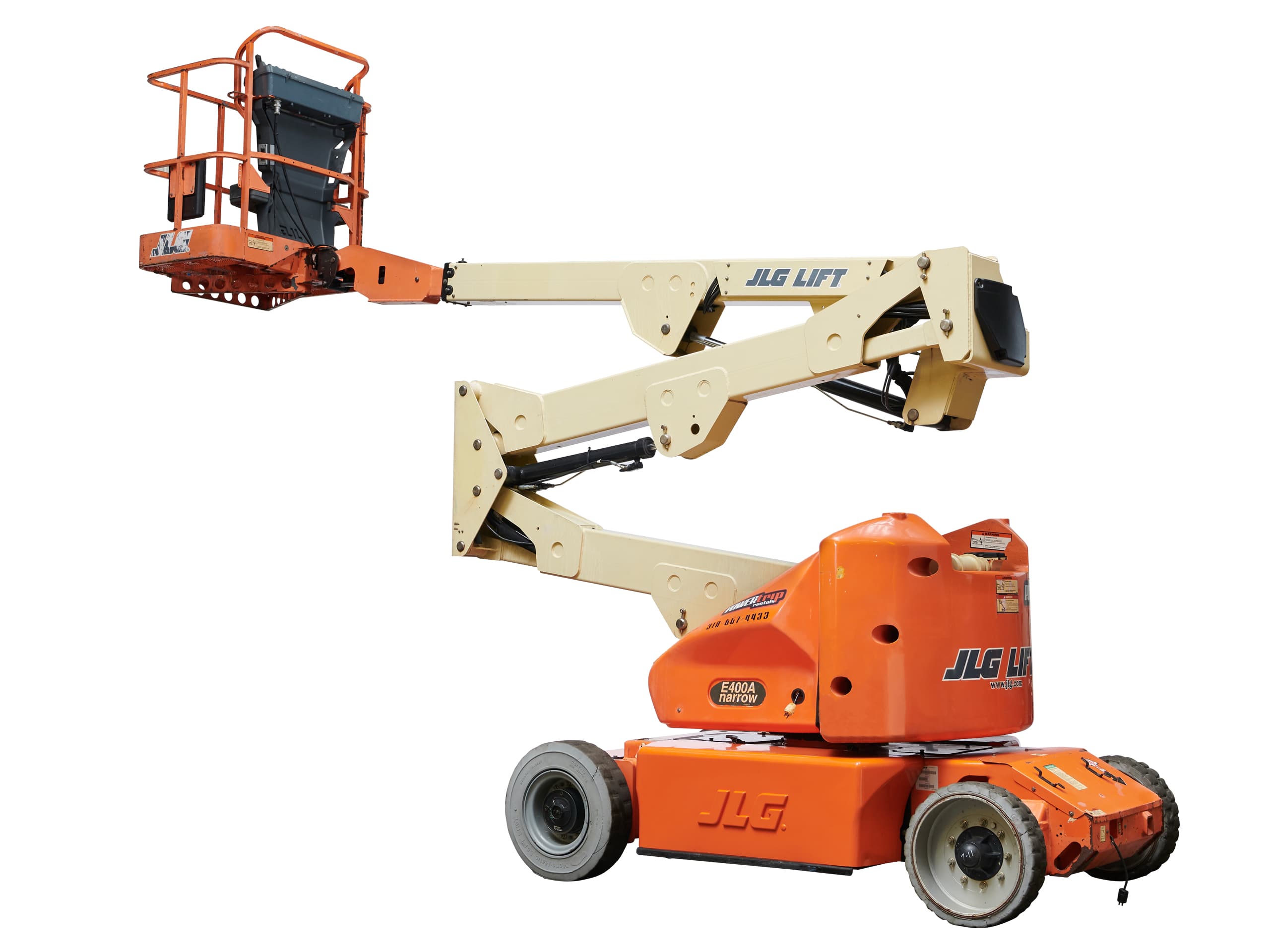 Key Lift Features

Articulating Arm

The primary feature that sets this machine apart from the straight boom lift is the articulating arm which consists of multiple sections connected by hinges (or knuckles). The design of these hinges provides increased maneuverability and job site flexibility, allowing the boom lift to lift workers and materials up, over, and around obstacles.
Height and Reach

There are a variety of articulating boom lift models available with different sizes that provide varying height and reach capabilities. Most lifts have a height range of 30 to 150 feet with horizontal outreach extending from 20 to 80 feet. There are larger articulating lifts referred to as "crawler booms" that can extend up to 185 feet or more.
Platform Capacity

Articulating boom lifts have a platform that is attached to the end of the arm that positions operators and equipment safely. The platform capacity for these machines ranges from 500 to 1000 pounds, being able to accomodate multiple workers and materials.
About All Access Services

All Access Services provides heavy equipment for rent on a short or long-term basis for businesses of all sizes throughout San Diego County. We carry a fleet of equipment including boom lifts, telehandlers, scissor lifts, and fork lifts that are meticulously maintained for jobsite safety and performance standards. Our team of representatives can help you find the perfect articulating boom lift for your job site requirements.