JLG Industries, Inc., one of the leading companies in MEWPs and telehandlers has release its new generation of rought-terrain (RT) and electric rough-terrain (ERT) sicssor lifts in the 40 ft and 47 ft models. The new JLG 4069 and 4769 RT/ERT scissor lifts features a larger platform size and an 800 pound capacity to carry more materials and workers to height, as well as full drive height capability. These are now the tallest machines in their class, with the RT4769 and ERT4769 providing workers with access to 5-story heights, an industry first.
Rough Terrain Electric Scissor Lift Key Features

Platform Enhancements

The platforms on these new equipment models are designed to get workers closer to the work area while allowing them to bring more people, tools, and materials to levels of height. They offer model-leading capacities, delivering 28% more working area and a 0-platform offset. This minimizes the distance users have to reach to access work on buildings or other structures.
Drive At Height Capabilities

A great feature is the new rough terrain machines can be driven fully elevated, both indoors and outdoors, providing great productivity and work site efficiency. This allows these lifts to operate along the length of a building at a fixed height, decreasing the amount of trips up and down throughout the day. The RT models are available in both 2-wheel and 4-wheel drive configurations, while the electric rough terrain scissor lifts are available in 2-wheel drive.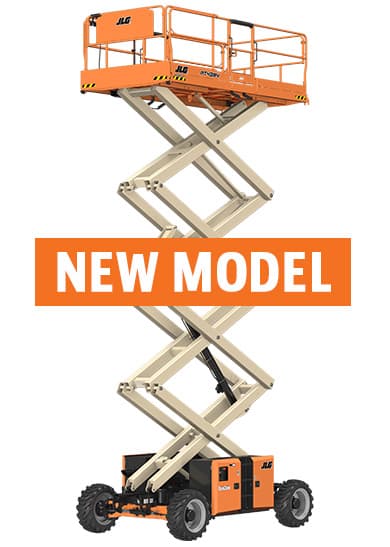 Platform Controls

The new platform control box with LCD display on these scissor lifts incorporates new technology focused on data integration that provides operators a better understanding of the machine's performance and capabilities. Example: It is able to provider operators a multitude of productivity, terrain, machine health, and safety notifications while in use.
It also includes JLG's exclusive LiftSense technology, an evolution of variable tilt. This shows users the maximum height they can reach before they elevate, based on side-to-side and front-to-back tilt and weight in the platform.
Standard Features

In 2020, the 2669 and 3369 RT/ERT models were introduced, and like those models, the new 4069 and 4769 RT/ERT scissor lifts come in either diesel/dual fuel engine models with hydrostatic drive (RT), or battery powered electric drive models (ERT). Features of the ERT models include: regenerative braking, an enhancement that actively charges the batteries during machine operation.
All JLG RT and ERT models come with rails that fold with ease. They can also be collapsed in 3 minutes or less, providing operators the ability to maneuver the machine in and through tight spaces.
All of these new rough terrain scissor lifts are ANSI A92.20/CSA B354 compliant, featuring a load sensing system that can be calibrated without weight.
Options and Accessories

Along with these industry leading features, the new JLG rough terrain scissor lifts are available with a variety of accessories, including: pipe racks and leveling jacks, to make the work day productive.
CleanGuard, a leak containment system protects sensitive flooring by safeguarding the risk of leaks. It is an environmentally friendly option avaialble on ERT models that gives users confidence to work in more places.
QuikLevel Advance is another option available on the RT models. This allows operators to automatically level the stowed scissor lift on side slopes up to 4.5 degrees and then elevate and drive a full height under certain conditions. This is very beneficial when performing work at heights along the outside length of a building that has been graded for drainage at a consistent slope.
About All Access Services


Serving construction projects throughout Southern California with heavy equipment rentals, we have 3 locations in San Diego, Orange County, and Riverside to serve our clients. Each location carries a fleet of scissor lifts, telehandlers, boom lifts, and forklifts available for rent at affordable rates. We strive to provide the best customer service in the industry and hope to earn your trust and business!