Let's be honest: You probably don't even think much about the cost of a ladder on your job site.
But did you know that ladders are a major source of expensive construction injuries?
Every time you or one of your workers uses a ladder, you're risking racking up thousands of dollars related to construction injuries — and not just from falls or falling objects either.
Ladders can lead to other occupational hazards, including ergonomic and overexertion injuries from strenuous movements and carrying or transporting them between work locations.
All of these can come with a significant price.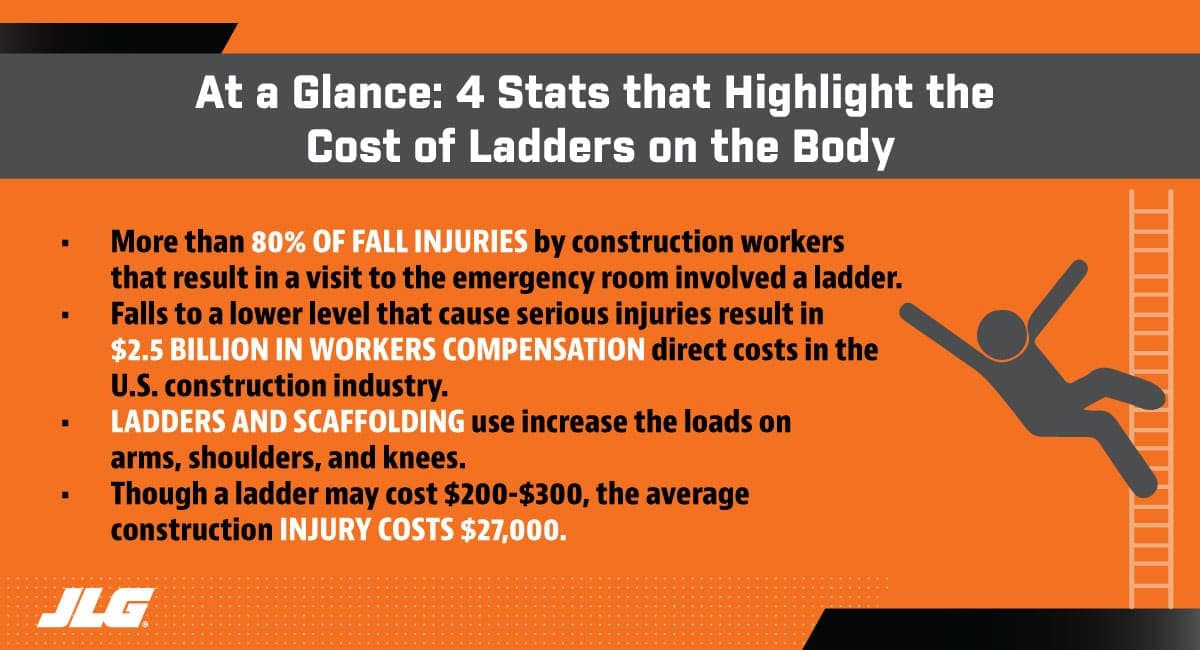 Construction injuries can result in downtime, overtime, insurance premium increases, or OSHA fines for safety violations for your business. (In 2020, the minimum OSHA fines were more than $13,000.)
For an injured worker, it can mean medical treatment expenses, time away from work, rehabilitation, and the possibility of needing to find a different role or job that pays less — or it may prevent working at all in the future. One study showed that even 3.5 years after a ladder injury, workers earned an average 7% less annually than before the injury.
In the worst-case scenarios, ladder accidents or misuse can lead to worker deaths. According to the CDC, 43% of fatal falls from 2000-2010 involved a ladder.
Though a ladder initially may seem like a relatively inexpensive, one-time investment for your construction site, when injuries are factored in, the returns quickly diminish.
The cost of construction accidents takes many factors into account. A 2007 study evaluated direct medical costs, indirect wage losses, and quality of life costs. It found that the average construction injury is $27,000.
One safety organization estimated the indirect cost of that injury to your business could be four times more.
Once you start adding all that up, you may be wondering: Are ladders really worth it?
What Costs Can You Expect From Ladder Injuries?

Emergency Room Visits
According to the Centers for Disease Control (CDC), more than 80% of fall injuries by construction workers that result in a visit to the emergency room involved a ladder.
We all know that emergency department visits are not cheap.
If you have health insurance, the average ER copay is $250. For those that have high-deductible health plans or do not have insurance, the cost of a visit could be thousands of dollars.
If an ambulance was needed, the average fee is $1,000, depending on the service.
So how many ladder injuries are sending workers to the hospital? In 2011, about 34,000 ladder-fall injuries were treated in emergency departments. Most happen when the bottom of the ladder is moved.
Alarmingly, it does not take much of a fall to end up at the hospital. The average fall distance is 7.5 ft.
Ladder falls also cause serious injuries. Of those who go to an emergency room, 14% of patients with ladder-fall injuries are admitted to the hospital. According to the 2011 NEISS-Work survey, that is nearly three times the estimated overall hospital admission rate.
A 2015 Canadian study noted that falls from ladders required a median hospital stay of greater than two weeks.
Days Away From Work
Many ladder-fall injuries result in time off from work, which can affect an employer's productivity and mean lost wages for employees.
In one year, over 15,000 ladder-fall injuries from all U.S. workers led to more than one day away from their jobs.
Often, it is more than that. A 2004 study found ladder falls caused workers to collect disability and unemployment insurance benefits for a median duration of six weeks.
Falls to a lower level that cause serious injuries, which are those with more than five days away from work, result in $2.5 billion in workers compensation direct costs in the U.S. construction industry, according to a 2019 study. Yes, that is billion with a capital "B."
Construction is the only industry of eight studied where injuries from falls to a lower level, which include those from a ladder, is the leading cause of workers comp costs.
Construction is the only industry of eight studied where injuries from falls to a lower level, which include those from a ladder, is the leading cause of workers comp costs.
Across all industries, falls to a lower level is the fourth-leading accident causing days away from work, with 18 days away from work as the median number in 2018.
Sadly, falls to a lower level are a major contributor to construction deaths, making up nearly 40% of all fatalities.
Fall deaths are most likely to occur at smaller construction firms. Over 60% of fall fatalities are from firms with 10 or fewer employees, according to the Center for Construction Research and Training.
In a two-year span, over 200 construction workers died from ladder falls, and over 4,100 were injured.