Historically, estimates have shown that only 20-30 percent of equipment fleet companies were leveraging telematics on their fleet, but today, we see trends that telematics-based fleet management is becoming the new normal. That's because fleet management isn't a one-size-fits-all activity, and through the use of telematics, fleet managers are starting to realize they can more efficiently gather, read and understand the information the machines are providing.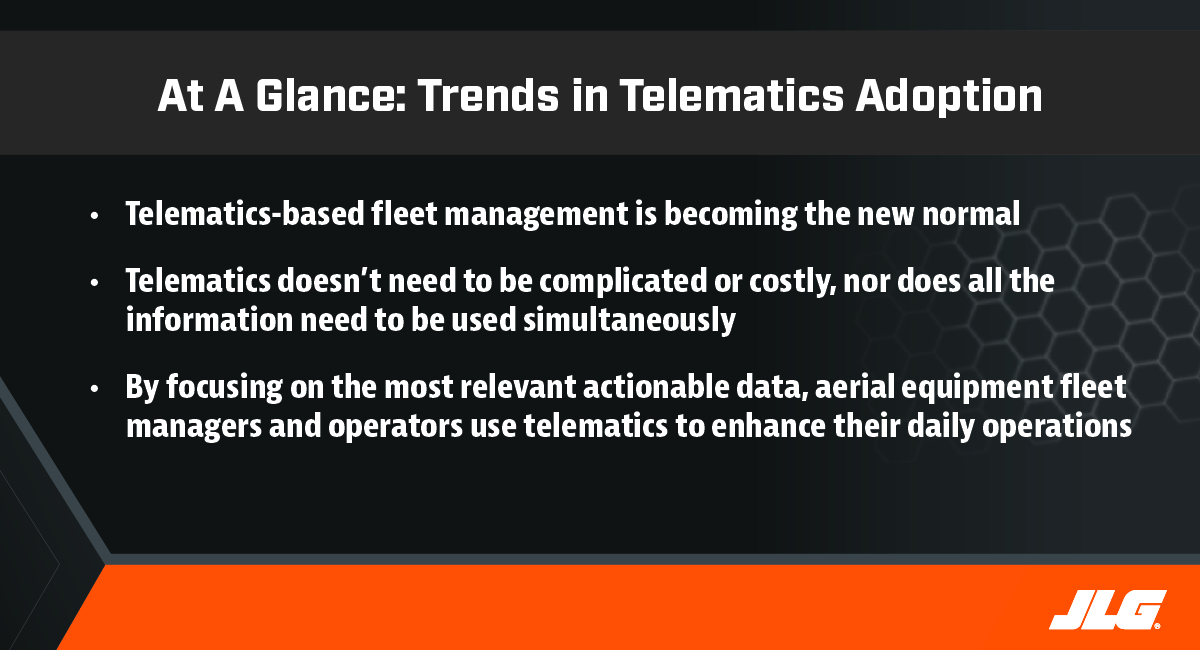 Telematics doesn't need to be complicated or costly, nor does all the information need to be used simultaneously. By focusing on the most relevant actionable data, aerial equipment fleet managers can easily use telematics to enhance their daily operations.
Below are insights from JLG's Product Manager of Digital Solutions, Misty Mason, on the latest trends in telematics adoption within the aerial equipment industry…
Which telematics features do we see used most by aerial equipment owners and renters?
Although today's telematics systems can provide high-level or finite details on a number of machine systems, most equipment fleet managers are fine-tuning the data they receive into workable amounts. For example, the telematics features that JLG sees being used most by rental houses and their rental customers are:
Location to help with service planning and cuts on downtime for field techs
Fault codes to get machines back on rent quicker
Machine hours helps with billing and knowing when to service machine
Battery status
Machine utilization
Setting geofences/timefences to protect investment and to be notified on machine usage (leaving a particular area or being used before/after a designated time)
Scheduling maintenance
Using the JLG ClearSky™ telematics portal, our customers are easily managing the data and prioritizing the information they most want to view, including equipment maintenance pages, the map/machine location, geofences and fault code reports.
Which telematics features do we see being used most by equipment users?
Using telematics solutions to manage equipment isn't just for the fleet managers. As job sites today continue to expand in size and complexity, meeting project deadlines increasingly important, and telematics can significantly improve productivity on a job site, helping projects stay on target for completion, as well as proactively planning for delays.
Because of this, we also see equipment users, including aerial lift operators, regularly using certain features within the ClearSky telematics system to:
Plan for site visits and rental services, such as equipment deliveries
Locate specific machines quickly on a job site
Quickly review fault codes
Schedule maintenance tasks