The 2 pieces of equipment are often used together to mean the same thing on a work site, but they are different.
For example, workers in some industries might use the terms "telehandler" and "forklift" interchangeably, even though they are two different categories of equipment that serve a few of the same functions. Some would be confused that you'd associate a telehandler (commonly used on a construction job project), with a forklift which they imagine driving around a warehouse or distribution center.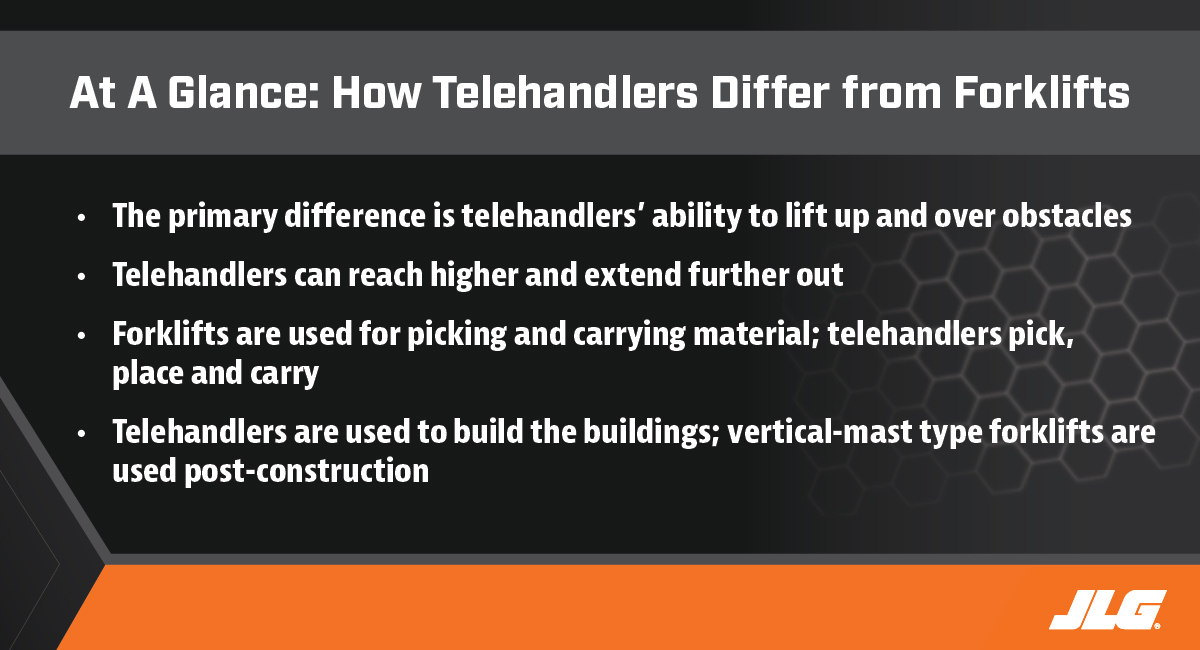 There are 7 Classes of Forklifts - Where the Confusion Begins

The confusion comes because of the nomenclature used by the U.S. Department of Labor's Occupational Safety & Health Administration (OSHA), telehandlers ARE forklifts. For OSHA there are 7 classes of forklifts:
Class I: Electric motor rider trucks
Class II: Electric motor narrow aisle trucks
Class III: Electric motor hand trucks or hand/rider trucks
Class IV: Internal combustion engine trucks (solid/cushion tires)
Class V: Internal combustion engine trucks (pneumatic tires)
Class VI: Electric and internal combustion engine tractors
Class VII: Rough terrain forklift trucks.
Telehandlers fall into Class VII, aka "rough terrain forklift trucks." Classes I through VI are variations of powered industrial trucks, or ITs, and are generally used indoors.
Types of Rough Terrain Forklifts

Within the Class VII rough terrain forklift truck category are:
Vertical mast-type forklifts that are "ruggedly constructed" and "designed to be used primarily outdoors."
Variable reach-type forklifts have telescoping booms, which enables them "to pick and place loads at various distances and lift heights in front of the machine." The machines in this subcategory of rough terrain forklift trucks are commonly known as telehandlers.
Truck/trailer-mounted forklifts are portable, self-propelled units typically mounted on carriers to the back of trucks/trailers and used to unload heavy items at job sites. Not all truck/trailer mounted forklifts are rough terrain forklifts.
The equipment within Class VII differs from that in Classes I-VI because the focus in Class VII is on rough terrain. In other words, these machines can be used outdoors or in a combined indoor/outdoor environment.
Telehandlers Compared to Forklifts

The forklift type sometimes compared to, or confused, with a telehandler is the rough terrain, vertical mast-type forklift.
The main difference betwen a telehandler and the class VII forklift is the telehandler's ability to lift up and over an obstacle. Forklifts only lift up vertically. Both types of equipment can lift comparable amounts of weight and do have similar footprints along with the ability to use attachments, but telehandlers have a telescopic boom that reaches up and over objects.
The telehandler's reach is higher and extends further out, there are various telehandler sizes with a variety of lifting weight capacities and lift heights. This is the telehandler advantage. Forklifts are used for picking up and carrying material and products, for example, heavy pallets of cement, these machines pick it up and put it somewhere else whereas telehandlers pick up, place, and carry.
Usually telehandlers are used on construction related job sites while forklifts would be used inside and outside of a building post-construction. To make it easy, the telehandler is used during construction of a building, and the forklift is used after completion. Because of its ability to lift items up and over things, there is an extra layer of versatility vs the forklift.
About All Access Services


Serving construction projects throughout Southern California with heavy equipment rentals, we have 3 locations in San Diego, Orange County, and Riverside to serve our clients. Each location carries a fleet of scissor lifts, telehandlers, boom lifts, and forklifts available for rent at affordable rates. We strive to provide the best customer service in the industry and hope to earn your trust and business!