At All Access Services, safety is our #1 priority!We offer Specific JLG Brand Training, on Booms Scissors lifts, and Telehandlers to give your operators the best information to keep them Safe, Compliant and your job Productive. After your operators have completed our Factory On-line E-Training, we offer on-site evaluation at your location, Our training sessions meet the New, OSHA and ANSI Standards and will prepare each operator to get the job done safely.
As soon as a machine raises material – or in this case people – up into the air, the center of gravity is thrown off. Boom lifts are made to reach out and lift up materials and people and are incredibly stable machines. However this does not mean that they are immune to tipping.
To avoid tipping a boom lift, always survey the job site before beginning to work and test to ensure the terrain is solid especially after rain or a storm. Wheels can become stuck or sink which poses the threat of tipping the machine or knocking off the operator. Never exceed the maximum weight and range of a boom lift and always use personal protective equipment (PPE).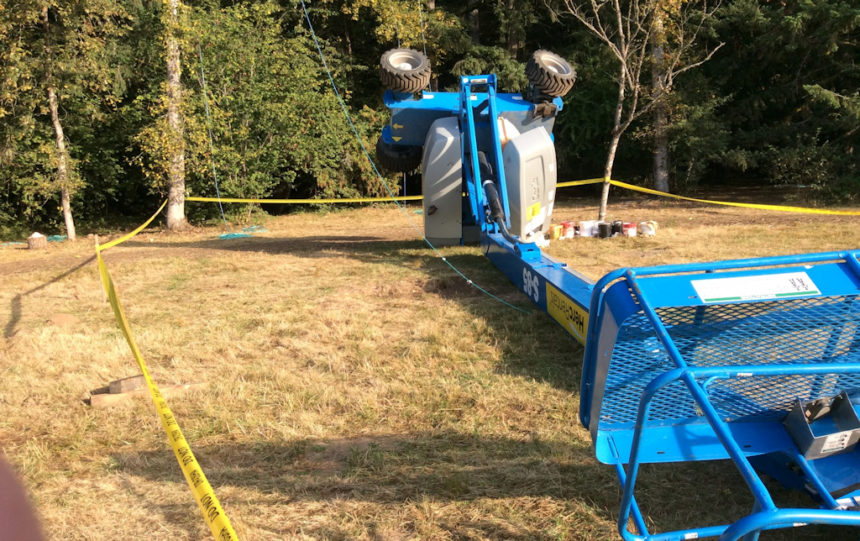 Dangers of Being Pinned or Crushed on a Boom Lift
Boom lifts are created to take operators to new heights but there are new kinds of obstacles that live in the rafters. Overhead beams, moving against walls and working under ceilings can create the hazard of pinching.
To avoid pinching, always keep arms and legs inside the safety railings. Maneuver the bucket slowly and never work along.
Dangers of Dropped Objects on a Boom Lift

When working at a height, it becomes your responsibility to keep those under you safe as well. Dropping a hammer from above can cause serious injury to those below a boom lift platform.
To avoid injuring those below you always secure equipment and materials when working at heights. Use all the safety features and tools available and do not skip steps to "save time". Always put safety first.
Dangers of Working With Electricity on Boom Lifts

Working at heights can often mean working on electricity projects or near wires. Electricity is silent and can be very deadly. Electric workers are aware of the dangers but those not used to working close to electricity may overlook or not be fully aware of the dangers. Look at site plans ahead of time to analyze the location of electric wires. Always treat wires like they are
Examples of other steps to take to ensure the safe operation of a boom lift are:
Knowing where the lift emergency stop and lowering measure is and how to use it
Never operate a lift alone
Always wear safety harnesses and other PPE
Secure all tools when working on a raised platform
Never work a boom lift with another worker standing under the platform
Use a boom lift only if the base is on even and stable ground
Survey the area up in the air where the operator will be working for exposed wires and other potential hazards
Request proper training and never operate a boom life if you do not know how to do so
If you have questions regarding safety for heavy equipment or need training for your staff and employees, please Call Us today!