Landscape contractors typically use skid steers and compact track loaders as the most used pieces of equipment. For more than 50 years these machines, these machines have been the choice for landscape and hardscape jobs. Whether for transporting, digging, or loading materials.
Sometimes, depending on the needs of the landscape professional, alternatives to track loaders are needed for the job or task at hand.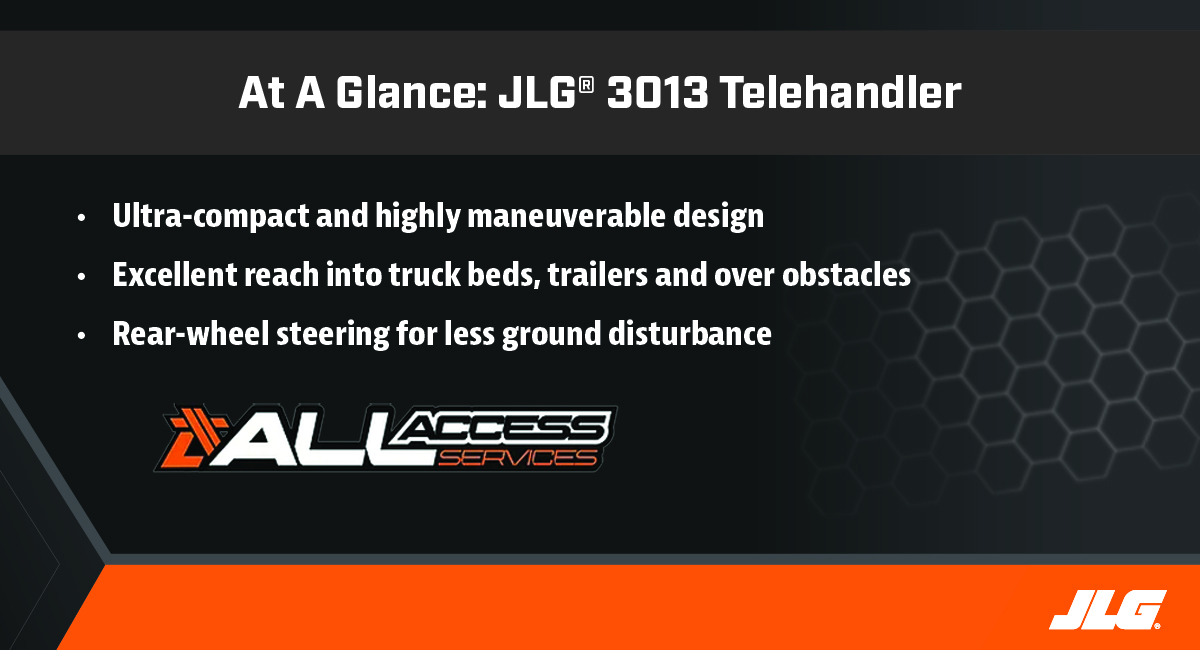 According to John Boehme II, Senior Product Manage for JLG, "Skid steers are very good at what they do, but they can't reach up very high or very far and they are very disturbing on the ground."He continued, "If you need more lift height, more forward reach, less weight and less ground disturbances, you may want to consider an ultra-compact telehandler as an alternative."
One of the options that landscape contractors are gong towards is the JLG® 3013 SkyTrak® telehandler. This particular telehandler has the following features:
-Lift Capacity of 2,700 lbs
-Lift Height of 13 ft 1 in
-Reach of 7 ft 1 in (offering the capability of reaching into truck beds or onto trailers)
-6 ft 7 in height, 8 ft 9 in length, and 4 ft 7 in width. (It's compact)
The JLG® 3013 SkyTrak® telehandler as rear-wheel steering gives you the opportunity to select turf tires as an option. Not only is it maneuverable, it creates less ground disturbance in comparison to other landscaping equipment used.
Here are some use cases for the JLG® 3013 SkyTrak® telehandler for a landscape professional


On the Landscape Job
Since the JLG® 3013 is lightweight, getting the equipment to the job site is an easy task. Landscapers are given the ability to move the equipment from the rental facility to the shop or job with a standard truck and trailer. Adding even more convenience of using an ultra-compact telehandler.
Once on the job site, the compact telehandler (like the JLG 3013), can increase productivity and lower labor costs, very similar to a skid steer or track loader would be used.
John Boeme III continued, "Say you want to move saplings – ou can put five of those in the bucket and move them all the same time."
"You're able to lift high enough or extend far enough from one side into the truck to load and unload in congested downtown areas with less traffic disruption." This machine is designed for tight urban environments.
Lastly, the JLG 3013 is the perfect machine for clean up when the job is finished. Simply hook up a bucket attachment and circle the property or establishment, while one individual drives, another can toss in trash and debris. Creating a much faster experience than having employees clean up by hands and wheelbarrows, improving profitability.
In the Shop
Most warehouses and contractor shops use telehandlers to load and unload materials at their facility.
A contractor who receives or sends out pallets from the shop can benefit from the telehandler's reach and lift capacity. When loading items off or on to a trailer, a pallet jack won't be needed to move materials. The telehandler's reach will allow you to cut out any extra equipment or labor.
Many landscape contractors use telehandlers for moving some of the very heavy items around your facility such as boulders, the compact JLG 3013 can do this with relative ease. If a skid steer were to be used it's only capabilities would be to set the boulder on the edge of the truck bed. Then a another piece of equipment would have to be used to push it further in.
"Materials are expensive, you don't want to waste them," Boehme says. "With 13 ft (of reach), you can see what you're dumping and where you're dumping it."
The telehandlers versatility has a universal skid steer coupler. "The machine you've rented or purchased can be equipped with the attachments you already own. There's no need to go out and get another bucket."