On a recent discussion with JLG, the questions they continue to receive regarding ANSI A92.90 suite of standards in the U.S. While these standards are from June 2020 and are no longer new, the questions still come about quite often.
On today's construction and job sites, it is important to understand that these standards continue to influence equipment machine design, and of course, training and safety requirements on the jobsite as well.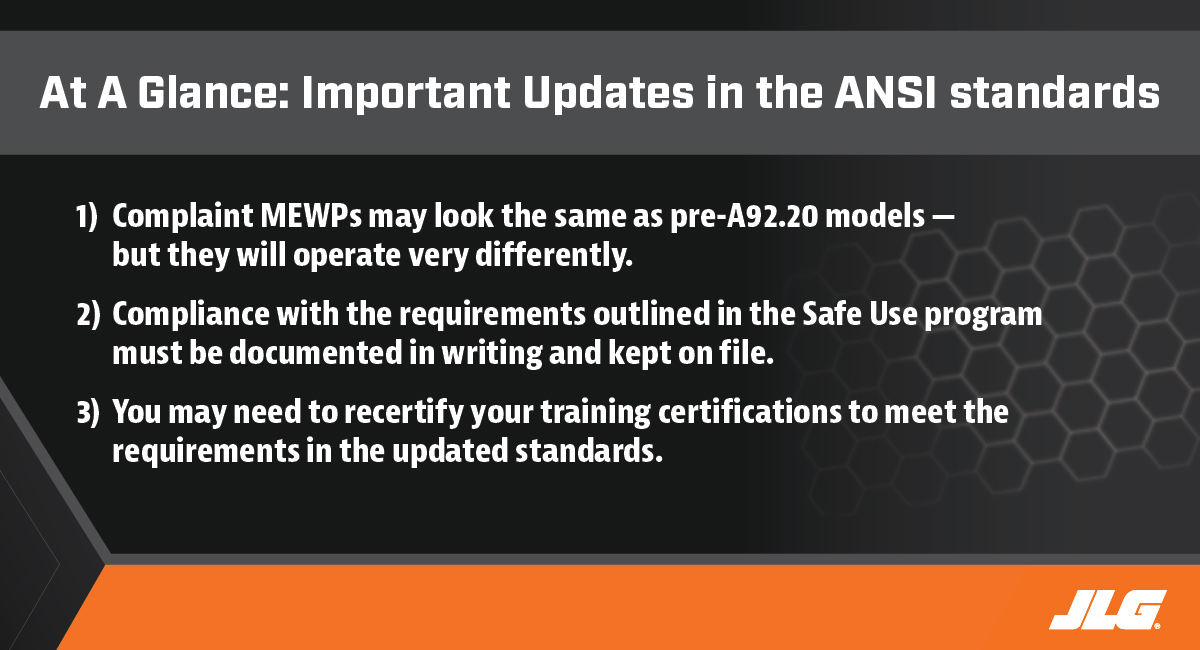 Education MEWP (Mobile Elevating Work Platform Owners)
This has become one of the biggest challenges for implementing the updated standards effectively.
For example: In the past, things may have happened without any consequences, such as overloading the platform, even just by a little bit, are no longer allowed to happen on MEWPs. So operators need to be aware of the load sensing features on compliant machinery to prevent the operation from continuing if an overload is occurring.
Individuals should be trained in the new ANSI requirements in the updated standards. There should always be Written Safe Use programs in placed and used daily. On any A92.20-designed machinery, familiarization should be taken place to cover new controls and operating characteristics. These characteristics include load sensing capabilities, so that equipment owners and fleet managers understand the programs to evaluate the operators.
With that said, we find that so many are still unaware of these requirements.
Because compliance with the standards is critical to the safe use of these machines, here are three things you should know about the updated ANSI standards.
1). Compliant MEWPs may appear to be the same as pre-A92.20 models, but they will operate in a different manner.
With the new modernized standards, machines have been required to change. Most features have been incorporated into the machinery's design, that will influence the machine's operation and functionality, these include;
Load sending
Tilt sensing
Wind force
Function cutouts
Increased platform railing height
Brief Synopsis of these Features on Machine Use

Load Sensing Capabilities

Key Change: Machines are now required to monitor load and interrupt normal operations if the machinery is overloaded.
Key Takeaway: Operators will need to pay closer attention to machine capacity. Jobs will no longer be allowed to be finished with an improperly loaded machine, which also means operators will need to take the weight of tools and other accessories into account when sorting out the calculations for the MEWP's load.
Tilt Sensing Requirements
Key Change: Heavy equipment machines used to only be able to operate on level surfaces but can now be used on slopes and are required to have a tilt sensor alarm and cutout. If the machine surpasses the slope limit, the system will disable boom and drive functions.
Key Takeaways: Make sure to have an assessment of the terrain the machine will need to travel over. Every job site is different, so you may need to reposition the equipment or grade the work site to finish the job because of MEWPs will no longer operate when on a slope that exceeds the tilt sensor requirements.
Wind Force Requirements
Key Change: In order to be rated for outdoor use, heavy machine equipment may require a reduced platform capacity and increased weight for better stability.
Key Takeaway: To begin, you will need to check the MEWP you are planning to use to see if its rated for indoor/outdoor use or simply one or the other. It should be noted on compliant machines.
Platform Railings
Key Change: Railing height requirements have been raised, for small indoor scissor lifts. What this means is that to fit through standard doorways, taller and folding rails are needed to replace fixed non-folding rails on select models.
Key Takeaways: There may be additional training needed for the MEWP on how to fold railings to fit through the standard doorways.
Overall, not to worry! The new MEWPs are not broken, they just operate differently than previous models. But by being aware of the changes and how they can impact equipment use will reduce downtime and save a lot of frustration.
2) SAFE Use requirements MUST be documented in writing and kept on file.
With the updated ANSI standards, they specify the proper application, inspection, training, maintenance, repair, and safe operations of MEWPs. One of the primary requirements is to develop a written SAFE Use program as it relates to job safety.
The keyword here is "written". Most job sites already have the SAFE use of MEWPs in their tailgate or toolbox talks, discussing the rescue planning and workplace requirements and inspections. But there isn't often documentation on file. In the new version of these standards, these discussions must now be tracked to keep records of the details and action items covered as part of the organization's documented safety programs.
This can be done in two steps…
Step 1:
In order to develop an effective safe use program that is compliant with the new ANSI Requirements, it is imperative to do a job site risk assessment before starting a job or project. This assessment should include:
Defining the Task, Location, and Timing of the Work.
Select MEWPs that Meet the Needs of the Application
Evaluate Risks Thoroughly to Understand the Environment in which the Equipment will be Working
For example
- MEWP Related: Staying within Load Capacity or Working at a Height
- Job Specific: Accessing difficult to reach areas. Avoid power lines.
- Additional: Keeping workers on the ground whenever possible and Preventing Unauthorized Use of Equipment.
Identify controls to implement procedures and measures to mitigate the risks identified, such as:
- Safe work procedures: Use correct PPE, ensure understanding of fall arrest systems
- Proper training: For operators, occupants, supervisors and maintenance personnel
- Smart scheduling: Organize the work in ways that minimize exposure to hazards
- Rescue planning: May include self-rescue, assisted rescue and/or technical rescue
Machine inspection and service records are also important to ensure a machine is compliant and safe to use.
Step 2:
The new requirements in the standards will have the most impact on supervisors, safety managers, and most importantly, the MEWP operators. Once the safety plan has been developed it should be shared with each individual who will be on-site doing the work.
The updated standards outline new requirements for many roles as they relate to a safe use program:
Operator: Is trained and authorized to operate the MEWP
Occupant: Has knowledge of MEWP use and safety, including fall protection systems
Supervisor: Monitors use of a MEWP to ensure the safety plan is followed
Technician: Performs MEWP maintenance in line with manufacturer's requirements
3) Recertification of the Training Certifications to Meet the Updated Requirements
There is also new terminology that was updated in the North American standards. For example, the term AWP (Aerial Work Platform), is no longer in use. It is now Aerial Access Equipment is now the Mobile Elevating Work Platforms (MEWPs)
This name is not the only change for this equipment in the new ANSI standards, the classifications did too.
Example: In the old version of the ANSI, AWPs were classified by product types such as boom lifts or scissor lifts, and operators were trained on the machinery type they were using. In the updated standards, though MEWPs are classified differently, they are now referenced in Groups A & B with Types 1, 2, and 3.
A MEWP is classified in either Group A or B depending on where the center of the platform is relative to the chassis of the machine.
Group A: Platforms that move vertically but stay inside the tipping lines.
Group B; All other MEWPs, usually boom-type MEWPs where platforms extend past the chassis.
A MEWP is classified as Type 1, 2, or 3 Depending on How the Machine Travels
Type 1: Can only travel in the stowed position
Type 2: Can travel elevated but is controlled from the chassis
Type 3: Can travel elevated but is controlled from the work platform
Lastly, operator training requirements for MEWPs in the updated standards aren't grandfathered in unfortunately. In order to comply with the current standards, the ones published in June 2020, operators must no be trained and certified on each Group and Type of MEWP they will operate.
Training that was provided 5 years ago or more is no longer valid and an operator's license my no longer be up to date with the new standards, and will require additional training.
So how do you know if the organization is compliant with the latest ANSI standards?
Quite simply, the best way to check compliance of the updated ANSI standards is by tracking down records that indicate the following:
What machines have been added to the fleet in the last 5 years. Newer machines will be equipped with required features).
Which operators have become familiar with the compliant equipment and which haven't.
When operators, occupants, and supervisors have been last trained
And what is the organization's SAFE Use program for the MEWPs.
This documentation will have the answers you need to determine what has been done, and what still needs to be completed to be compliant with the updated standards. From that point, plans can be developed and implemented to make sure everyone's training adheres to the new ANSI requirements.
Compliance with these standards is critical to job site safety. That's why it's so important that everyone in the aerial industry ecosystem, from OEMs to equipment owners to equipment operators, keeps talking about the requirements in the ANSI standards.