Towable boom lifts offer quite a few distinct advantages for job sites, with the biggest one being that these machines have the ability to provide operators reach AND mobility. They combine the flexibility of a smaller machine with the versatility of a self-propelled lift & platform.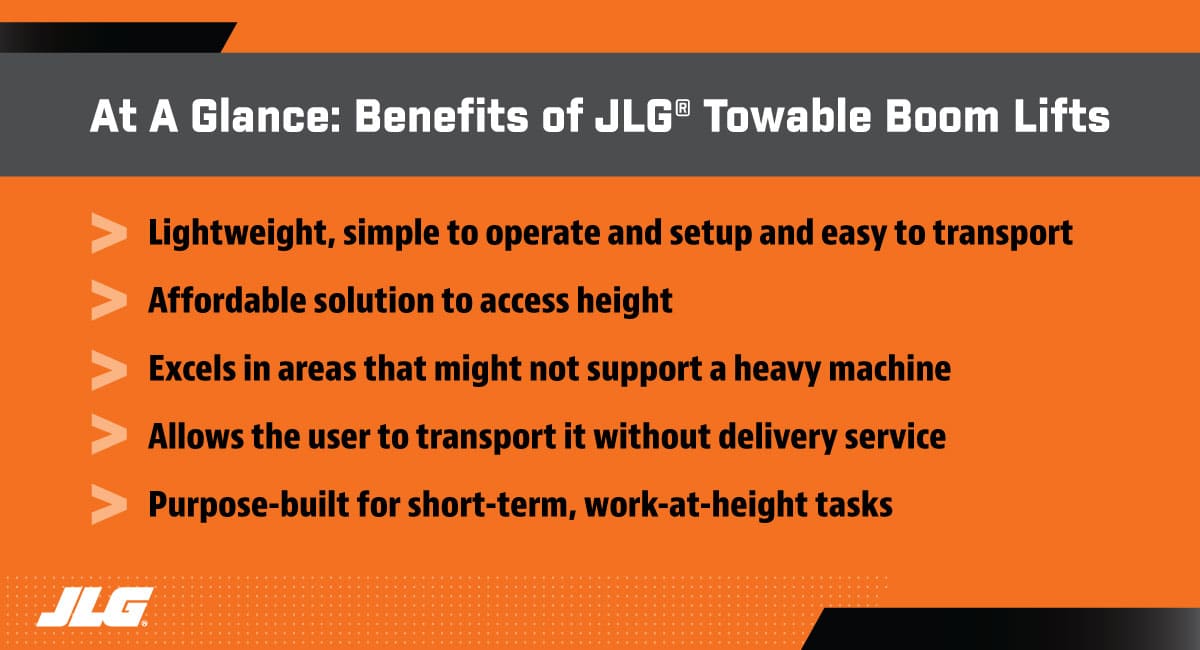 Towable boom lifts are also often referred to as "tow-behind boom lifts" or "trailer mounted boom lifts". Many operators choose this machine on job sites because towable boom lifts have the capacity to easily move into position to allow owrkers to gain the necessary reach to complete work at heights.
Towable Boom Lift Benefits

These machines are lightweight, ease to operate and trasnport. They are an affordale solution to reaching height.
Great for job sites that might not be able to support a heavy machine, allows operators to transport without delivery service.
Purpose built for tasks that require access to heights without the need for long term use.
These pieces of machinery can be brought to the job site and up and running quickly. Towable boom lifts are a great resource to complete a variety of every day construction and maintenance applications. They are also great for contractor applications uch as lighting, exterior painting and tree trimming projects.
Questions About Towable Boom Lifts

When looking to rent a towable boom lift, what features should I be looking for?
The quick answer: Ease of operation and Ease of Setup. This piece of machinery is not necessarily a common MEWP (mobile elevating work platform) category for innovation. They are usually selected for their simplicity to operate combined with easy access for work height. These 2 features alone drive significant demant to rent towable boom lifts.
What Training is Required to Operate this Type of Machine?
According to ANSI A92.2 standards, operators must be qualified to operate towable boom lifts. If you are in need of training, All Access Services can provide Equipment Training.
Is there anything I need to know about operating a towable boom lift?
Many times, towable operators are not regular daily operators of mobile elevating work platform machines (MEWPs). The individual who will be operating the piece of machinery needs to become familiar with the machine before they get behind the wheel. There should be a safe place to practice operating the machine before being used. Along with an inspection and function test recommended by the manufacturers guidelines.
The operator of the machine needs to make sure that the ground will support the machine's outriggers as well as make sure that electrical and overhead hazards are seen. Make sure the operators wear fall protection units and make sure to do test functions from the ground first.

Towing:It is important to review the operation and safety manual for common towing procedures. These procedures include details on ensuring safety chains are crossed beneath the tongue, ensuring the tow vehicle has the capacity to town the machine, and making sure that the boom lift is properly secured and stowed for towing.
2 JLG Towable Machines
| | |
| --- | --- |
| JLG T350 Towable Boom Lift | JLG T500J Towable Boom Lift |