U.S. construction sites have used telehandlers for many years, and have become a staple piece of equipment for companies. Telehandlers are most commonl used for pick and carry tasks such as loading and unloading trucks. A lot of telehandler manufacturer such as JLG® have pushed this type of equipment by introducing higher reaching models for higher project-related tasks such as lifting HVAC units in to place on a rooftop. Or drywall panels on an 8 story building. But overall they are very popular in the construction industry for a wide variety of needs.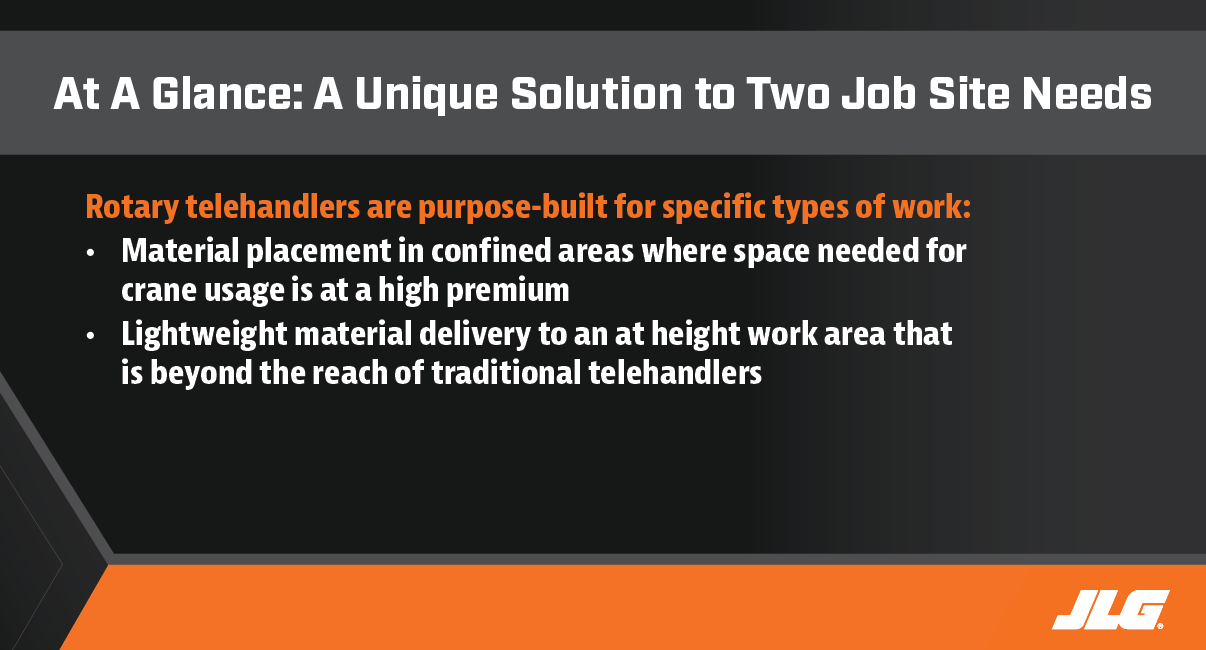 Cranes are brought in with any item or material that needs to be placed higher than 75 ft. But for lighter materials pipe racks or panel carries are used or whats called an AWP (Aerial Work Platform). Depending on the jobsite, these machines may not be as efficient.
With today's job sites often being smaller or closed in, cranes have difficulty maneuvering in space-restricted areas simply due to their larger footprints.
with aerial work platforms such as scissor lifts, articulating boom lifts and telescopic boom lifts, these pieces of equipment offer a more compact footprint. These aerial work platforms are ideal for work in dense urban markets, but may be missing the capacity to place heavier loads at height.
When these dense, urban situations arise, contractors need a heavy-lifting piece of equipment that is smaller and more compact. But are often unaware there is a 3rd option available to use: a rotating telehandler.
What is a Rotating Telehandler?

Rotating telehandlers offer a unique solution to 2 very specific job site situations.
1. Material Placement in Small Areas Where Space Needed for Crane Use is at a Premium
2. Lightweight Material Delivery to a Work Area at Height that is Beyond Traditional Telehandler Reach
Cab and boom are fixed to the machines chassis in traditional telehandlers, rotary telehandlers have 2 distinct elements:
1. A lower section that includes wheels and chassis, along with components such as the engine and fuel / hydraulic tanks.
2. Upper section with the operators cab and boom that will spin on its bearing. This will enable the telehandler to rotate 360 degrees from a fixed position.
Rotating telehandlers have a unique design can, literally, pickup and place loads in a complete circle around the machine WITHOUT the entire machine needing to move.
Important Note: The load charts for the rotating telehandlers are different from traditional telehandlers because of the rotating design feature. An example is a fixed boom telehandlers load charts, the reference point is centered at the front tire of the equipment. On rotating models, the load charts are in reference to the center of the rotating bearing. Operators, before using a rotating telehandler should be very careful to reviwe the machine's load chart to make sure there is a full understanding of the machine's capacity. During operation, technology aids integrated in to these machines can help assist operators in safety and proper ways to use the machines.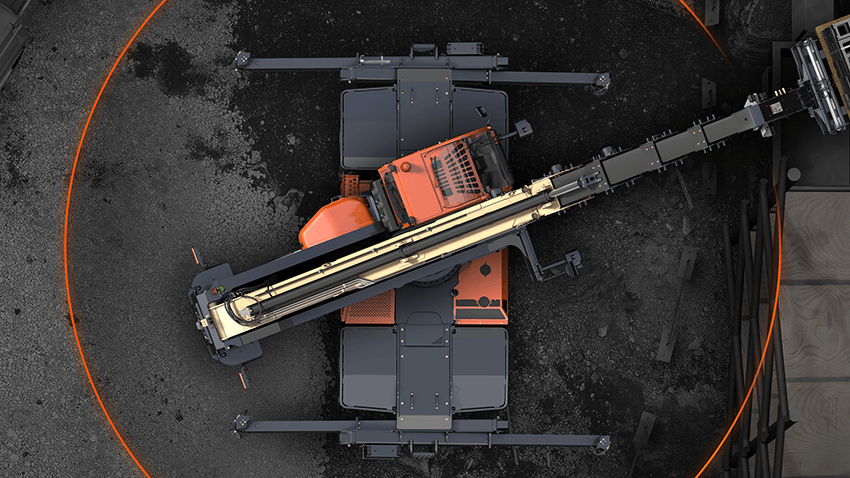 How Are Rotating Telehandlers Used?

In comparison to fixed boom telehandlers, the rotating telehandler process of picking up and placing materials is different. Fairly easy to explain, a traditional telehandler would pick the items up in one spot, drive it to another spot before being able to put it down.
With the rotating telehandlers, the machine is drivent in to a position before work even begins. During the tasks, the operator will simply rotate the boom around to both pick and place material. No additional need for driving tto stage materials. This will in turn speed up production and increase jobsite efficiencies when the equipment is used in smaller or confined areas. This is especially helpful on larger jobsites, congested sites, and urban settings.
Because of these features and benefits, rotating telehandlers can be used in a variety of applications and industries including commercial construciton, renovation, masonry, roofing, demolition, bridgework, shipard and ports amongst a few of the many.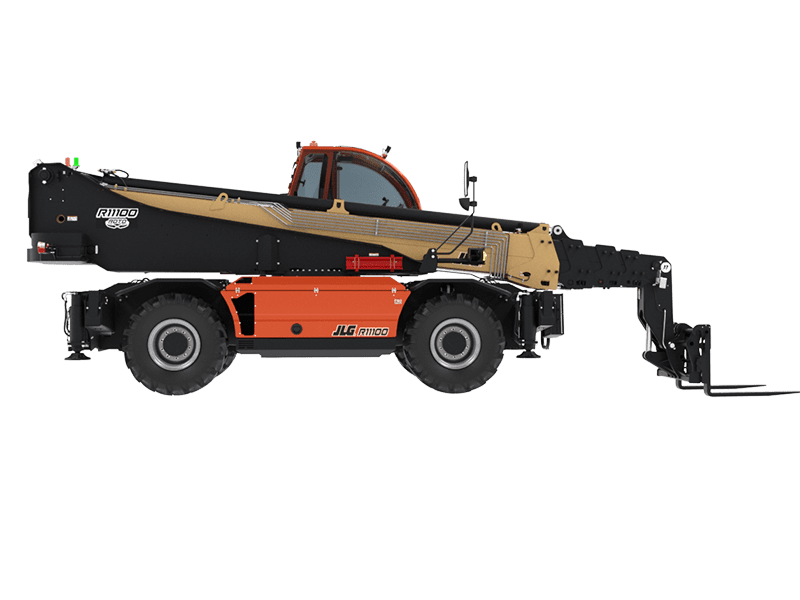 Why Chose a Rotating Telehandler?

What many contractors have found are the possibilities of using rotating telehandlers because these pieces of equipment have the ability to utilize a wide range of attachments. Rotating telehandlers use attachments to lift and extend loads and materials in to position, but these machines have an extra benefit of being able to rotate leads in to place too. With various attachments available, gives operators the versatility of having 3 machines in one. A telehandler, a crane, and a MEWP.
The most common rotating telehandler attachements include:

work platforms, AKA man baskets
crane
jibs
winches
standard or rotating carriages
forks
buckets
coupler-mounted hooks.
As rotating telehandlers become more common on construciton sites, there is an expectation to see the acceleration of use in the industry.
Key features of the New JLG Rotating Telehandlers

Continuous rotation of upper frame to allow both horizontal and vertical lift and place capabilities
Multi-section booms to support higher reach and greater lift capacities
Advanced technology and features like LMIS to prevent overloading the machine, attachment recognition that automatically loads the appropriate load chart and keeps the operator within the limits of the machine and ClearSky® telematics
JLG-backed warranty, parts and service expertise with US-based parts distribution for quick delivery and service
And at the time of launch, this new line of JLG rotos will be available with 13 unique attachments for increased versatility.
To learn more about rotating telehandlers, please fill out our Contact Form or give us a call at the number below!
All Access Services:888-777-5990