Which Heavy Equipment Parts Need to be Inspected Regularly

In order to keep aerial equipment and telehandlers up to full condition, the various parts on these pieces of machinery need to be inspected and serviced on a regular basis for stafey standards, prevent major repairs and unplanned downtime.
It's important that the various parts of the machine are inspected following the OEM's listed maintenance schedule, but there are certain parts that require more attention. This will help increase productivity and the TCO (total cost of ownership) of the aerial equipment.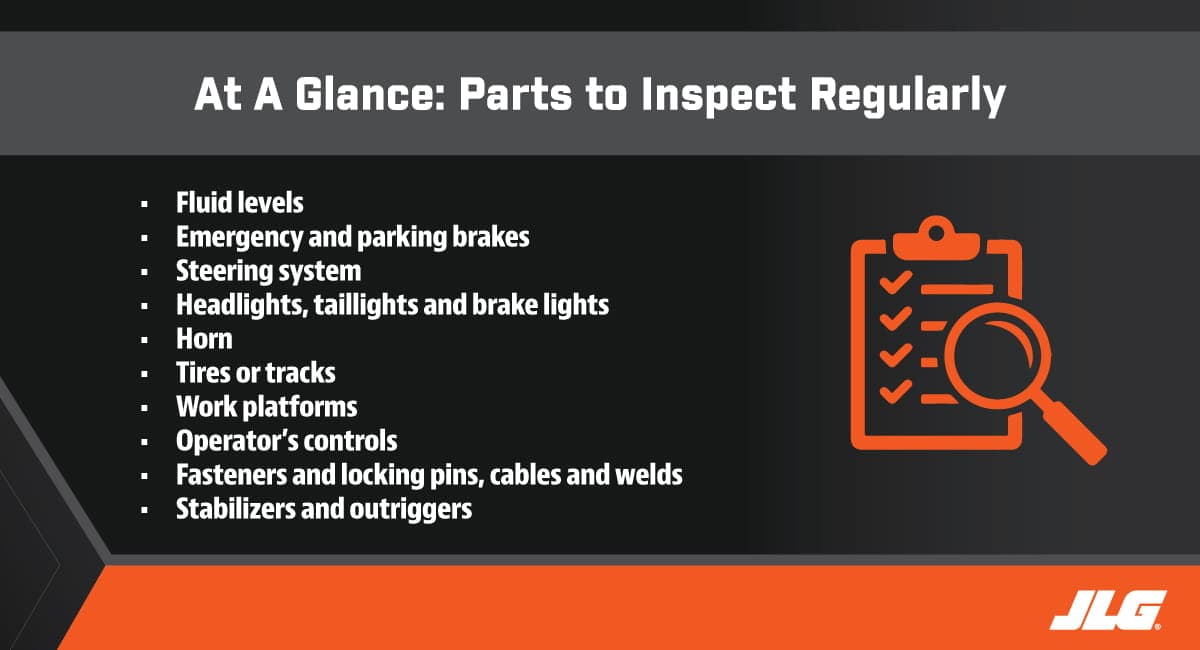 Parts to Check Regularly

Particularly, the parts that affect safety or overall productivity of a machine should be the priority parts checked often. All Access Services recommends you use a combination of data inspections and hands-on inspections to ensure these wear parts operate for the proper equipment efficiency.
Of course we are sure you aren't surprised to hear that the easiest components and machine parts to check are the the parts that can have severe consequences if they have problems. For example, a quick walk around a telehandler before operating should include a check of the machine's tires and fluid levels (hydraulic, oil, DEF, fuel), as well as a check on the steering and brakes (parking and emergency). While in the cab just just a quick review of the headlights, taillights, brake lights, windshield wipers, etc. While they may seem minor, if any of these parts or functions aren't working correctly can cause injuries to the crew or damage to the machines.
Especially with aerial equipment, its important to check the platform very carefully, this includes the operator controls such as the switches and buttons, guard rails, locking pins, harnesses, welds, stabilizers and outriggers to make sure there isn't any damage or missing parts. If there are potential issues that aren't caught could cause the operator to fall or parts to fall off when the equipment is extended at height, potentially injuring someone below.
Tires and equipment tracks play an important role in keeping the aerial equipment or telehandler reliable on the job site. These parts can be affected or damaged by incorrect installation, heat, or other job site conditions.
The machine's will have an Operator and Safety Manual which will be stored in the operators cab or the manual storage box, in this manual you'll find additional inspection items. These manuals for JLG equipment can also be accessed on the JLG site or in your purchasing agents resource center.
It's vital that you also ask for operator feedback about the machines performance, the operator might notice a change in the equipment such as rattling or reduction in efficiency that can help your organization identify potential issues before you visually notice them.
When is it Time to Replace It?

The parts of the machine will present its own signs that it's worn out, but here are some additional guidelines that its time to replace the parts or equipment.
Of course its easy to tell when the lights or the horn on a piece of equipment fails to perform, which means its time to replace them and remove the piece of equipment from service until fixed. And always test and make sure the machines operating switches, buttons and controls work correctly.
When it comes to the tires, you need to look out for bulges or broken belts, damaged or loose lug nuts, chunking treads, exposed sidewalls or low tire pressure.
When you see visible steel cording, cracks, worn sprockets, loss of tension or missing lug nuts, these are signs that the tracks need to be replaced. By keeping tracks free of debri will prevent damage and extend the life of the machine.
Aerial work platforms that have dents, damage or excessive rust or cracks to the welds need to be addressed before operating the machinery.
If you can tell that these various parts are worn but not at the point of replacement, its important to check them daily. Even if you haven't had a major issue yet, they may slowly start to affect the machine's level of efficiency and productivity and will eventually need to be replaced. You can always refer back to the Operation and Safety Manual and Parts Manual for additional guidance on replacing parts that are worn out.
Stick to the Inspection Checklist

When you perform regular inspections to your machinery could be the different between a small routine replacement and costly repairs. Other factors that contributes to ongoing productivity and efficiency is how and where the machine is used. Crews need to be cognitive of the environmental job site hazards such as weather, uneven terrain, debris and other obstructions on the jobsite.
When you incorporate these inspections in to your preventative maintenance schedule, it will make sure they are conducted before the components wear out. When you follow the manufacturer's suggested schedules and listen to operator input can flag any potential issues.
All Access Services provides Southern California with all your aerial equipment needs, whether you are looking to rent or buy JLG equipment, our friendly staff is here to help!