As the jobsite industry continues to evolve, there are many discussions on what the future will look like. A point in time where autonomous technology and intelligent processes are combined to increase safety and productivity.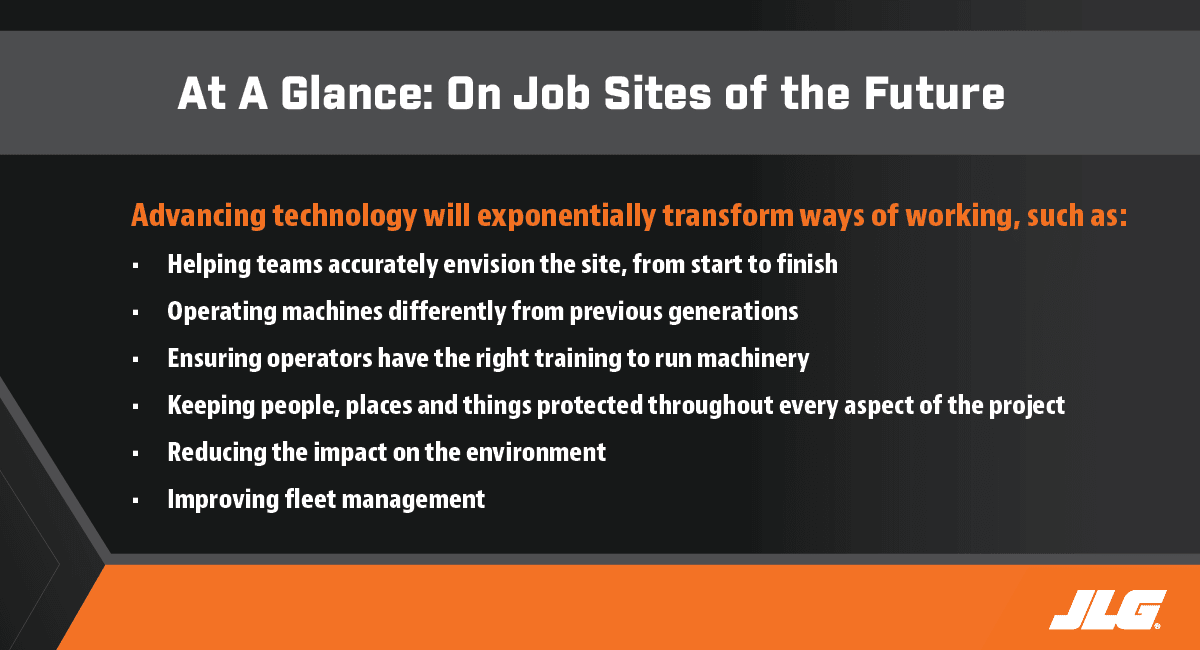 These concepts have been talked about for years, but as the heavy equipment industry continues to grow towards connection and optimization, it'll be here faster than you think!
Technology is quickly advancing, transforming ways of working in the construction and contractor industry with the goal of increasing safety and productivity.. together.
Let's Take a Look
Pre-Planning

When a project begins, BIM (building information modeling) is often used in the planning and design process. These digital models help employees and teams accuractely envision the site from beginning to completion, providing insights that allows the right selection of heavy equipment and machinery needed. With AR (augmented reality), contractors and supervisors can visualize and scale equipment in a 3D mobile application. Digital tools like BIM and AR can make the the entire jobsite and project smarter and increase efficiency.
On-Site

The heavy machine industry is going through a time of rapid change and advancement in technology. These changes have affected the evolution and design of "off-highway" equipment. Intelligent technology is also playing a major role, today's MEWPs (mobile elevating work platforms) and telehandlers operate differently than past years models.
Example: Autonomous vehicles are showing up on job sites utlizing terrain systems to navigate the site effectively. Platform load sensors provide operators with stability indications that will maximize compliance and versatility.
Once the equipment has been decided on and brought to the job site, access control technology will ensure that they have the right training to operate the equipment as construction begins.
On-the-Job

There are also the huge potential that the advances in technology will have for safety and productivity improvements. Anything from using smart robotic arms to finish repetitive tasks to operating equipment that is fitted with detection sensors, the entire goal is about keeping people and places protected and productive on their jobs.
Off-Site

Using telematics to manage fleet operations is the normal providing information on equipment machine systems from every angle, including full diagnostics. Telematics has greatly reduced costs and lengthy repair clalls along with improved real-time communication between equipment owners, service technicians, and OEMs.
As technology continues to evolve the conversation will change from telematics discussions to loT (Internet of Things) in construction. loT will improve visibility and performance into the health of a machine by being able to access more than the data regarding the usage, location, and fuel, creating a flexible and informed fleet management.
The Future is Now

While the discussion above discusses the jobsite in the future, it has already arrived. JLG has been at the forefront as a leader in access industry. As an authorized dealer, the team at All Access Services continuously stays up to date on the latest trends in both the overall industry, and improvements to equipment.
About All Access Services
We now have locations to serve you in the Los Angeles, Orange, Riverside andSan DiegoWe continue to grow every year and stand by our motto no matter what… Our Motto, bill only what we quoted, always be on time and to have the highest quality most reliable equipment on the market! We promise to get you there! Any place, Anytime... ANYWHERE.