3 REASONS WHY LOW-LEVEL ACCESS EQUIPMENT IS GROWING IN POPULARITY
Low-leve access equipment continues to grow rapidly over the past few years and this market trend we expect an increase in needs for this type of equipment. Traditionally industries have turned to ladders and scaffolding for their needs but are quickly relying on and requiring low-level access equipment on jobsites.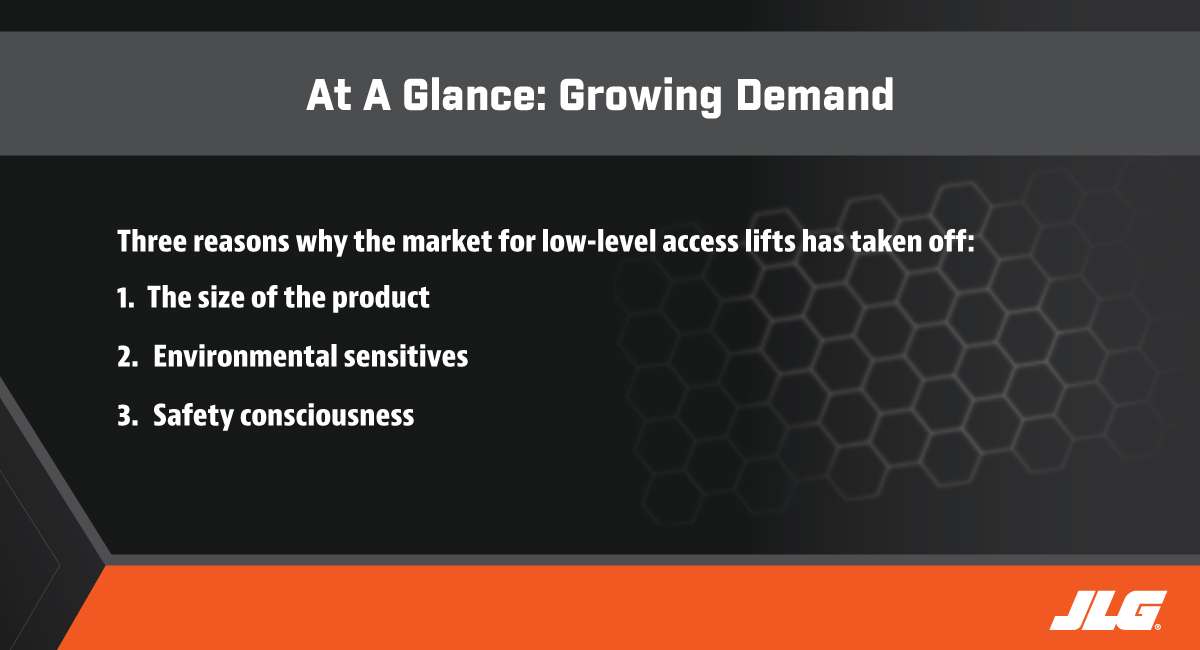 There are three reasons why the market for low-level access lifts has taken off:
1) The size of the product
2) environmental sensitives
3) safety consciousness.
Low Level Equipment Jobsite Trends

On Job Sites - Size Matters

These types of low level machines are lightweight and compact in size, which makes these machines the ideal equipment to be pushed into place between tight work areas and those that require minimal storage space. With buildings getting taller (and narrower), we have seen a far great need for equipment that has a small footprint, is lighter in weight, and with the ability to be used on sensitive flooring. These tight spaces include elevators for facility maintenance such as airports or data centers, all the way up to high rises and of course everything in between those scenarios.
Commonly sought after on construction sites becaues of their size and weight to finish up tasks such as painting, installing fire alarms or sprinkler systems, and installing (or replacing) lighting systems on the property.
One of the best features is the equipment can be transported from one location to another quickly to perform multiple tasks throughout a facility or project in less time.
Increased Environmental Sensitivities

These low level mobile elevating platforms are gaining popularity th companies focused on "eco-friendly" solutions and sustainability. Human (and battery) power lifts run quieter and eliminate/reduce emissions altogether, making them perfect for use in industries such as clean rooms, data centers, hospitals, schools, libraries, and office buildings where noise restrictions exist.
Becoming More Safety Consciousness

As companies place more focus on replace ladders and scaffolding on jobsites, the demand for these types of low level lifts continues to grow in popularity. Ladder falls and ladder injuries continue to have negative outcomes. We understand company's value their employees health and when these types of falls happen, can lead to lost time, reduced productivity and costly workers' compenstation claims. For those companies that are actively seeking alternative solutions, low-level access lifts are more productive to the work that needs to be done and can be used to improve worker safety. Low-level lifts are designed to reduce strain on workers and lessen the risk of any injuries caused by repetitive movements such as climbing up and down ladders.
With the increase in work injuries and fatalities driving the need for a change, All Access Services is committed more than ever to eliminating jobsite injuries and providing industry solutions for a variety of jobsites to bring an extra safety element along with machines that are maintained to the highest industry standards.
We now have locations to serve you in the Los Angeles, Orange, Riverside and San Diego Counties… we continue to grow every year and stand by our motto no matter what… Our Motto, bill only what we quoted, always be on time and to have the highest quality most reliable equipment on the market! We promise to get you there! Any place, Anytime... ANYWHERE.