As the need for jobsite efficiency continues to grow year over year, MEWP (mobile elevating work platform) manufacturers are adapting and deploying new equipment technologies. A technology that has been deployed by JLG® is the integration of "Self-Leveling Chassis (SLC)" for boom lifts. This new technology allows a boom lift to automaticallly level on a grades up to 10 degrees enabling operation uneven terrains.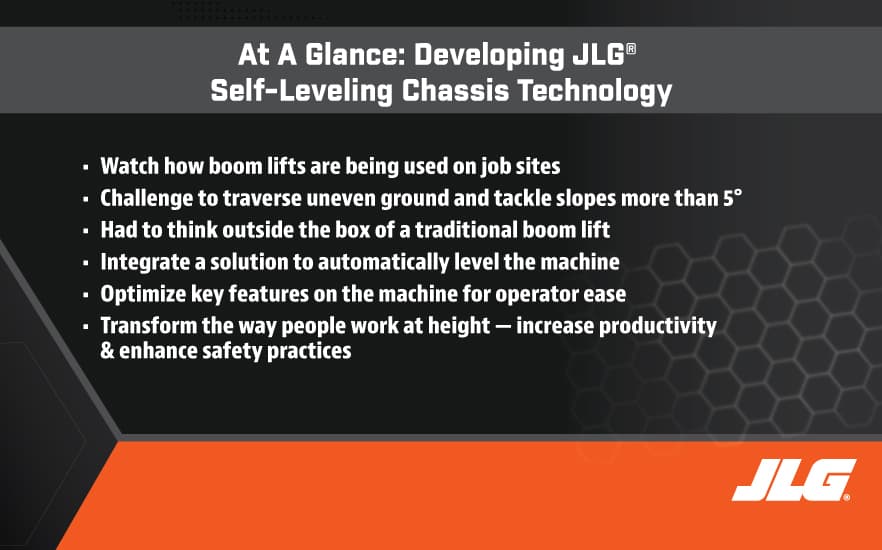 REAL-WORLD JOB SITES

JLG started developing self-leveling technology from watching how wboom lifts are being used and talking with operators about pain points and potential inefficiencies.
For many working environments, it can be difficult for a traditional boom lift to work in, even when equipped with an oscillating axle. Traditional machines are typcally rated to work on a firm level surface, defined as less than 5- degrees of slope, yet most job sites aren't flat. The new ANSI 92.20 standard in the U.S. requires boom functions to be cutout when the machine is placed on a slope greater than what it is rated for.
Since the world isn't flat this becomes the root cause for many clients pain point on a jobsite. In order to set up cribbing or grading (or both), manual labor and time are often required to work wtih earthmoving equipment.
After JLG® evaluated how challenging boom lift applications can be, they decided there is a need to develop a boom lift with a more adaptable suspension. Developing self-leveling technologoy came with a variety of design challenges.
THINKING OUTSIDE THE BOX

To create an intelligent suspension system that can traverse uneven ground with slopes up to 10 degrees, it's vital to think outside of the box of a traditional boom lift capabilities. The solid axles in the front and back of a machine can't provide the flexibility and adaptability required when operating over uneven surfaces.
The JLG team had to think outside the box to design and create an intelligent system that can traverse uneven ground and tackle slopes up to 10 degrees for a traditional boom lift. The traditional axle design with solid axles in the front and back of a machine offers minimal adaptability to adjust on even ground. This causes the boom lift to lean to the side creating an uncomfortable experience, even more so when driving at height.
Another consideration that had to be made when designing a self-leveling chassis is staying within the dimensional limits for shipping on a truck. Boom lifts over a certain height and length can create a situation where special permits are required for shipping (such as an oversized load).
These were the challenges JLG had that defined the system architecture which includes the mechanical, hydraulic and controls, along with user interface designs, all with the goal of allowing a machine operator to work on uneven ground with full functionality while driving at height.
FULLY INTEGRATED SOLUTIONS

The self-leveling technology is designed to adjust the boom lift's chassis to the ground conditions (rather than adjust the ground conditions). The system provides a fully integrated solution to always make sure the machine automatically levels, even when driving the unit with the platform elevated. This increases a boom lift's capability on slopes from 0 to 10 degrees in any direction. The system allows the machine to traverse uneven surfaces while keeping the chassis level and improving traction capability on sloped ground.
JLG accomplished this with 4 independent axles with sensor technologies that enable the machine to drive at full height while actively leveling the chassis. Independent alxes means that the new technology differs from a traditional boom lift with a solid oscillating axle in the front end and a fixed axle in the rear. With a JLG SLC equipment, each wheel is attached to an arm which can act independently and separately adjust to the uneven ground surface as the new sensing technology recognizes an uneven surface.
TRANSFORMING WORK-AT-HEIGHT

With the development of self-leveling technologing, this is transforming the way people work at height by a combination of increasing productivity and enhancing safety best practices. Manual labor and time required to set up cribbing and/or grade the work area needing earthmoving machines are reduced. A long with that is the need for larger, higher reaching lifts as a backup to be able to position the machine further away from the work area when searching for a level surface.
In the newly designed chassis, there is less platform movement during travel, improving operator comfort, and reducing the risk associated with the movement of objects within or falling from the platform. Due to the reduced bouncing, operators and occupants are more secure during travel as it moves over uneven terrain.
JLG's SLC technology automatically levels on grades up to 10 degrees when in self-leveling mode and provides two additional modes for versatility: High-Speed Mode for driving with the boom stowed at faster speeds and Shipping Mode, which allows the suspension to be lowered during transport.
The 670SJ is the first JLG boom lift available with self-leveling technology. Learn more about this model and the technology behind it by check out our article on this:
With 3 locations to serve you in the Los Angeles, Orange, Riverside and San Diego Counties… we continue to grow every year and stand by our motto no matter what… Our Motto, bill only what we quoted, always be on time and to have the highest quality most reliable equipment on the market! We promise to get you there! Any place, Anytime... ANYWHERE.