In the last few years quite a few manufactuers have announced major changes in their heavy equipment lines, JLG has made some impressive changers to its line of rough terrain scissor lifts which includes both a redesign of the equipment line and adding new models to the line-up.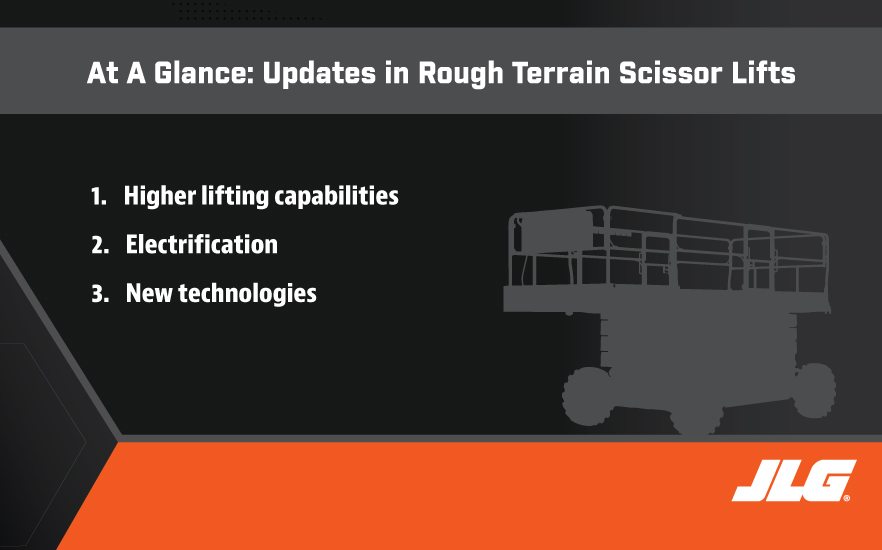 One of the greatest features from modernized machines is that today's JLG RT/ERT lifts provide full-drive at height capabilities, this allows operators to work at a fixed height along the leingth of a building when installing utilities or doing maintenance both inside and out. Models form a few years ago did not have this feature, meaning operators would have to descend then move the machine to the new work area and lift back up to continue work. Excellent productivity benefits came from this enhanced feature.
Full drive at height isn't the only benefit in the new updated scissor lifts, there are 3 trends that will significantly change the machine's design in the coming years and capabilities over the coming years.
Scissor Lift Changes and Improvements

Higher Lifting Capabilities

With buildings gettng narrower and taller, customers are looking for equipment that provides greater lift height capabilities. Operators also want the ability to bring more materials and people to the work area, driving the need for higher capacity.
JLG RT/ERT scissor lifts are suited for this type of work because of their larger platforms. They provide a 28% increase in the working area than competitive models with class-leading capacities. They are designed with 0-platform offset to minimize the distance operators must reach to access the work area. These machines also come equipped with easy-fold-rails to navigate through tight spaces easily.
Electrification

Because of the increae in demand for electric powered lifts, when JLG announced its redesigned rough terrain sciso lift line in early 2020, it included both engine powered rough terrain lifts and electric powered ERT models in each size class.
Electric models will continue to gain popularity as batter technology continues to improve and environmental considerations become more stringent. Example, when JLG introduced the world's first all-electric slab scissor lift, the JLG AE1932 DaVinci® in 2021, it was engineered as the first lift with 0 hydraulics, eliminating the potential for leaks and powered by a single lithium-ion battery that recharges as the lift descents to improve the operational time between charges. We believe these same market changing technologies will grow in popularity over time.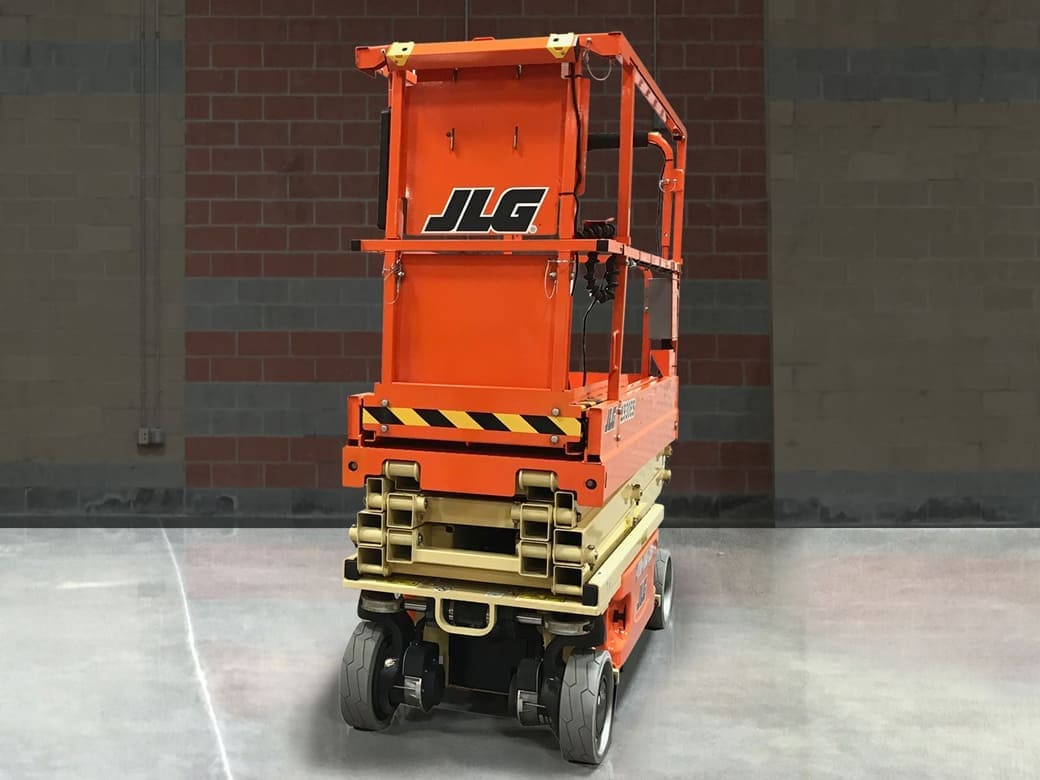 New Technology

There has also been a need in the rough terrain scissor lift market for new technologies to help solve common job site challenges. Example: the redesigned JLG RT/ERT lines are equipped with LiftSense™, an exclusive JLG feature which shows operators the maximum work height that can be reached before they elevate based on side-to-side and front-to-back tils. Operators can now see if they should take a little bit less material with them or if they need to get to a spot that is more level so they can get to full height. Ultimately, it removes the guesswork that often results in operators having to descend and try again.
New technology on JLG RT models includes a QuikLevel Advanced features, which automatically levels the machine on slopes up to 4.5 degrees while givng the operator the ability to drive at full height under certain conditions. The sensors on the machine monitor platform load, height, front axle tilt, rear axle tils, and and chassis tilt, then automatically levels the lift based on the ground conditions.
What's Coming Next for Scissor Lifts?

As construction activities continues to grow throughout North America, JLG anctipates the current demand for rough terrain scissor lifts to continue to grow. Despite utilization varying based on seasonality of construction activies, these machines continue to be common job site tools thanks to their ability expand users' capabilities whether working on concrete or off.
So, what's coming next for rough terrain scissor lifts? Like slab models, JLG is working for rough terrain scissor lifts to become efficient for use in/around sensitive environments like data centers and hospitals, as well as in extreme environments such as below freezing or high heat temperatures.
About All Access Services


Serving construction projects throughout Southern California with heavy equipment rentals, we have 3 locations in San Diego, Orange County, and Riverside to serve our clients. Each location carries a fleet of scissor lifts, telehandlers, boom lifts, and forklifts available for rent at affordable rates. We strive to provide the best customer service in the industry and hope to earn your trust and business!