It's time to get straight to work. JLG has introduced its first-ever straight jib (SJ) compact crawler boom lift - the X660SJ!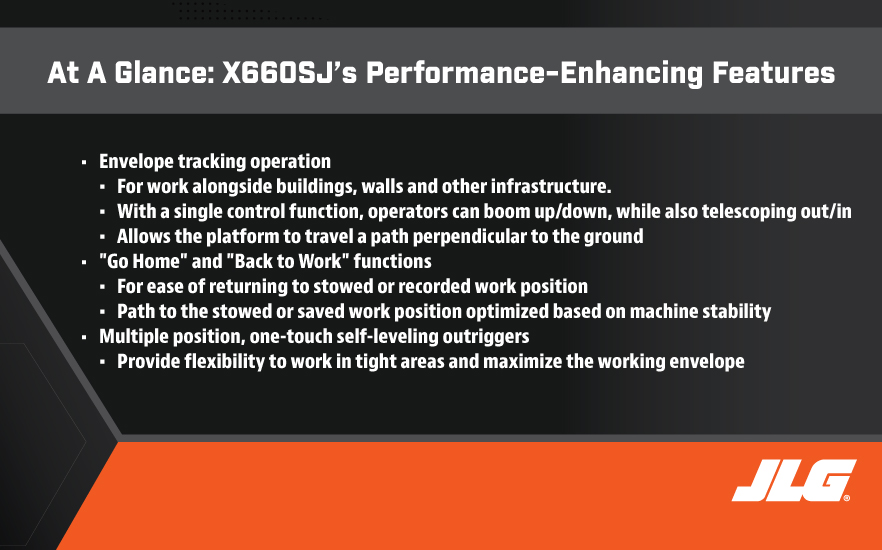 The boom on this compact crawler boom lift extends out in a straight line using 1 or more telescopic boom sections. This gives users enough vertical reach to directly access overhead job site tasks. This gives operators the ability to take full advantage of the boom's entire range of horizontal reach.
With their design, telescoping models like the X660SJ can reach higher than articulating boom lifts which allows these models to provide both maximum height and maximum outreach to:
Access work from a distance where the terrain or obstacles prevent close proximity
Get into working position more efficiently
Along with its telescopic boom, the X660SJ is designed with unique features that are key to efficiently accessing work at height and will transform how facility and construction professionals get work done at height, both indoors and outdoors.
An example of this is the architecture allows up to 2 occupants each full full height more efficiently, while its crawler-mounted design and 40% gradeability allows operators to climb slopes with ease compared to standard lifts.
The compact crawler boom as a 2 ft 11 inch profile and less than 7400 pounds foot print allows operators to go more places around the jobsite such as through gates and standard doorways.
Let's Take a Look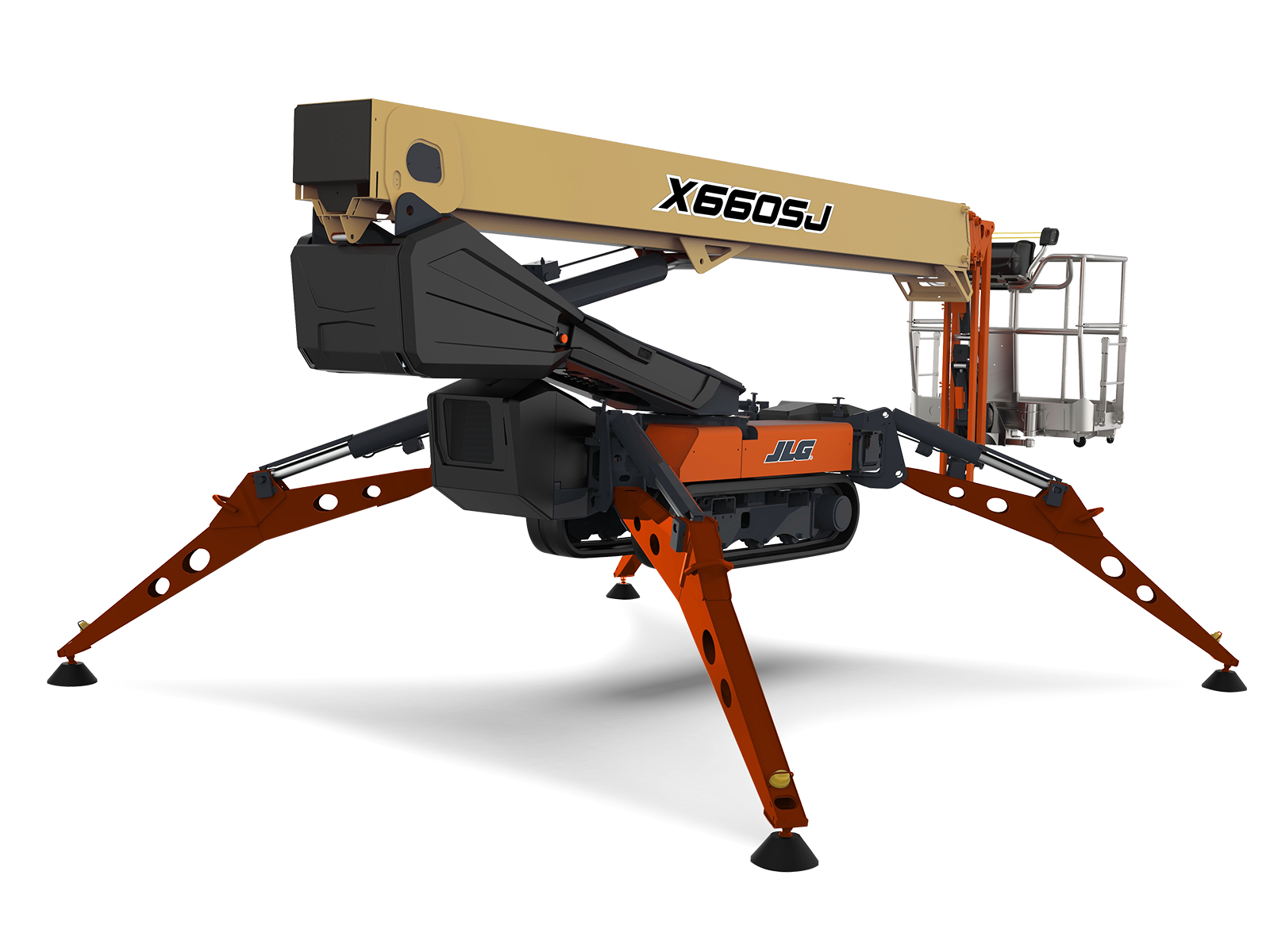 X660SJ KEY SPECS

The model is spec'd for operators to gain performance and productivity on job sites. This machine has a 65 ft 7 in platform height, a 71 ft 7 in working height, and a 39 foot horizontal outreach. The platform offers a class-leading 500 pounds unrestricted capacity.
With all the reach and capacity, the X660SJ's stowed width allows it to fit through a double doorway with ease.
This compact crawler boom also includes air, water and powerlines to the platform, helping workers tackle everything from window washing to general maintenance tasks.
When it's time to move the machine, operators can use the integrated forklift pockets and lifting eyes that are standard on all JLG compact crawler boom lifts to load and unload the machine.The straight jib takes productivity up a notch.
APPLICATIONS

With the ability to work indoors and outdoors, the X660SJ is perfect for a wide range of applications including agriculture, painting, general maintenance, electrical, HVAC, and window washing on a wide variety of job sites with examples being auditoriums, arenas, and outdoor structures.
When designing the X660SJ, JLG enclosed its powertrack within the boom. This protects internal components and reduces the impact of any debris that may come in contact with this area such as tree trimming or cleaning.
Machine Components

OUTRIGGERS

The X660SJ comes equipped with multi-position, 1-touch self-leveling outriggers to increase stability. The outriggers can be positioned in wide or narrow configurations to allow users to maximize the work envelope while maintaining the flexibility to work in tight areas. When you are working with the outriggers in the narrow configuration, the machine maximizes operators' swing capabilities to extent over the side of the machine.
ENVELOPE TRACKING

Envelope tracking operation allows operators to work alongside buildings, walls and other infrastructure easily. Envelope tracking operations gives the machine the ability to follow buildings for a "scissor-like" effect.
With single control functionality, operators can boom up and down, while also telescoping out and in so the platform travels a path perpendicular to the ground. This features keeps users closer to the work with fewer hassles. The controls display will show operators that it's in this mode with a special icon which can be overridden.
GO HOME AND BACK TO WORK

If the jobsite application requires operators to frequently transition form working at height to the ground, the Go Home and Back to Work function on the X660SJ can help operators increase productivity and save time.
To use the "Back to Work function, users start by going to their desired working height. Once there they can record their position by pressing the "Back to Work" button. This saves the working position so they can return to the recorded height and pick up where they left off.
The "Go Home" function works the same, it let's operators automatically return the machine to a stowed position. This feature is also activated by a single button and can be used in combination with teh Back to Work function.
POWER OPTIONS

A crew's work environment can impact the type of power they want or need on a job site. JLG has provided equipment owners and fleet managers the ability to select from 3 power options based on a project's requirements.
The first option is bi-energy with hydraulic drive that gives total flexibility to use the same machine across indoor and outdoor applications. Machines with bi-energy option have an internal combusion engine along with independent lithium-ion battery pack.
The operator has the ability to change between these power sources to fit their application such as using the engine for faster drive or the electric power in an area where 0 emissions or less noise are required.
The X660SJ engine does not charge the batteries as it would in a hybrid machine.
Other new equipment introduced by JLG includes the E18MSP Driveable Order Picker.
About All Access Services


Serving construction projects throughout Southern California with heavy equipment rentals, we have 3 locations in San Diego, Orange County, and Riverside to serve our clients. Each location carries a fleet of scissor lifts, telehandlers, boom lifts, and forklifts available for rent at affordable rates. We strive to provide the best customer service in the industry and hope to earn your trust and business! Popular Crawler Boom lifts available for rent include the 50' Crawler Boom, the 80' Crawler Boom, and the 100' Crawler Boom.