Applications for articulated boom lifts are well established, mostly in the industrial construction, maintenance and repair tasks, as well as in urban areas and city centers that are often congested, that require operators to access various angles and reach in order to complete work at height.
There has also been a significant increase in the use of boom lifts on bridge-building and repair projects near busy freeways and intersections.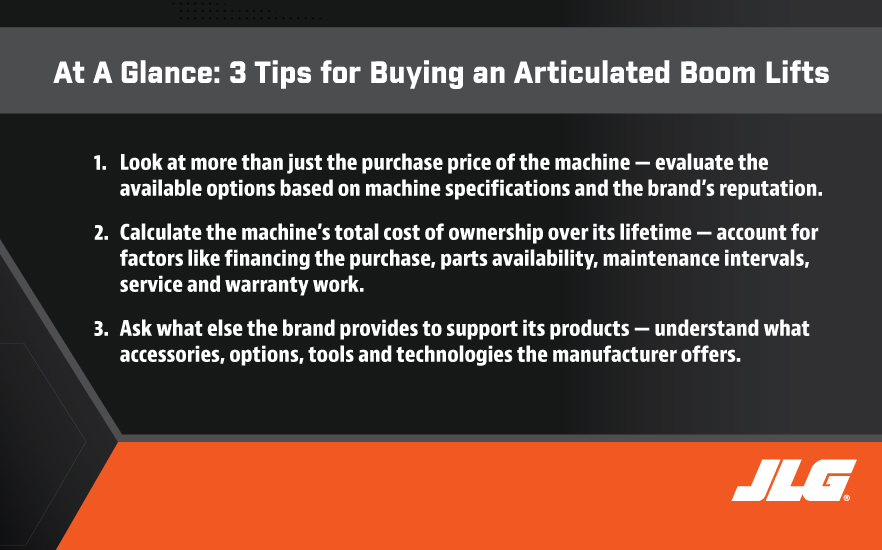 The market demand for articulated boom lifts is high, and it's expected to remain up for the foreseeable future thanks to post-pandemic project backlogs, as well as new work just getting started because of the infrastructure bill. There is a lot of work going on and there are no signs of it slowing down.
Let's dive into the trends influencing the demand for articulated boom lifts and how All Access is responding to users' needs.
What Changes Are Coming?

Job site situations that are time-consuming and impede performance drive innovation at JLG across the entire product line. There have been recent examples of this like the 670SJ telescopic self-levelling boom lift and the DaVinci® AE1932 all-electric scissor lift. The trend will continue with the introduction of new technologies and innovative products in the product portfolio including the line of articulating boom lifts. An example is the continuous improvement in user operability and job site connectivity have become focal points as new technologies continue to become available. These solutions will transform how people work at height by increasing productivity and improving safety best practices.
Green Advancements for Articulating Boom Lifts

The move toward non-fossil, fuel-based (hybrid or electric) articulated boom lifts being driven by the increasing use of this equipment in urban areas, with increasingly strict regulatory requirements, primarily with carbon footprint. With this "urbanized" trend occurring, there is less open space on and between job sites, which drives the demand for high-reach equipment with a compact footprint, but also creates a socio-economic impact as well. As younger generations enter the workforce, they're demanding social responsibility from an environmental standpoint. People's awareness of environmental issues are driving emission-free zones and a call for more fossil fuel independence from a geopolitical standpoint, driving the demand for electric.
Battery Runtimes and Technology

Regardless of the model brand or size, battery runtimes are dependent on the application. Clients continue to look for articulated boom lifts that can run a full work shift without needing to stop or recharge the battery, no matter the terrain situation or how many duties cycles the operators have completed.
Over the course of history, the JLG models have been equipped with flooded-lead acid batteries (FLA) that contain industry leading run times. A battery technology continues to advance and the costs more affordable, equipment is being shifted toward lithium-ion battery sources that will provide longer runtimes and reduced charging times, increasing the equipment utilization throughout the workday.
Even if electric booms can run an entire shift on battery power, it must be charged before the next operator takes the controls. Charging solutions is a hurdle the industry faces – what's being done to address this?
A large challenge threating adoption as more equipment goes electric is how the equipment will be charged on-site by employees, particularly in the early stages of construction or in remote locations where power is limited. Now, the gap in the electric ecosystem is the charging infrastructure, and everyone is working on different ways to address this issue.
As a JLG retailer, All Access continuously is looking to provide solutions that address this issue, from portable charging stations short-term to developing temporary fixed installations near-term and building permanent fixed installations for long-term. JLG continues to focus on these solutions.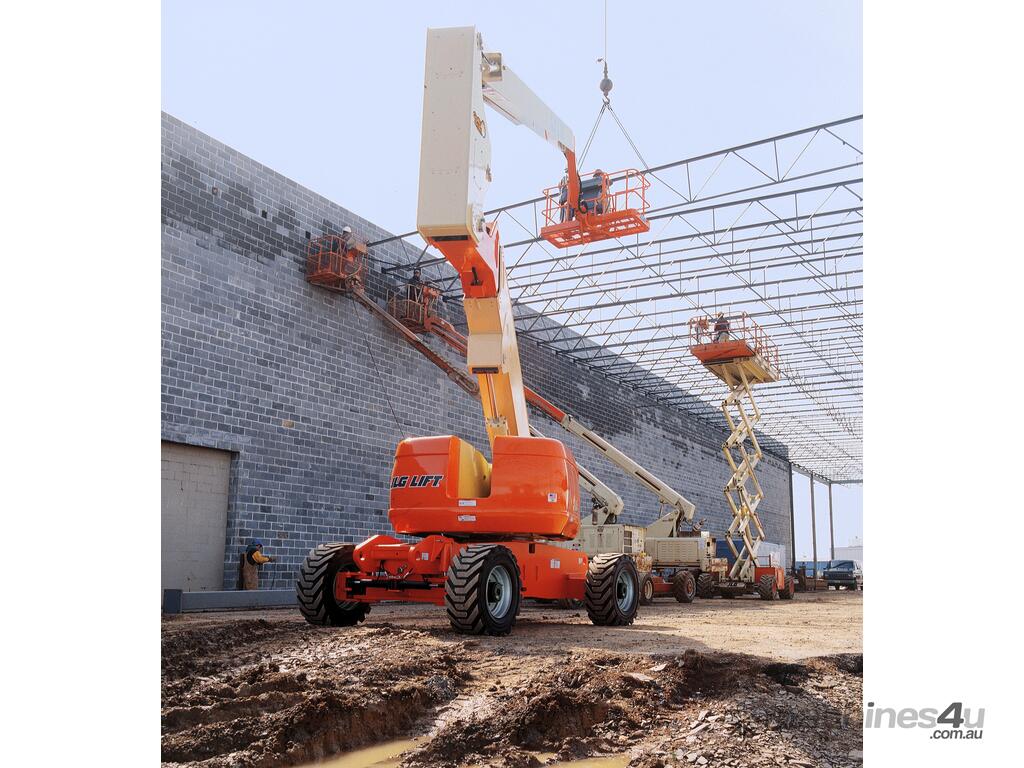 3 Tips for an Informed Purchasing Decision

Purchase Price

Fleet managers need to consider everything from their budget to the specific task that will need to be completed with the equipment. Example: having too much, or too little machine can present challenges. It's important to evaluate the available options based on machine specs like stability and capacity, as well as the brand's reputation for reliability and safety.
Lifetime Ownership Cost

Calculate the machine's total cost of ownership over its lifetime. Fleet managers need to account for factors including financing the purchase, parts availability, maintenance intervals, service and warranty work, telematics and digital tools to manage the equipment, operator and technician training and resale value of the brand.
Equipment Support

Ask what else the brand provides to support its products. Fleet managers should understand what accessories, options, tools and technologies the manufacturer offers to improve the users' experience with its equipment. Also, fleet managers should be able to access the information they need to know for successfully owning and operating an OEM's articulated boom lift.
JLG Articulated Boom Lifts vs Other Models

Job sites are measured by productivity, which means clients expect equipment that stands up to the day's demands. The JLG engine-powered articulating boom lifts and electric/hybrid articulated boom lifts are proven to provide the most productive day possible. Whether on cement or off, these articulating boom lifts provide performance and reliability, featuring larger work envelopes, improved capacities and industry-leading reach heights with exceptional gradeability.
All Access not only provides powerful and versatile equipment, but also training and service. Our team understand it's important to be responsible which is why we're proud to be a JLG partner and providing the highest quality equipment for rent or purchase.
About All Access Services


Serving construction projects throughout Southern California with heavy equipment rentals, we have 3 locations in San Diego, Orange County, and Riverside to serve our clients. Each location carries a fleet of scissor lifts, telehandlers, boom lifts, and forklifts available for rent at affordable rates. We strive to provide the best customer service in the industry and hope to earn your trust and business!