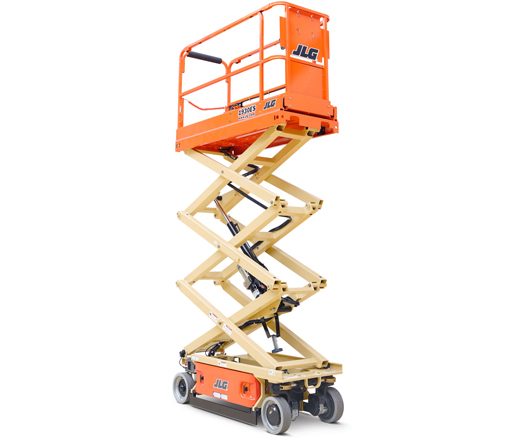 Key Features

Increased Battery Life: Refreshed design includes electric drive, which delivers up to double the battery life of a standard scissor.
Time Savings: Standard QuikFold rail system allows operators to fold the rails in a fraction of the time of a standard machine.
Simplified Use & Service: Standard USB charger and phone holster improve the operator experience, while a high degree of commonality with other JLG® scissors simplifies service.
More Options: Available as an indoor-only option (ES1932i).
GET A QUOTE NOW
888-777-5990
Request a Quote
Specifications
Product Overview
MAKE: JLG
MODEL: ES1930
EQUIPMENT TYPE: SCISSOR LIFT
ENGINE TYPE: ELECTRIC
TERRAIN TYPE: CONCRETE
Product Features
PLATFORM HEIGHT: 19'
PLATFORM CAPACITY: 507 LBS
PLATFORM SIZE: 73.5"L X 30"W
DIMENSIONS: 73.5"L X 30"W
STOWED HEIGHT: 43.3"
MACHINE WEIGHT: 3353 LBS

The Key Features of the 19' Scissor Lift

The JLG 19' Scissor Lift is a versatile and highly useful piece of equipment that has found widespread use across a variety of industries. Scissor lifts are a popular piece of aerial equipment that helps employees access levels of height to complete job site tasks. The JLG 19' scissor lift for rent is compact, highly maneuverable, and offers a maximum platform height at 19 feet. This scissor lift can be used in a wide range of indoor and outdoor needs.
WIth a width of just 2 feet 6 inches and a length of 6 feet 5 inches, the 19' foot scissor lift for rent can easily navigate through tight spaces and narrow aisles, making it an ideal choice in manufacturing facilities, retail spaces, warehouses, distribution centers, and contractors of all industries (electrical, HVAC, painting, etc).
Safety Features
Outside of the compact size, the JLG 19' scissor lift for rent has a number of safety features that helps workers perform their tasks safely and quickly. Example: The scissor lift is equipped with a variety of safety interlocks that prevent it from operating if certain conditions are not met, such as an overloaded platform or an uneven lift. The lift is also equipped with a tilt alarm and a descent alarm which will alert workers if its descending too quickly.
Other Scissor LIft Features
Another feature that clients love about the 19' scissor lift for rent is its ease of use. Comes equipped with intutitive controls that are easy to operate even for employees who have little experience with scissor lifts. Workers can become quickly trained on the equipment safety and operation.
This machine is an excellent choice for companies and individuals that need to perform at levels of height in a variety of indoor and outdoor settings.