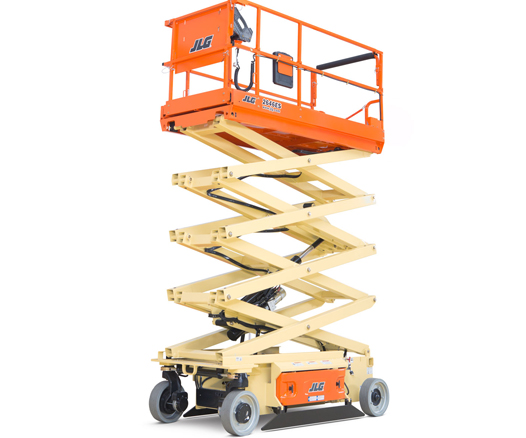 Quick Features - Scissor Lift Rental

Quieter, cleaner operation for a variety of environments.
Electric drive and integrated components with only two hydraulic hoses and four hydraulic fittings on the entire machine will keep you on the job longer and reduce your operating costs by reducing chances for leaks and service calls.
Tight turning radius for great maneuverability.
Delivers 200% more battery life.
GET A QUOTE NOW
888-777-5990
Request a Quote
26 ft Scissor Lift Rental Specifications
Product Overview
MAKE: JLG
MODEL: 2646ES
EQUIPMENT TYPE: SCISSOR LIFT
ENGINE TYPE: ELECTRIC
TERRAIN TYPE: CONCRETE
Product Features
PLATFORM HEIGHT: 26'
PLATFORM CAPACITY: 1000 LBS
PLATFORM SIZE: 7'5"L X 32"W
DIMENSIONS: 7' 5"L X 32"W
STOWED HEIGHT: 6' 4.5"
MACHINE WEIGHT: 4975 LBS
More About the 26 ft Scissor Lift

The All Access JLG 26' scissor lift is a compact and versatile aerial work platform designed to help employees perform tasks at levels of height safely. This scissor lift has a maximum platform height of 26' with a working height of up to 32'. Indoor and outdoor job site applications rely on this scissor lift in industries including maintenance, installation, construction, and contractors of all industries.
Featuring a durable steel frame and reliable electric drive system, this particular model delivers a smooth and quiet operation. Because of its compact size it is able to easily maneuver in tight spaces while its non-marketing tires can be used on a variety of surfaces without causing damage.
JLG 26' scissor lift platform measures 72 inches by 26 inches, creating plenty of space for workers, tools, and materials. It is equipped with safety features including an emergency stop button, a guardrail system, and a descent alarm.
With a lifting capacity of 500 pounds, it can hold multiple workers and equipment. There is a maximum travel speed of 2.5 miles per hour so workers can move quickly between worksite areas.