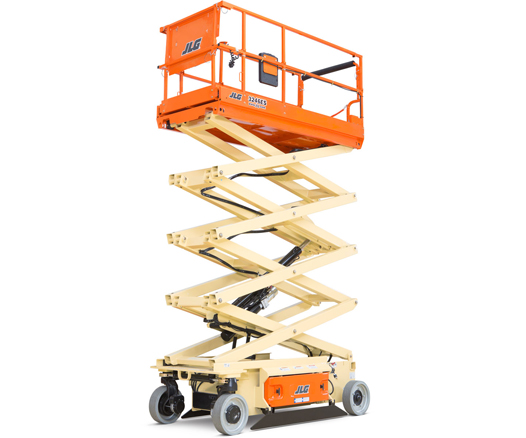 Scissor Lift Quick Features

Run Longer on a Single Charge: Delivers double the battery life.
Work in Sensitive Areas: Available CleanGuard leak containment system allows for work on sensitive flooring.
Reduce Operating Costs: Electric drive and integrated components with reduced hydraulic components on the entire machine lower the chances for leaks and service calls to keep you on the job longer.
GET A QUOTE NOW
888-777-5990
Request a Quote
Specifications
Product Overview
MAKE: JLG
MODEL: ES3246
EQUIPMENT TYPE: SCISSOR LIFT
ENGINE TYPE: ELECTRIC
TERRAIN TYPE: CONCRETE
Product Features
PLATFORM HEIGHT: 32'
PLATFORM CAPACITY: 705 LBS
PLATFORM SIZE: 8' 4"L X 46"W
DIMENSIONS: 8' 4"L X 46"W
STOWED HEIGHT: 6' 5.5 "
MACHINE WEIGHT: 5620 LBS
More About the 32 ft Scissor Lift

The JLG 32 ft scissor lift is a popular machine that's designed to elevate workers to heights of up to 32 feet. This scissor lift is used for a range of construction and maintenance tasks, and also commonly used in a variety of contractor industries (painting, electrical, HVAC, roofing, etc). Powered electrically, it is a great choice for indoor use as there are no emissions and it operates quietly. Featuring a sturdy platform that can hold up to 500 pounds, it will meet your requirements for carrying both workers, tools, and materials to levels of height.
Another feature that makes the 32 foot scissor lift popular is its compact size. With a width of 46 inches, it has the ability to fit through standard doorwards and narrow aisles. Despite its small size, this scissor lift provides a generous amount of workspace with a platform size of 94 inches X 32 inches, giving worksrs plenty of room while completing tasks.
As with all JLG equipment, the 32 foot scissor lift is designed with safety in mind. Featuring an automatic braking system that engages when the machine is not being use to keep the machine from accidentally moving. It includes safety rails and a non-slip surface to help prevent falls. If you are looking to rent a 32 foot scissor lift, please reach out to the team at All Access Services!
To request a free quote, please fill out our "Request Estimate" form or give us a call to speak with a representative!