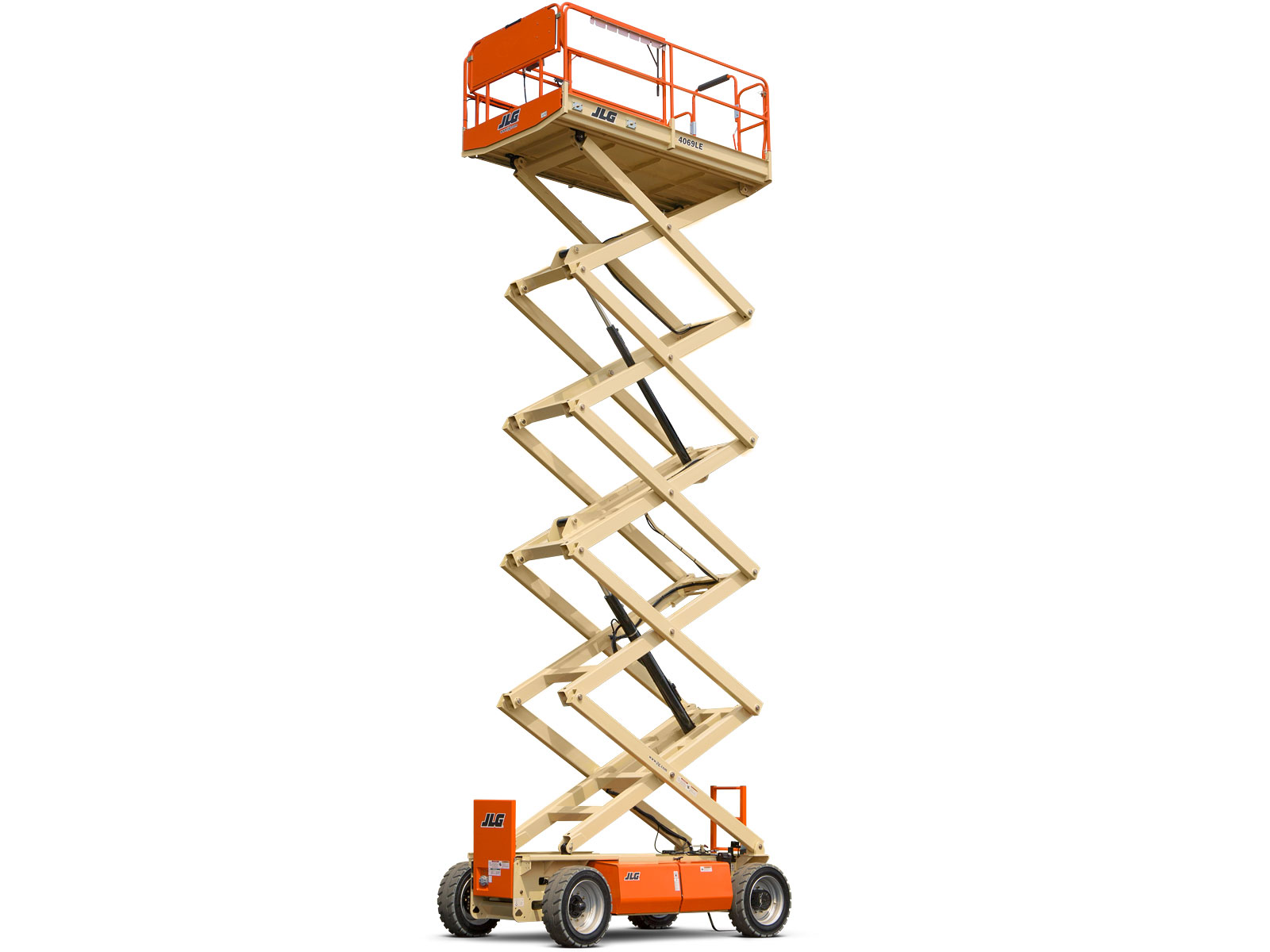 Scissor Lift Quick Features

Narrow 45 in. Width - One of the narrowest widths in its class allows for use in warehouse and distribution center aisles.
Simplified, Reliable Design - Simple pothole protection system has fewer moving parts to reduce service calls.
Built Rugged for Rental - An all-steel platform and steel component trays allow it to meet the demands of the toughest job sites.
GET A QUOTE NOW
888-777-5990
Request a Quote
Specifications
Product Overview
MAKE: JLG
MODEL: R4045
EQUIPMENT TYPE: SCISSOR LIFT
ENGINE TYPE: ELECTRIC
TERRAIN TYPE: CONCRETE
Product Features
PLATFORM HEIGHT: 40'
PLATFORM CAPACITY: 770 LBS
PLATFORM SIZE: 96 "L X 5' 9" W
DIMENSIONS: 96" L X 5' 9" W
STOWED HEIGHT: 4' 7"
MACHINE WEIGHT: 7,000 LBS
More About the 45 ft Scissor Lift

The JLG 45' Scissor Lift is a versatile piece of equipment used in construction, industrial, and maintenance applications. This scissor lift model can reach a height of 45 feet, providing access to high areas that would otherwise be difficult to reach. It has a large platform that can hold multiple workers and equipment, making it ideal for tasks that require more than one person. The JLG 45' Scissor Lift is also designed to be used both indoors and outdoors, making it an ideal choice for a wide range of projects.
One of the key features of the JLG 45' Scissor Lift is its easy-to-use controls. The operator can maneuver the lift using a simple joystick, making it easy to navigate in tight spaces. The lift also features a reliable hydraulic system that allows for smooth and precise movements. Additionally, the lift has an automatic leveling system that ensures the platform remains stable even on uneven surfaces.
The JLG 45' Scissor Lift is also designed with safety in mind. It comes equipped with a range of safety features, including guardrails, emergency stop buttons, and an overload protection system. The lift is also designed to be easy to maintain, with simple access to all major components. Overall, the JLG 45' Scissor Lift is a reliable and versatile piece of equipment that is ideal for a wide range of projects.