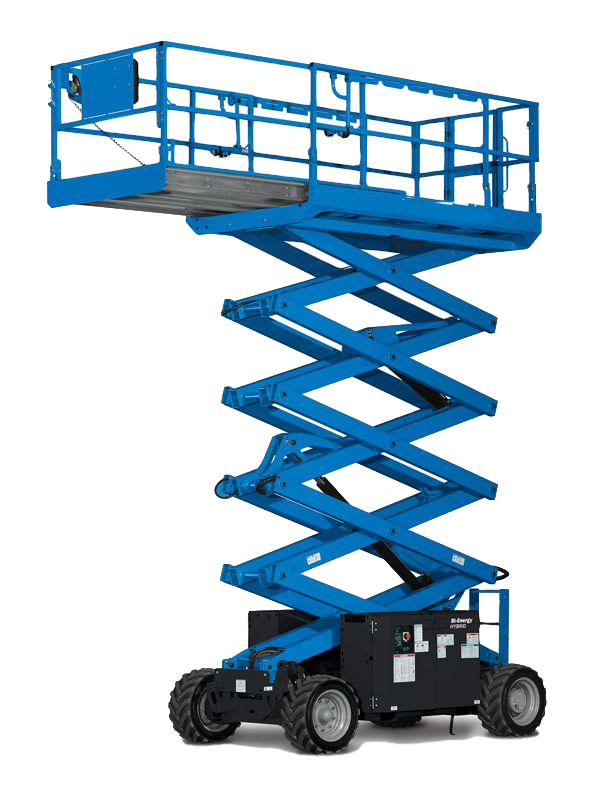 Rough Terrain Scissor Lift Features
The only 40-ft full drive height unit in its class, the Genie® GS™-4069 RT rough terrain scissor lift features four-wheel drive and positive traction control, offering up to 40% gradeability when driving on slopes — making it ideal for use on demanding outdoor worksites.
Front active oscillating axle keeps all four wheels on the ground during operation. Proportional lift and drive.
800-lb (363 kg) capacity. Foam-filled, rough-terrain tires.
GET A QUOTE NOW
888-777-5990
Request a Quote
Rough Terrain Specifications
Product Overview
MAKE: Genie GS
MODEL: GS-4069 RT
EQUIPMENT TYPE: SCISSOR LIFT RENTAL
ENGINE TYPE: FUELED
TERRAIN TYPE: ROUGH TERRAIN
Product Features
PLATFORM HEIGHT: 46'
PLATFORM CAPACITY: 800 LBS
PLATFORM SIZE: 96"L X 36"W
HORIZONTAL OUTREACH: 49' 6"
DIMENSIONS: 28' 4"L X 98"W
STOWED HEIGHT: 8' 4"
MACHINE WEIGHT: 10,245 LBS
More About the 40 ft Rough Terrain Scissor Lift

The Genie 40 ft rough terrain scissor lift is a piece of equipment designed to provide vertical access on rough or uneven terrains. With a maximum platform height of 40 feet, it's ideal for a variety of industries including construction, maintenance, industrial settings, and for contractors in a variety of industries. Equipped with 4-wheel drive, this scissor lift can traverse uneven ground and slopes with ease. This machine also has a narrow width so it is easy to maneuver in tighter spaces.
One of the features organizations love about the Genie 40' rough terrain scissor lift is its high level of operator safety. This scissor lift comes with a variety of features including: a tilt alarm, a platform overload sensor, and a pothole protection system. These features make sure that the lift is operated safely even in challenging environments. It is also equipped with a reliable hydraulic system providing smooth and precise control, a piece of equipment that is easy to operate and position equipment at required heights.
Ultimately, the Genie 40 foot rough terrain scissor lift is a very powerful piece of equipment that will increase jobsite efficiency and provide vertical access on rough terrain areas. This is an excellent rental option because of its safety features, narrow width, and reliable hydraulic system.
To request a free quote, please fill out our "Request Estimate" form or give us a call to speak with a representative!