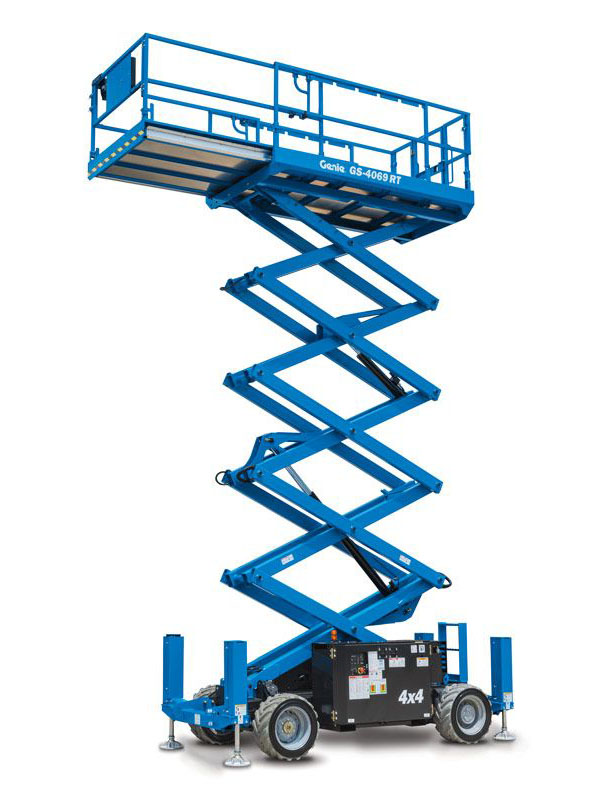 Rough Terrain Scissor Lift Features

The Genie® GS™-2669 RT rough terrain scissor lift is a tough, construction-oriented four-wheel drive machine with positive traction control, which can increase operator productivity on demanding outdoor worksites.
Up to 45% gradeability for demanding outdoor worksites.
Proportional lift and drive. AC power to platform. Foam-filled, rough-terrain tires.
GET A QUOTE NOW
888-777-5990
Request a Quote
Genie 33 ft Rough Terrain Scissor Lift Specifications
Product Overview
MAKE: GENIE
MODEL: GS-3369 RT
EQUIPMENT TYPE: ROUGH TERRAIN SCISSOR LIFT
ENGINE TYPE: FUELED
TERRAIN TYPE: CONCRETE
Product Features
PLATFORM HEIGHT: 33'
PLATFORM CAPACITY: 1,500 LBS
PLATFORM SIZE: 96"L X 36"W
HORIZONTAL OUTREACH: 49' 6"
DIMENSIONS: 28' 4"L X 98"W
STOWED HEIGHT: 8' 4"
MACHINE WEIGHT: 7,295 LBS
More About the 33 foot Rough Terrain Scissor Lift

The Genie 33 foot rough terrain scissor lift is designed to provide worker safey and increase job site efficiency by providing the ability to work at elevated work areas with rough or uneven terrain. With a maximum platform height of 33 feet and a working height of up to 39 feet, this machine will provider your workers a comfortable platform to do jobs at height. The 33 foot rough terrain scissor lift also has a lift capacity of 1,500 pounds, easily accomodating multiple workers, tools, and materials. Most commonly found in construction, maintenance, and outdoor applications, the 33 foot rough terrain scissor lift is a sought after piece of heavy equipment.
A key feature of the Genie 33 foot rough terrain scissor lift is the ability to operate on rough terrain and slopes. It comes equipped with oversized tires and a rugged frame, easily manuevering over gravel, dirt, and other potential challenging environments. With a 4-wheel drive system, it provides excellent traction (even in wet or muddy conditions). This is the go-to machine for outdoor jobs where a traditional scissor lift may not be suitable to operate.
Along with its rugged design, the Genie 33 foot rough terrain scissor lift has a variety of safety features designed to protect works and minimize job site accidents. The safety features include an emergency stop button, automatic brakes, and a tilt sensor that will alert operators if the lift is unstable. Combining safety, power, and manueverability, the Genie 33 foot rough terrain scissor lift is the perfect piece of equipment for lifting workers to levels of height on uneven and rough surfaces.
To request a free quote, please fill out our "Request Estimate" form or give us a call to speak with a representative!