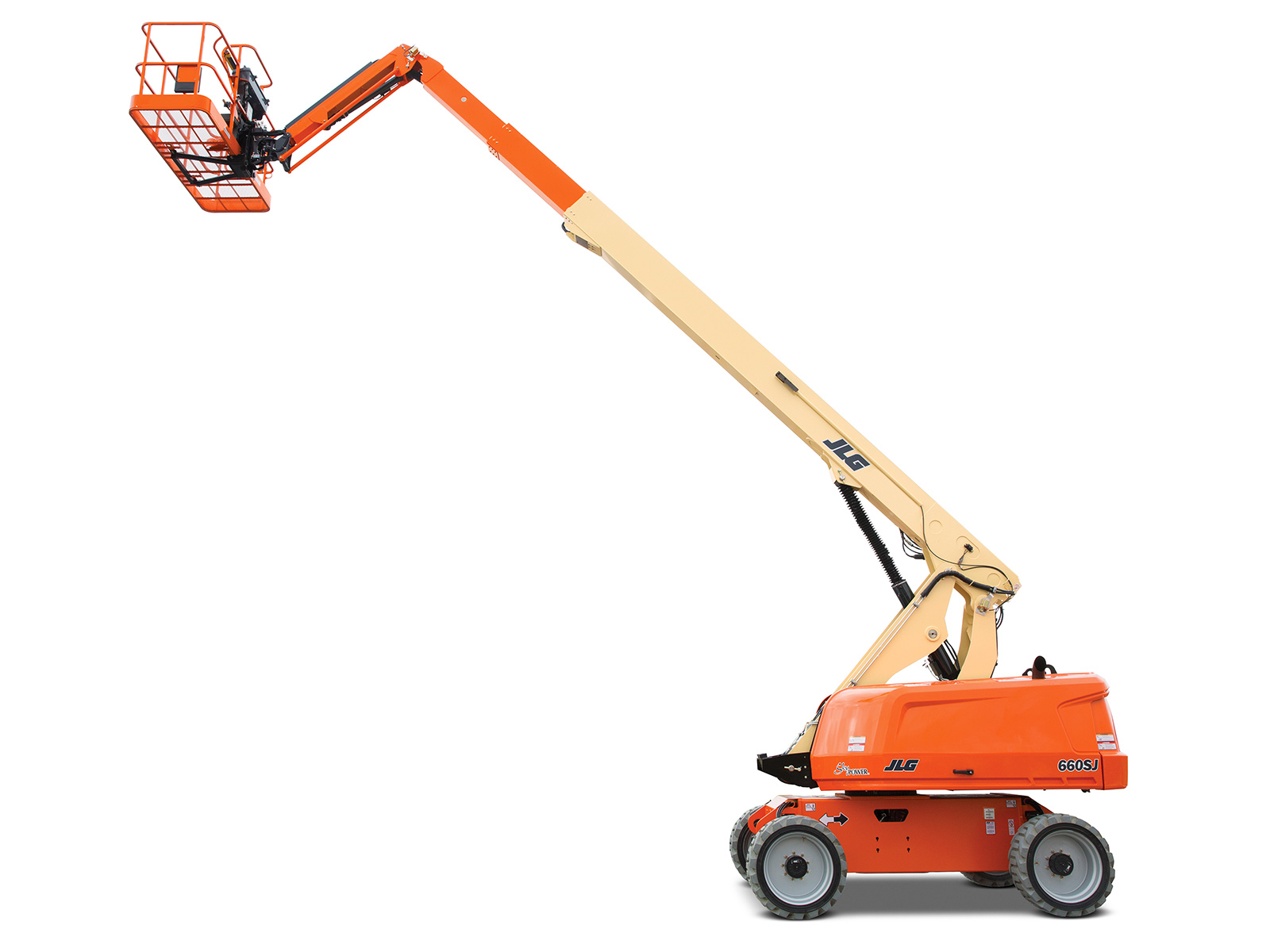 66' Boom Lift Key Features

Best selling boom lift.
Select from 2 models.
Easy-to-use platform controls reduce operator training time.
Equipped with a fuel-efficient Tier 4 engine.
GET A QUOTE NOW
888-777-5990
Request a Quote
66' Boom Lift Specifications
Product Overview
MAKE: JLG
MODEL: 660SJ
EQUIPMENT TYPE: STRAIGHT BOOM LIFT RENTAL
ENGINE TYPE: FUELED
TERRAIN TYPE: CONCRETE
Product Features
PLATFORM HEIGHT: 66'
PLATFORM CAPACITY: 550 LBS
PLATFORM SIZE: 96"L X 36"W
HORIZONTAL OUTREACH: 49' 6"
DIMENSIONS: 28' 4"L X 98"W
STOWED HEIGHT: 8' 4"
MACHINE WEIGHT: 29,281 LBS
66' Boom Lift Description

The JLG 66' boom lift is a powerful machine designed to elevate workers, personnel, materials, and tools to elevated levels of height in the construction, maintenance, and industrial industries. With a maximum platform height of 66 feet and the ability to reach out horizontally up to 56 feet, this boom lift is a sought after piece of equipment.
This boom lift comes equipped with a hydraulic system that allows the machine to move smoothly and steadily to the needed heights and possition. The platform on this boom lift can hold up to 2 people, with a maximum weight capacity of 500 pounds. It also can rotate 180 degrees, allowing workers to easily reach different areas without having to move the boom lift.
The boom lift has a variety of safety features such as emergency stop button, fall protection, and automatic self-leveling system to provide a stable foundation, even on uneven and rough surfaces. It can be control from the platform or from the ground making it easy to operate and maneuver.
To request a free quote, please fill out our "Request Estimate" form or give us a call to speak with a representative!