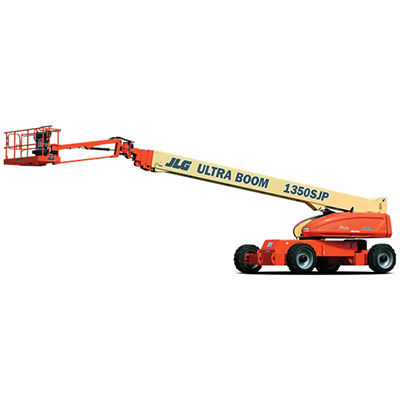 135' Boom Lift Key Features

Ground to 135 ft up in 95 seconds.
Strong 100,000-psi steel and a dual 1,000 / 500 lb capacity give you stability and capacity.
Equipped with a fuel-efficient Tier 4 engine.
GET A QUOTE NOW
888-777-5990
Request a Quote
135' Boom Lift Specifications
Product Overview
MAKE: JLG
MODEL: 1350SJP
EQUIPMENT TYPE: STRAIGHT BOOM LIFT RENTAL
ENGINE TYPE: FUELED
TERRAIN TYPE: CONCRETE
Product Features
PLATFORM HEIGHT: 135'
PLATFORM CAPACITY: 1000 LBS
PLATFORM SIZE: 96"L X 36"W
HORIZONTAL OUTREACH: 49' 6"
DIMENSIONS: 28' 4"L X 98"W
STOWED HEIGHT: 8' 4"
MACHINE WEIGHT: 45,000 LBS
135' Boom Lift Description

One of the larger boom lifts in the industry, the 135' boom lift is a very powerful piece of equipment that has a maximum platform height of up to 135 feet. This model offers a significant reach that can be used in a variety of industries including construction, maintenance, and industrial type settings.
Featuring a telescop boom that is designed to allow for precise positioning and maneuvering, the platform is spacious with plenty of room for workers and tools. The platform also has a capacity of up to 500 pounds, that can lift multiple workers and equipment at the same time.
The JLG 135' boom lift is powered by a diesel engine, providing high torque and low-end power to handle rough terrain. Safety features include automatic leveling system, emergency stop button, and an "active oscillating system" that provides stability.
To request a free quote, please fill out our "Request Estimate" form or give us a call to speak with a representative!