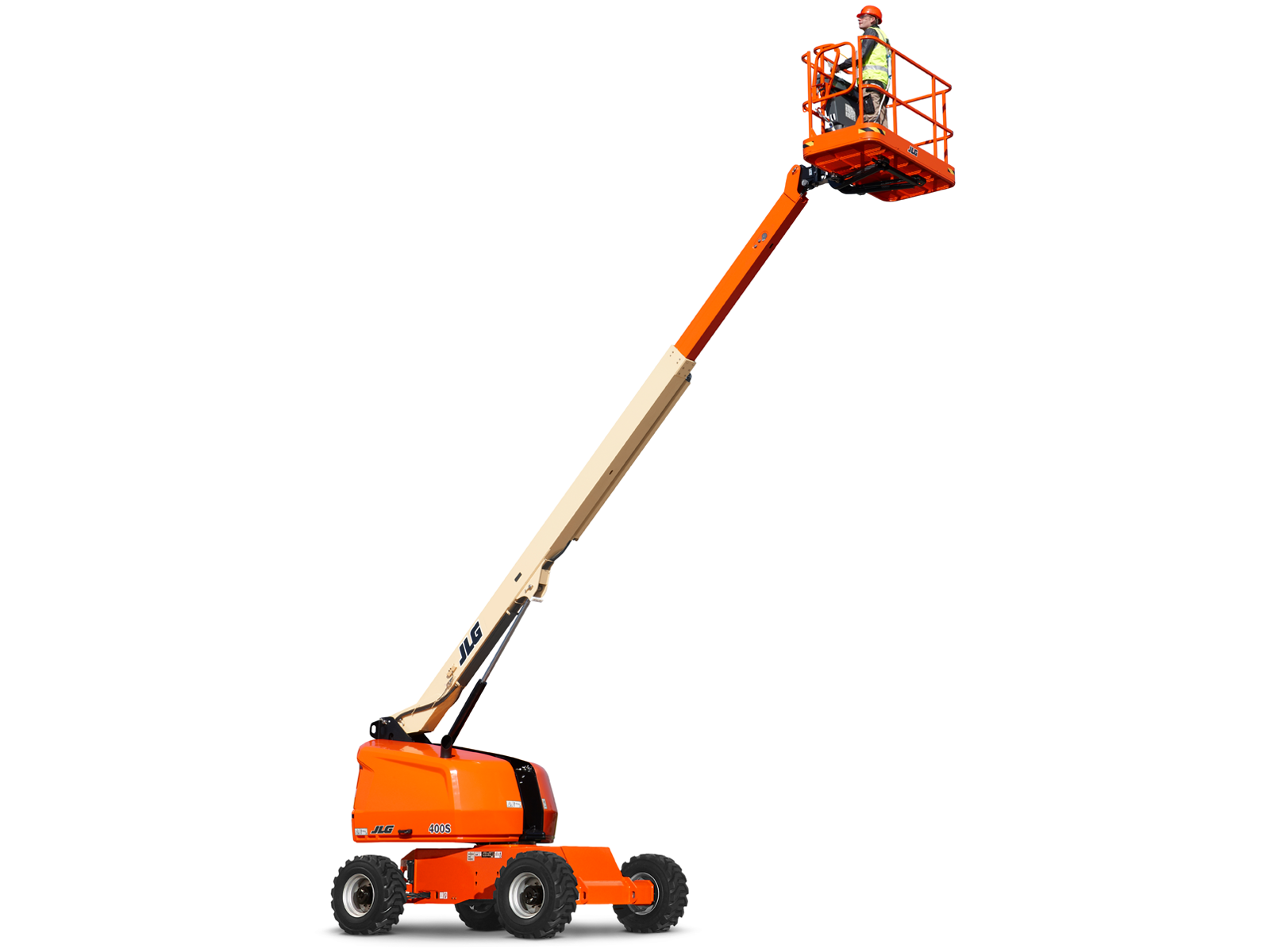 40' Boom Lift Key Features
Best-in-class gradeability and reach.
Fastest lift and drive speeds for unmatched productivity.
Low cost to rent or own.
GET A QUOTE NOW
888-777-5990
Request a Quote
40' Boom Lift Specifications
Product Overview
MAKE: JLG
MODEL: 400 Series
EQUIPMENT TYPE: Telescopic Boom Lift
ENGINE TYPE: FUELED
TERRAIN TYPE: ALL TERRAIN
Product Features
PLATFORM HEIGHT: 40'
PLATFORM CAPACITY: 600 LBS
PLATFORM SIZE: 96"L X 36"W
HORIZONTAL OUTREACH: 39'
DIMENSIONS: 28' 4"L X 98"W
STOWED HEIGHT: 8' 1"
MACHINE WEIGHT: 14,520 LBS
40' Boom Lift Description

The JLG 40' boom lift is designed for outdoor use in a variety of industries including construction, industrial, telecommunications, and contractors of all varieties (tree trimming, painting, HVAC, etc). It is an aerial work platform that allows operators to lift workers to reach elevated heights safelly to perform their needed tasks. With a maximum working height of 40 feet and a horizontal reach of 34 feet, this machine can be used in a wide variety of work site applications.
This piece of equipment comes with a telescopic boom that has the ability to extend vertically and horizontally, providing operators the ability to maneuver in to difficult areas that are hard to reach. It also has a rotating platform making it easy to position the lift and complete tasks from various angles. Powered by a diesel or electric motor, it can be operated from the platform or from the ground using controls located at the base.
Safety features include: a tilt alarm, platform overload sensor, and emergency stop button. It also has "non-marking" tires, making it suitable for various surfaces including indoor floors.
To request a free quote, please fill out our "Request Estimate" form or give us a call to speak with a representative!