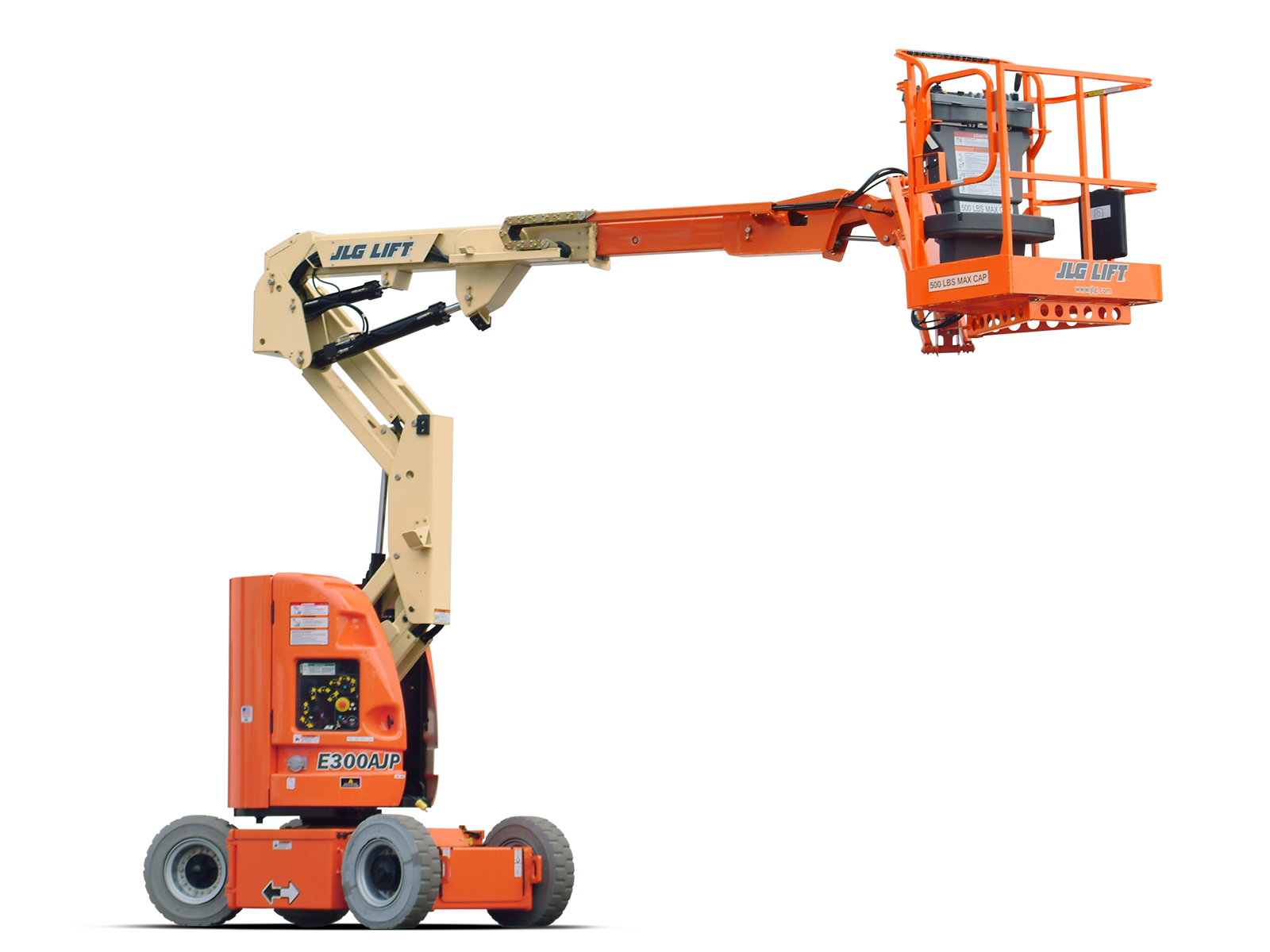 30' Knuckle Boom Key Features

Accessibility: up and over access, optional jib.
Maneuverability: move over uneven surfaces with Automatic Traction Control.
Productivity: longer with longer duty cycles.
Environmentally friendly: zero emissions...
GET A QUOTE NOW
888-777-5990
Request a Quote
30' Knuckle Boom Specifications
Product Overview
MAKE: JLG
MODEL: E300AJP
EQUIPMENT TYPE: KNUCKLE BOOM LIFT RENTAL
ENGINE TYPE: ELECTRIC
TERRAIN TYPE: CONCRETE
Product Features
PLATFORM HEIGHT: 29' 5'
PLATFORM CAPACITY: 500 LBS
PLATFORM SIZE: 96"L X 36"W
HORIZONTAL OUTREACH: 49' 6"
DIMENSIONS: 28' 4"L X 98"W
STOWED HEIGHT: 8' 4"
MACHINE WEIGHT: 15,705 LBS
30' Knuckle Boom Description

The JLG 30' knuckle boom is designed for both outdoors and indoor use. This versatile piece of equipment provides access to elevated work areas. The "knuckle" refers to its ability to bend and articulare in several places, giving it the ability reach over and around obstacles.
With a maximum platform capacity of 30 feet and a horizontal reach of 20 feet, the JLG 30' knuckle boom can be used in a variety of industries: construction, warehouse, maintenance, distribution centers, and contractors of all industries.
Operated by a hydraulic system, the 30' knuckle boom can be controlled from the platform or on the ground. It comes with stabilizers for stability during operation and its small size allows it to easily maneuver through tight spaces and narrow aisle.
To request a free quote, please fill out our "Request Estimate" form or give us a call to speak with a representative!