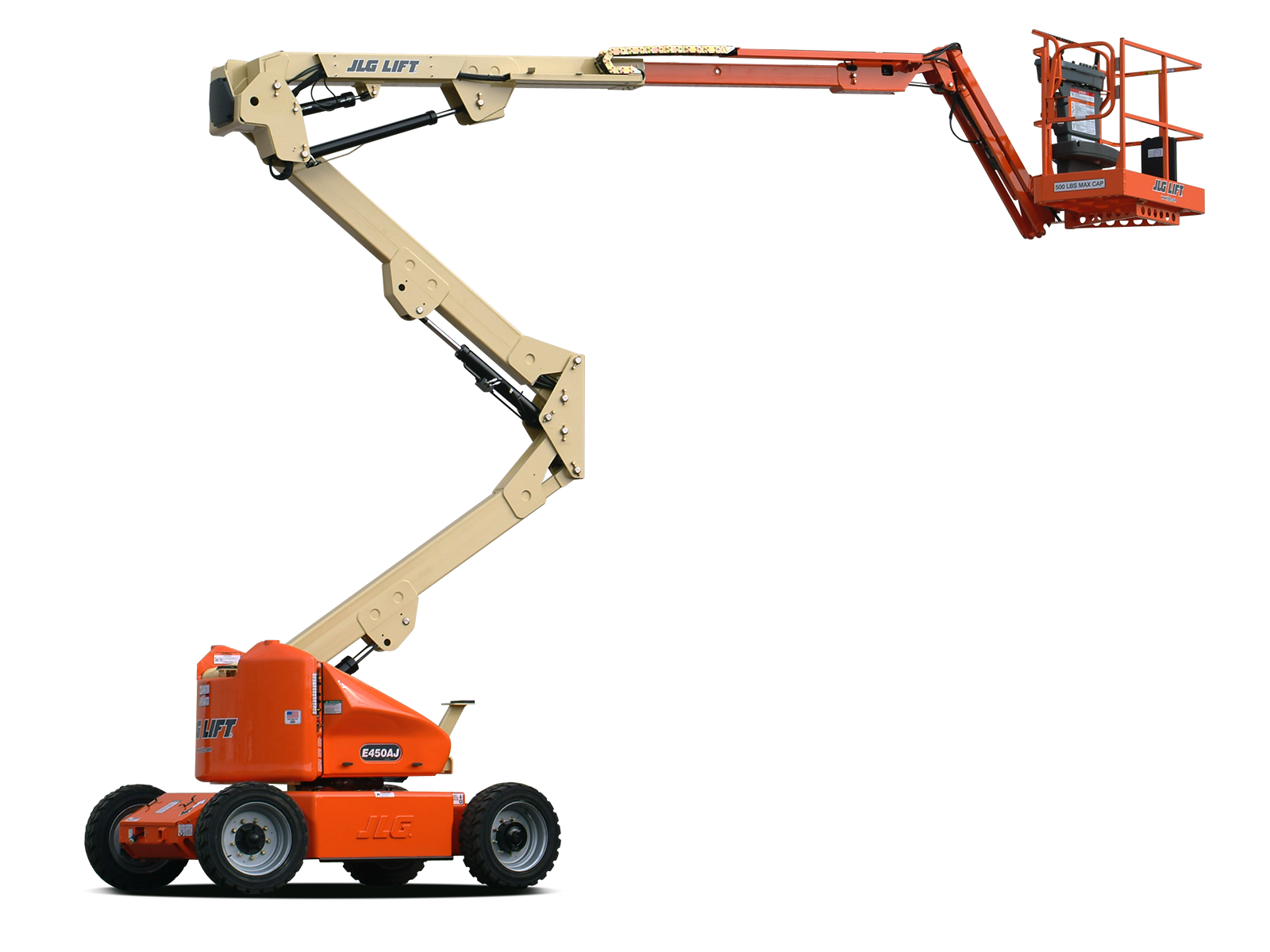 45' Knuckle Boom Rental

Improved multifunction capability increases productivity.
More durability and serviceability thanks to the new DuraTough hood design.
Larger capacity at 550 lb.
GET A QUOTE NOW
888-777-5990
Request a Quote
Product Overview
MAKE: JLG
MODEL: 450AJ
EQUIPMENT TYPE: KNUCKLE BOOM LIFT RENTAL
ENGINE TYPE: FUELED
TERRAIN TYPE: ALL-TERRAIN
Review Full Specs
Product Features
PLATFORM HEIGHT: 45'
PLATFORM CAPACITY: 550 LBS
PLATFORM SIZE: 96"L X 36"W
HORIZONTAL OUTREACH: 25'
DIMENSIONS: 28' 4"L X 98"W
STOWED HEIGHT: 8' 4"
MACHINE WEIGHT: 14,150 LBS
45' Knuckle Boom Description

The JLG 45' knuckle boom is a piece of heavy equipment used in construction and industrial settings. It has a reach of up to 45 feet, making it perfect for tasks such as building maintenance, painting, window cleaning, and installing overhead utilities just to name a few.
A key feature of the JLG 45' knuckle boom is its articulating boom, which gives it the ability to bend and reach around obstacles with ease. The boom is made up of several hinged segments which can be adjusted to reach a wide variety of heights and angles.
It has a hydraulic system that controls the movement providing smooth and efficient operation. Usually powered by a diesel engine, some models may run on electricity.
The JLG 45' knuckle boom comes with safety features including sensors and alarms to alert the operator of potential hazards. It also has a sturdy base and stabilizers to keep it from tipping over.
To request a free quote, please fill out our "Request Estimate" form or give us a call to speak with a representative!