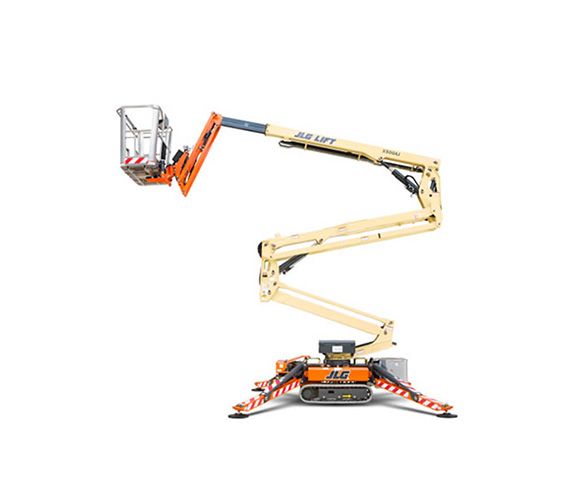 50' Crawler Boom Key Features

Drive speed control for smooth operation on a variety of terrains.
500 lb unrestricted platform capacity.
Regenerative valve on telescopic cylinder resulting 50% increase in speed.
Fits through a standard doorway.
Auto levels on uneven surfaces.
GET A QUOTE NOW
888-777-5990
Request a Quote
50' Crawler Boom Specifications
Product Overview
MAKE: JLG
MODEL: X500AJ
EQUIPMENT TYPE: CRAWLER BOOM RENTALS
ENGINE TYPE: FUELED
TERRAIN TYPE: CONCRETE
Product Features
PLATFORM HEIGHT: 50'
PLATFORM CAPACITY: 500 LBS
PLATFORM SIZE: 96"L X 36"W
HORIZONTAL OUTREACH: 49' 6"
DIMENSIONS: 28' 4"L X 98"W
STOWED HEIGHT: 8' 4"
MACHINE WEIGHT: 5,071 LBS
50' Crawler Boom Description

The JLG 50' crawler boom is an aerial workplatform designed to be used in a variety of indoor AND outdoor appplications, including construction, maintenance, and tree trimming to name a few. The crawler boom has a reach capacity of up to 50 feet, and a horizontal reach of up to 29 feet. The platform on the 50' crawler boom has a capacity of 500 pounds, making it suitable to carry workers and materials.
Powered by a diesel engine, it provides the necessary power and torque to operatore the boom and crawler tracks. The tracks provide the machine the ability to move across a variety of surfaces, including rough terrains and slopes, making it a great piece of equipment for outdoor environments.
Safety features on this crawler boom include outriggers to provide stability and an automatic leveling system that keeps the platform level, even on uneven ground.
To request a free quote, please fill out our "Request Estimate" form or give us a call to speak with a representative!