Industries of all shapes and sizes throughout Orange County have relied on All Access Services for their boom lift rental needs. With a convenient location in the heart of Orange County, we carry a fleet of boom lifts and other heavy equipment that is available to rent on a short- and long-term basis. Boom lifts have become a very popular option for our customers because of their ability to work indoors and outdoors to increase work site productivity. There are various types of boom lifts available including straight boom lifts and articulating boom lifts, depending on your needs. If you are unsure what size will be needed, our team of representatives is here to answer any questions you may have!
We offer a free quote please fill out our "Request Estimate" form or give us a call!
What is an Articulating Boom Lift?

Also commonly referred to as a "cherry picker", an articulating boom lift is a powerful type of aerial work platform used to lift workers, tools, and equipment to levels of height. Consisting of a platform or bucket attached to a hydraulic arm that has the ability to extend vertically and horizontally, allower the machine operator to reach difficult areas.
The arm of the lift is made up of multiple sections that are connected with hinges, giving it a "knuckle-like" appearance. The design of this machine allows the arm to bend and maneuver around job site obstacles, making it ideal for tasks that require a high degree of flexibility, such as construction work and building maintenance.
There are a variety of sizes and capacities available, some the larger models having a reach capacity of over 150 feet while carrying loads of several hundred pounds. Various uses include building inspections, window washing, installing signage, construction projects, tree trimming and more.
What Does A Boom Lift Do?

Orange County boom lifts are the perfect pieces of heavy equipment hat allows you to reach difficult working heights. Boom lifts provide a secure workspace as opposed to using a standard ladder or man lift. Boom lifts are affordable to rent and provide a perfect safety measure for work done at higher elevations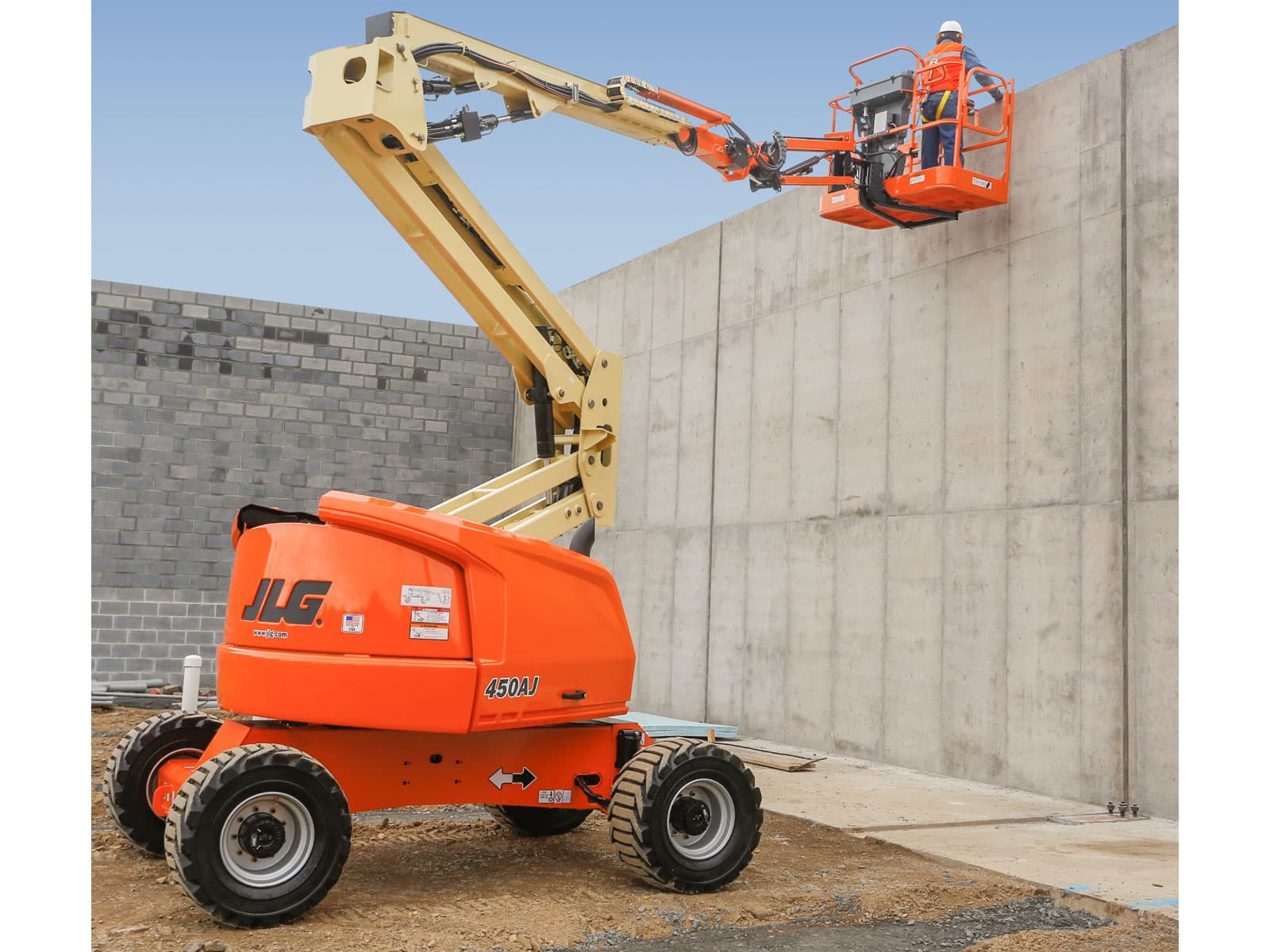 What Is The Difference Between a Boom and Scissor Lift?

These machines differ in several key ways:
Machine Design: Scissor lifts are designed with a platform that moves straight up and down, whereas a boom lift has a platform that extends outward and also can move up and down.
Reach: Boom lifts have the ability to reach greater heights and distances than a scissor lift. Boom lifts can reach up to 130 feet vertically and 75 feet horizontally. Scissor lifts usually have a maximum vertical reach of around 40 feet.
Maneuverability: In tight spaces, scissor lifts provide better maneuverability because of their compact size and vertical movement. Boom lifts require more space to operate.
Stability: Scissor lifts have more of a stable base than boom lifts, making them the preferred chocie for indoor use on flat surfaces. Boom lifts are better suited for outdoor use where the terrain may be uneven or sloped.
Scissor lifts have a more stable base than boom lifts, making them ideal for indoor use on flat surfaces. Boom lifts are better suited for outdoor use where the ground may be uneven or sloped.
You can also learn more from our article "Scissor Lift vs Boom Lift: The Differences"
Common Uses of the Boom Lift
Contractors choose boom lifts when a project is needed to be done at elevated heights. Not only can boom lifts make the work environment more efficient and safer, the increased stability of a boom lift can help workers reach a higher capacity.
Examples of projects boom lifts can help with:
Warehouse Services
Putting Up Scaffolds
Tree Triming
Painting Walls and Ceilings
Hanging Signs
And much more!
Choosing The Best Lift For Your Job
If you need something higher than a forklift and stronger than a scissor lift, a boom lift is the next best choice. Boom lifts have 2-wheel and 4-wheel drive with tires and tread to help keep the equipment stabilized. Outriggers or "stabilizers" are also available for increased stability.
What Questions Should You Ask Before Renting a Boom Lift?

Our customer service team is here to answer any questions you have to help you find the boom lift that will work best for your job or project.
How high will you need the boom lift to go for your job?
What type of movements will be needed?
How many people will need to be on the lift?
How much work material will the lift need to carry?
Are there power sources on site?
How much space do you have?
There will certainly be more questions you may have but these will help get the answers to the platform height and type of boom lift you will need.
What Are the 2 Types of Boom Lifts?
Straight Boom Lift

A straight boom lift, also known as a telescopic boom lift, is an aerial work platform used in construction, maintenance, and various industrial applications to elevate workers and equipment to heights. It features a hydraulic arm or boom that extends straight out, allowing vertical and horizontal reach to access elevated areas. Unlike articulated boom lifts, straight boom lifts have a single extendable arm, providing greater horizontal outreach, making these machines the perfect equipment for tasks requiring access to specific points at height without obstacles directly below. These lifts are equipped with controls in the platform, allowing operators to maneuver the lift precisely, providing stability and safety while working at elevated heights. Straight boom lifts are commonly used in tasks like building maintenance, electrical repairs, tree trimming, and construction projects where a high reach and horizontal extension are necessary.
Articulating Boom Lift

An articulating boom lift is an erial work platform designed to provide access to elevated areas that may be challenging to reach. It consists of multiple sections connected by hinged joints, allowing the lift to articulate or bend in various directions, offering greater flexibility and maneuverability. This type of lift is equipped with extendable arms that can reach up, over, and around obstacles, allowing operators to access specific heights and angles while maintaining stability. Articulating boom lifts are commonly used in construction, maintenance, painting, and other industries where flexible aerial access is required, providing a safer and more efficient alternative to ladders or scaffolding.
Boom Lift Education

The Economic Benefits of Straight Boom Lifts in Construction Projects
Construction sites are bustling hubs of productivity, where precision, safety, and efficiency are crucial for success. Among the array of equipment used in these projects, straight boom lifts stand out as versatile assets that offer significant economic advantages. These towering machines, equipped with extendable arms and stable bases, play an important role in increasing productivity, maintaining safety, and cost savings within construction projects. Let's dive into the economic benefits of using straight boom lifts in construction projects, shedding light on their multifaceted contributions to the bottom line.
How Articulating Boom Lifts Simplify Complex Tasks
In today's dynamic work environments, efficiency and safety are vital, particularly in industries that involve working at heights or in challenging terrains. When it comes to accessing elevated areas while providing stability and maneuverability, articulating boom lifts have been revolutionary. These sophisticated machines have redefined how complex tasks are approached and executed, offering a blend of versatility, precision, and safety that significantly simplifies otherwise challenging jobs.
We offer a free quote, please fill out our "Request Estimate" form or give us a call!