They work like telescopes to extend to heights that would be difficult to reach otherwise.
Are you or your business in need to rent a 40' rough terrain scissor lift for a job or project? At All Access Services we provide the highest quality 40' rough terrain scissor lifts available, all maintained to the highest quality, maintenance, and safety standards. We provide rough terrain scissor lifts of all sizes for projects varying from construction, tree trimming, roof projects, tree trimming and other various services.
Family owned and operated in Southern California; we have become one of the top rough terrain scissor lift rental providers around. Our equipment is top of line and mixed with the best customer service available, our team can help answer any questions to ensure you have the right piece of equipment for your job!
40' Rough Terrain Scissor Lift for Rent

The beauty of rough terrain scissor lifts is that they offer competitive lift speed and large platforms. This increases the efficiency of handling and capacity to finish the job faster. Genie rough terrain scissor lifts also increase productivity by providing speed and gradeability, along with exceptional traction. These are the machines suited for big outdoor jobs where platform workspace is critical.
Please fill out our online form to receive more information or call us today!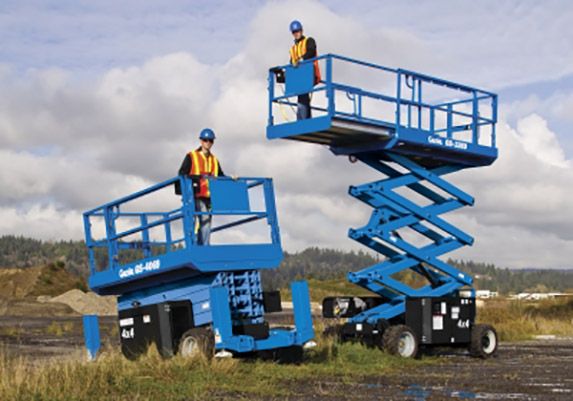 Key Features of the 40' Rough Terrain Scissor Lift

The ONLY 40 Foot Full Drive-Height Unit in its Class
The Genie® GS™-4069 RT has 4-Wheel Drive and Positive Traction Control
Up to 40% Gradeability When Driving on Slopes
Ideal for Outdoor Worksites
Front Active Oscillating Axels Keeps All Four Wheels on the Ground when Operating
Proportional Lift and Drive
800 lb Capacity
Foam Filled, Rough-Terrain Tires
What is a 40' Rough Terrain Scissor Lift?

In broad terms, a rough terrain scissor lift works like an elevator, but is able to drive around. Mainly the scissor lift uses hydraulics to raise and lower the platform and is set on a stack of scissoring arms.
Scissor lifts use either hydraulic or electric motors. Even fuel powered scissor lifts use hydraulic motors to drive the machines. The scissor lifts are perfect for raising and lowering the platform to reach various places on your project.
<
Specifications
Product Overview
MAKE: Genie GS
MODEL: GS-4069 RT
EQUIPMENT TYPE: SCISSOR LIFT RENTAL
ENGINE TYPE: FUELED
TERRAIN TYPE: ROUGH TERRAIN
Product Features
PLATFORM HEIGHT: 46'
PLATFORM CAPACITY: 800 LBS
PLATFORM SIZE: 96"L X 36"W
HORIZONTAL OUTREACH: 49' 6"
DIMENSIONS: 28' 4"L X 98"W
STOWED HEIGHT: 8' 4"
MACHINE WEIGHT: 10,245 LBS