Scissor lifts for years have been the choice for jobsites that need work done at levels of height, increasing the productivity of the workforce. Over the years scissor lift designs and technology continue to evolve, making them more productive than ever.
Finding the right scissor lift for your tasks requires selecting a machine that provides operators the ability to complete the tasks at hand efficiently and safely. By taking a closer look at today's scissor lift technology allows managers in a variety of industries to make smart decisions about how these machines will impact the jobsite from inside out.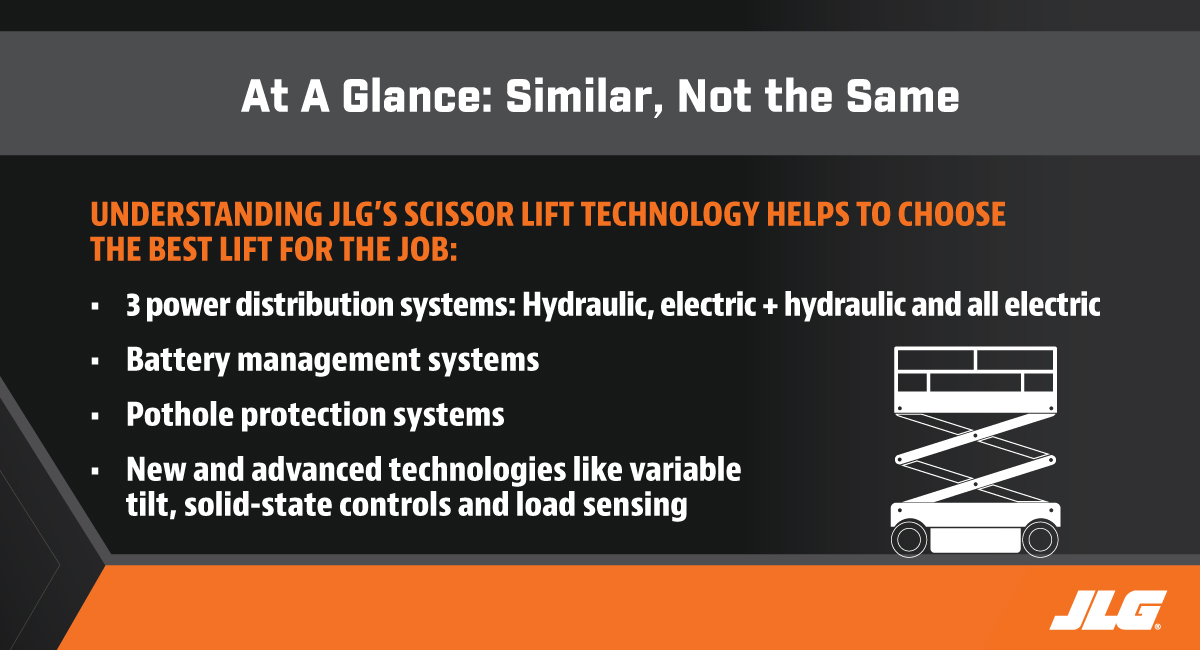 ELECTRIC AND HYDRAULIC POWER DISTRIBUTION SYSTEMS

There are now 3 power distribution systems used in powered lifts:
Hydraulic
Electric & Hydraulic
All Electric
Hydraulic Systems: Takes the energy from the batteries and converts it to hydraulic flow to perform lift, drive, and steer functions. These machines typically cost less to rent or purchase but can be less efficient and has movingi parts, which makes them more expensive to operate compared to electric machines.
Electric & Hydraulic Systems: Also known as "hybrids" have batteries directly linked to motors on the drive wheels, making these lifts more efficient overall. They require less hydraulic oil since they are only performing lift and steer functions, which will reduce issues with oil viscosity and better suited for colder environments. These machines also reduce the number of leak points because they reduce the number of hoses, fittings, manifolds, and other components that critical to their hydraulic counterparts. They also have increased battery life and fewer parts for replacement.
All Electric Scissor Lifts: These machines replace hydraulics completely and eliminate ANY leak points altogether. Traditionally, JLG machines come equipped with flooded lead acid batteries or IC engines where the maintenance costs can be heavy for customers, but all electric scissor lifts have very efficient systems and the power required to run the lifts is cut by more than 40%, opening the door to lithium-ion battery technology and all electric machines.
POWER MANAGEMENT

Replacing batteries on scissor lifts can be expensive, which makes it vital to have battery management software that provides the scissor lift to consistently operate at peak performance. While most contractors and operators try to maximize the run time of a sicssor lift, by doing so, it may sacrifice long-term durability and reliability of the batteries.
Example: When the battery starts to drain during a shift, the output voltage also begins to drain. The batter logic helps determine how low the voltage can drop, the lower the voltage drops, the more the long-term durability of the battery is compromised.
With lithium-ion batteries, there is consistent performance in terms of capacity, and also the ability to be used in temperatures varying from 0c-40c. This will lower the total cost of ownership as it increases the life cycle and lower maintenance costs. A huge benefit for contractors and organizations since current scissor lifts have high battery replacement costs while tehse last the life of teh machine.
All electric scissor lifts, such as the JLG® DaVinci™ scissor lift, have fully independent battery monitoring systems which will monitor cell temp, cell voltage, and makes sure there is an optimal state of health for the system. It also perovides data in terms of state of charge and useable life left in terms of kwh and cycles.
REACHING NEW HEIGHTS

As buildings, warehouses, distribution centers, and homes grow taller, does the need for scissor lifts with greater reach levels. As a machine's height increases, it would reasons that the base must grow as well to ensure stability. But a wider width may not be ideal for certain situations. 1 solution are center-pinned arms to help with front and back stability as well as keeping larger platforms evenly support from underneath. As the machines get taller manufacturers are able to keep the largest platform area possible.
Another solution by JLG is advanced technology such as the QuikLevel Advanced (QLA), which provides automatic side-to-side leveling capabilities with lift-to-full-height on side slopes up to 7 degrees. Machine sensors monitor platform load, height, front axle til, rear axle tilt, and chassis tilt to allow operators the ability to drive at height (under certain conditions). The re-alignment of the chassis rear axle are then automatically calculated once a job is complete to level the machine. To learn more about self-levelling chassis technology check out "Self Leveling Chassis Technology Heavy Equipment"
SOLID-STATE CONTROLS

Solid-state electronics allow operators to get fault codes without swapping relays and fuses. Service diagnostic tools can be used to monitor the lift's critical components and point technicians to the malfunctioning component or part, helping reduce service time.
Technologies that have emerged from the use of solid-state controls include better horsepower management, simple reconfiguration of a machine for different job sites, the ability to update software/hardware on a machine to comply with changing standards, softer stops for more operator comfort, and simplified calibration.
Solid-state controls have also introduced new opportunities, to tap into intuitive, smart phone-enabled diagnostics. Operators can take advantage of apps on their smart phone to view, diagnose and troubleshoot in real time, from any location, to maximum uptime.
LOAD-SENSING SYSTEM

There are 2 types of load-sensing systems:
Force-Based
Pressure-Based
Force Based: Acts like a bathroom scale by providing a reading that calculates how much the pin has been compressed, showing the total weight on the scissor lift. It provides an accurate measurement that can be calibrated without any weight in the platform and without raising or lowering the armstack so the process seconds seconds.
Pressure Based: Measures pressure on the barrel side of the lift cylinder and translates the pressure reading into weight. While it does cost less than force based, pressure based can pose a challenge in cold weather. Since hydrualic oil moves slower in colder temperatures, it is more difficult for the piston to push the oilt out of the rod-side of the lift cylinder to elevate the scissor. This will increase the pressure in the barrel, making the machine "think" it is trying to elevate a larger amount of weight when really the sensor is giving a false reading because the oil is so viscous.
To avoid this, some manufacturers have adopted a "dual-pressure sensor" LSS, which places an additional sensor on the rod-side to calculate the differential between the barrel-side and rod-side pressure. This reduces low-temperature error readings.
SIMILAR, NOT THE SAME

Choosing the right scissor lift for your job requirements can be a complex decision, but understanding the technology behind these versatile machines allows contractors and other industy professionals to choose the best scissor lift for the job.
About All Access Services


Serving construction projects throughout Southern California with heavy equipment rentals, we have 3 locations in San Diego, Orange County, and Riverside to serve our clients. Each location carries a fleet of scissor lifts, telehandlers, boom lifts, and forklifts available for rent at affordable rates. We strive to provide the best customer service in the industry and hope to earn your trust and business!
If you are unsure what scissor lift to rent or purchase, All Access Services has 3 locations throughout Southern California in San Diego, Orange County, and Riverside. Our friendly team is here to answer any questions and make sure you have the right lift for your jobsite!