Vertical mast lifts are growing in demand, very similar to small scissor lifts and low level aerial equipment because of the need for machines to meet the following core requirements:
Smaller footprints to fit into smaller spaces
Lighter weights ability to be used on sensitive flooring and surfaces
Small (possibly 0) turning radius for easy maneuverability
Ability to fit in to freight elevators


2 Trends Increasing the Demands

The requirement and needs to access confined and narrower work areas
Ability to work in weight- restricted applications


TREND #1: THE NEED TO ACCESS NARROWER,
MORE CONFINED AREAS

A huge benefit of the vertical mast lifts, such as the JLG® E18MML is that they provide the ability to access tight confined spaces such as hallways, stairways, and other areas that may be obstructed by infrastructure (ducts for heating work, ceiling areas, tight warehouse aisles). Most models, such as theJLG® E18MMLare rated for outdoor and indoor use, they have become very popular and well suited for work in restricted outdoor areas such as sidewalks, alleyways and or tight exterior walls and buildings.
They are also designed to allow workers to reach high-reaching levels or overhead tasks that can be difficult and/or unsafe where ladders and scaffolding has traditionally been used. Vertical mast lifts measure between 2-3 ft wide and are the most compact aerial lifts in the industry to fit in to smaller spaces. They also have teh ability to boast up and over capabilities, meaning they can be maneuvered around fixed obstcles at height.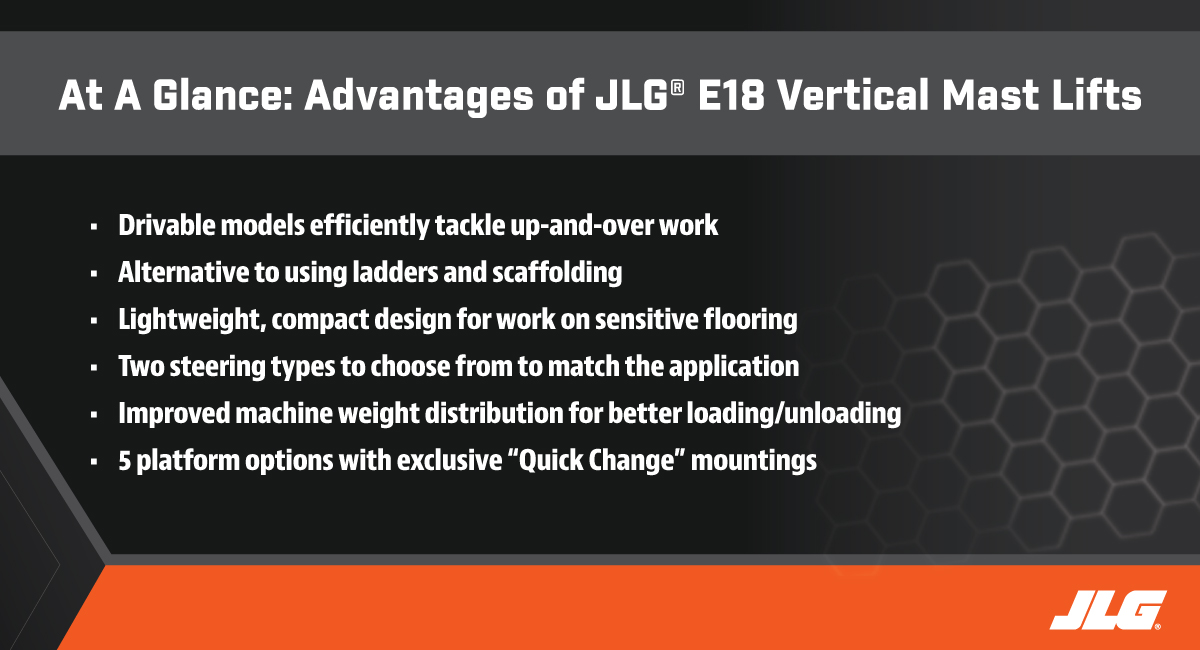 TREND #2: THE ABILITY TO WORK IN
WEIGHT-RESTRICTED APPLICATIONS

Many (if not most), facility maintenance and construction jobsites need the work to be done in areas that are difficult to navigate with larger machinery, this includes traditional slab scissor lifts. Which brings us to the point, vertical mast lifts in comparison to slab scissor lifts, the primary variable is simply "size".
The mast lift models by JLG have a smaller footprint (about 2 ft in width and less than 7 ft in height), and 0-turn maneuverability around the jobsites and facilities. With that, they are also lightweight with most models coming in under 2000 lbs. Because of the lightweight design the mast lifts can be driven through a facility and used on weight-restricted flooring (carpet, concrete, hardwood laminates, etc). While adding in being small enough to fit in to tight spaces, they can be maneuvered between floors in standard elevators!
Another benefit to user is that because of their compact size, when stowed, can fit in to small spaces like utility closets for storage.
A LOOK AT JLG VERTICAL MAST LIFTS

To meet market demand for these types of lightweight aerial lifts, All Access Services has relied on the 2 new vertical lifts by JLG to meet this demand, the E18MML and E18MCLBoth are proven field products that increase efficiency and offer a productive way to tackle up and over work that's needed.
Offering a choice of castor type steering that is ideal for use in stock picking in warehouses, or scissor-type steering for construction use. With the batteries under the work platform, the machine weight is distributed for efficient loading and unloading. There are 5 different platforms to meet the tasks at hand, and equipped with "Quick Change" mountins for 1 minute change-out.
About All Access Services
We now have locations to serve you in the Los Angeles, Orange, Riverside andSan DiegoCounties, we continue to grow every year and stand by our motto no matter what… Our Motto, bill only what we quoted, always be on time and to have the highest quality most reliable equipment on the market! We promise to get you there! Any place, Anytime... ANYWHERE.