It's very common to see a range of MEWPs being used in industrial settings including warehouses and data centers, from large boom lifts and rough terrain scissor lifts for outdoor work to smaller, narrower electric-scissor lifts or low-level access models for indoor needs.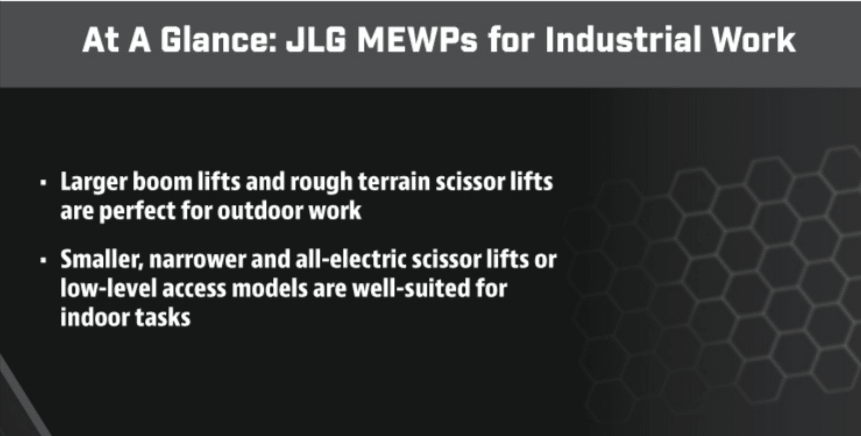 A reason for this is the demand in consumer buying habits. With a larger % of purchases being completed online, warehouse space is in high demand, and warehouse construction continues to grow. This type of construction requires continuous placement of utilities at a fixed height along the length of a building, and many types of MEWPs are designed with this capability.
There is also a growing demand for narrower lifts being used between aisles for access to ceiling areas where lighting and other maintenance requirements are needed.
Like warehouses, to support our data-driven world, the use of aerial equipment in data centers is growing for these types machines during both construction and longer-term maintenance work stages.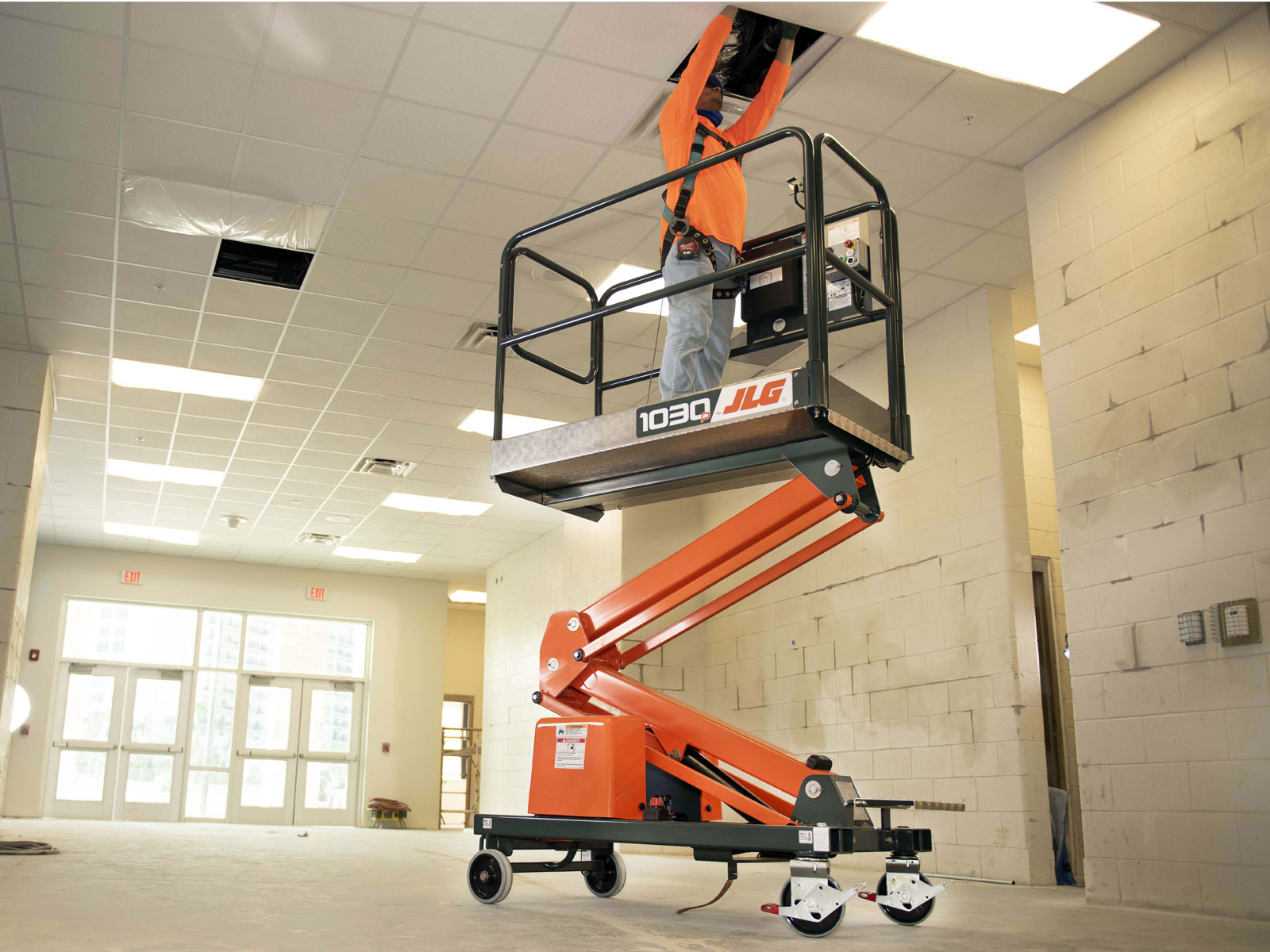 Along with their uses in data centers and warehouses, there are other industrial segments where demand is also strong. This is due to construction and maintenance being required in industrial facilities including manufacturing, airports, aviation, chemical plants, oil & gas refineries, laboratories, wind and solar farms, and food processing storage. New sites are continuously being developed and the facilities that are up and running require regular maintenance, while others undergo continuous upgrades, there's consistent work to be done, driving strong demand across the industrial sector for equipment. A variety of boom, scissor and vertical lifts are used in these applications.
With that being said, the demand for low-level access lifts (under 20 feet) in industrial applications continues to grow as companies place more focus on replacing ladders and scaffolding in the workplace. Ladder falls and overuse injuries as the result of ladder use have many negative outcomes. Along with potential employee injury, falls can lead to lost time, reduced productivity, and result in expensive workers' compensation claims. Safety-conscious organizations are committing more to the elimination of ladders when alternative equipment like low-level access lifts can be used to complete the work safely.
Low-level access machines are designed for operator comfort and efficiency. They are built to reduce strain on the body and minimize the risk of back injuries caused by repetitive movements, such as climbing up and down a ladder. Once in the air, operators in low-level access equipment can use both hands comfortably to complete work at height, a full 360 degrees.
Features including portability benefits as well, with low-level access equipment having the ability to be lowered and moved from 1 location to another to perform multiple tasks throughout the facility. The products have small footprints, are lighter weight for use on sensitive flooring, and can fit into elevators for movement between floors.
For the industrial market, including manufacturing and facilities management, All Access has a fleet of aerial equipment that features compact sizes, low vehicle weight, narrow chassis, and enhanced maneuverability, helping employees to be as efficient and productive as possible.
About All Access Services


Serving construction projects throughout Southern California with heavy equipment rentals, we have 3 locations in San Diego, Orange County, and Riverside to serve our clients. Each location carries a fleet of scissor lifts, telehandlers, boom lifts, and forklifts available for rent at affordable rates. We strive to provide the best customer service in the industry and hope to earn your trust and business!