They work like telescopes to extend to heights that would be difficult to reach otherwise.
While there are times where a scissor lift may be needed for a long term rental in various industries, construction sites typically need scissor lifts for extended periods of time. Most large construction projects can last months and the jobsite requires the right equipment to be ready and available each and every day to keep schedules moving along. All Access Services has worked hard to become one of San Diego's trusted scissor lift rental providers for projects throughout the County.
When it comes to reliability, our team understands that equipment performance is one of the most needed factors when it comes to jobsite efficiency. We have a team of All Access mechanics that meticulously maintain the equipment in our fleet to ensure industry standards for machine performance and safety
26' Long Term Scissor Lift for Rent

As we're sure you're aware, scissor lifts are sought after on job sites because of their ability to not only perform indoors and outdoors, but they work to allow employees to do the necessary tasks at levels of height safely. Scissor lifts are versatile because they have the ability to move around the premise as needed.
If you aren't sure what size scissor lift you need, just give us a call or fill out our request a quote form and we will answer any questions you have as well as work with you to ensure you have the right scissor lift size for your needed tasks.
Please fill out our online form to receive more information or call us today!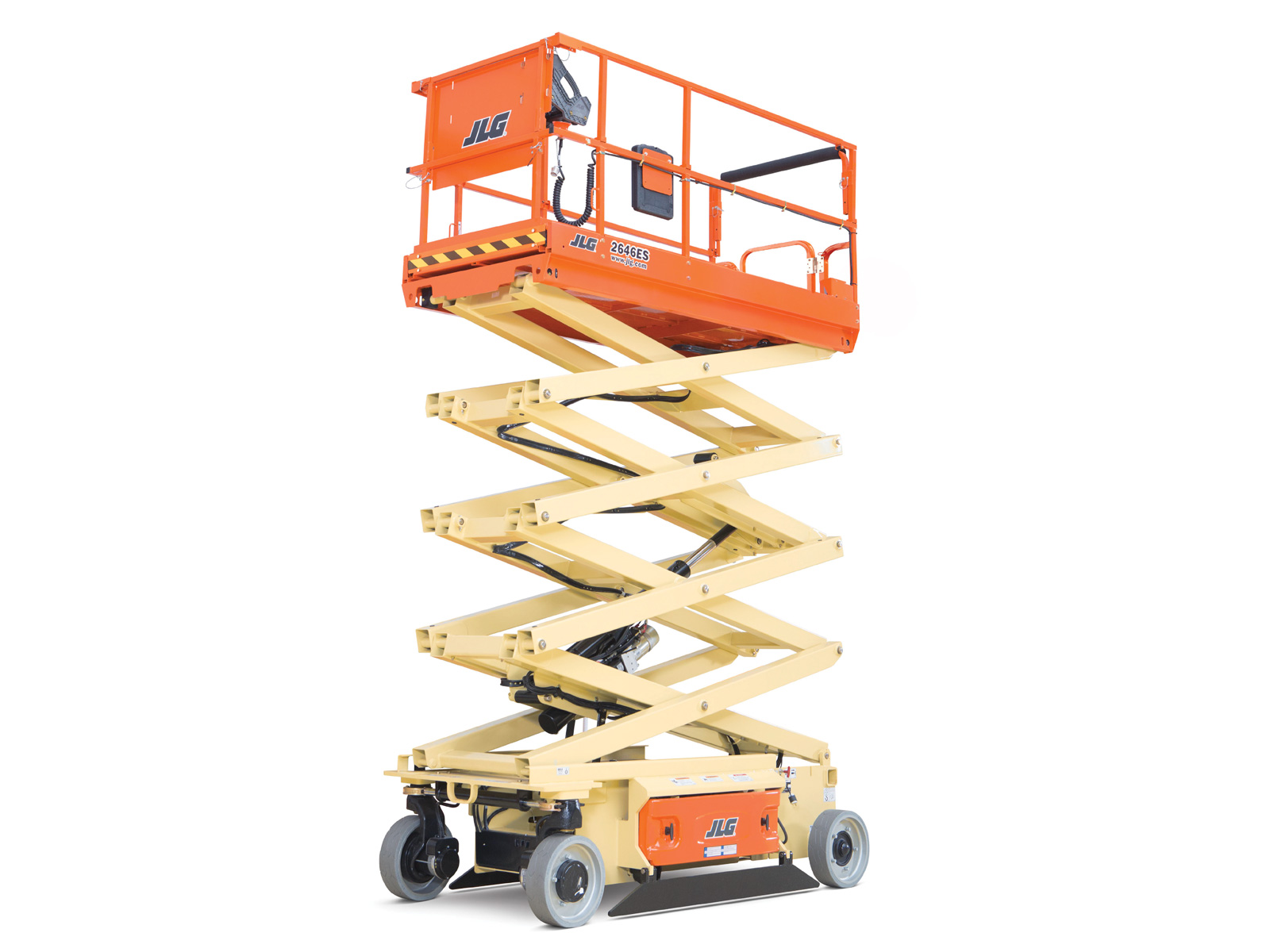 Key Features of the 26' Scissor Lift

Quieter, Cleaner Operations for a Variety of Environments
Electric Drive and Integrated Components with Only 2 Hydraulic Hoses
Stay on the Job Longer and Reduce Operating Costs for Leaks or Services Calls
Tight Turning Radius for Greater Maneuverability
Delivers 200% More Batter Life
Stock is Limited
How Are Scissor Lifts Used on Job Sites?

In broad terms, a scissor lift works like an elevator, but is able to drive around. Mainly the scissor lift uses hydraulics to raise and lower the platform and is set on a stack of scissoring arms.
Scissor lifts use either hydraulic or electric motors. Even fuel powered scissor lifts use hydraulic motors to drive the machines. The scissor lifts are perfect for raising and lowering the platform to reach various places on your project.
Specifications
Product Overview
MAKE: JLG
MODEL: 2646ES
EQUIPMENT TYPE: SCISSOR LIFT
ENGINE TYPE: ELECTRIC
TERRAIN TYPE: CONCRETE
Product Features
PLATFORM HEIGHT: 26'
PLATFORM CAPACITY: 1000 LBS
PLATFORM SIZE: 7'5"L X 32"W
DIMENSIONS: 7' 5"L X 32"W
STOWED HEIGHT: 6' 4.5"
MACHINE WEIGHT: 4975 LBS