Maneuverable hybrid units that offer the load lifting capabilities of a forklift with the lifting range of a crane..
Telehandlers are commonplace on jobsites throughout San Diegion region, especially in the construction industry. With construction jobs primarily, heavy equipment is needed for months on end as large scale projects require. All Access Services has a fleet of telehandlers in varying sizes that are available for long term rental, this helps keep your project moving along efficiently knowing the equipment will be on-site each and every day ready to perform the needed tasks. We have earned the respect of our clients as company that provides affordable and reliable equipment to rent that will match expectations on the jobsite.
7000 Pound Telehandler Lift for Rent Long Term

The telehandlers at All Access Services are available in 2 major brands, JLG® telehandlers and SkyTrak® telehandlers. Telehandlers can move heavy loads of materials around the jobsite and up to heights that are difficult to reach, making the workers lives easier during the construction project. Our team of mechanics meticulously maintain our fleet of telehandlers to the highest industry performance and safety standards.When machines aren't operating properly, this can create downtime on a jobsite and delay the overall schedule. The team at All Access understands time is critical, which is why we make sure our telehandlers are ready to perform!
Please fill out our online form to receive more information or call us today!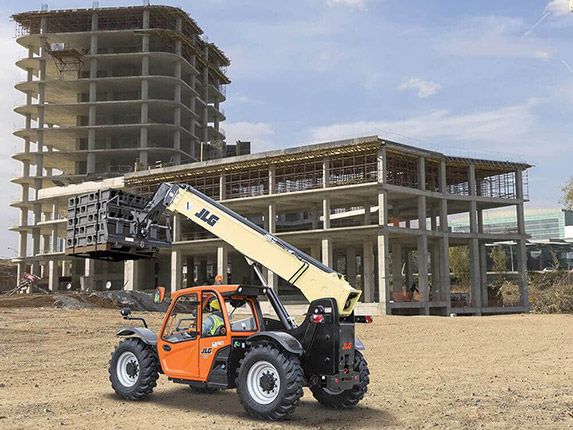 Key Features of the 7000lb Telehandler

Enhanced Operator Comfort – Spacious Cab, Intuitive Single Joystick
Maximum Serviceability – Extended Service Intervals, Durable Components
Greater Operator Confidence – Better Visibility
Stabil-Trak Rear Axle Stabilization – Precision Gravity Lowering System
74 hp Engine Doesn't Require Diesel Exhaust Fluid (DEF) – Meets Tier 4 Regulations
Increased Versatility – Wide Range of Attachment Options
7000 pound Telehandler for Rent Description

The answer is simple they are all the same thing. Its as the name says. It is a forklift that can reach or boom out. A forklift can lift a load straight up and down. A reach forklift can boom out as much as 55 feet. That is the up and out reach. If you went straight out it would tip over.
Specifications
Product Overview
MAKE: JLG
MODEL: 742
EQUIPMENT TYPE: STRAIGHT BOOM LIFT RENTAL
ENGINE TYPE: FUELED
TERRAIN TYPE: CONCRETE
Product Features
PLATFORM HEIGHT: 29'
PLATFORM CAPACITY: 7000 LBS
PLATFORM SIZE: 96"L X 36"W
HORIZONTAL OUTREACH: 42'
DIMENSIONS: 28' 4"L X 98"W
STOWED HEIGHT: 8' 1"
MACHINE WEIGHT: 21,476 LBS