The 45 foot scissor lift is sought after by clients in a wide array of industries because it has one of the narrowest widths in its class, allowing for maneuverabily in tight work areas, but also has the reach performance to keep your workers safe at levels of height. Conveniently located in Orange County, All Access Services has earned the trust of the region in supplying high quality scissor lifts that are available to rent for both short and long-term projects. You may only need the scissor lift for a day or 2 on a particular task, or for the larger organizations, you may have a construction project that needs the equipment on-site for long-term basis, no matter what the need, we can help.
Having worked with thousands of companies in different industries throughout Orange County, we know that efficiency is key for our clients. The last thing you need to worry about is equipment failure or issues that can slow things down, the team at All Access takes sincere pride in our equipment and providing our clients with the highest levels of customer service.
Reliable 45' Scissor Lift for Rent

Of coure with any type of heavy machinery or equipment, you need it to be reliable. Some jobs require the scissor lift be ready each and every day and employees rely on these lifts to keep projects on schedule and on-time. Our mechanics work hard to keep our entire scissor lift inventory maintained and ready to perform for your needs and tasks.
Please fill out our online form to receive more information or call us today!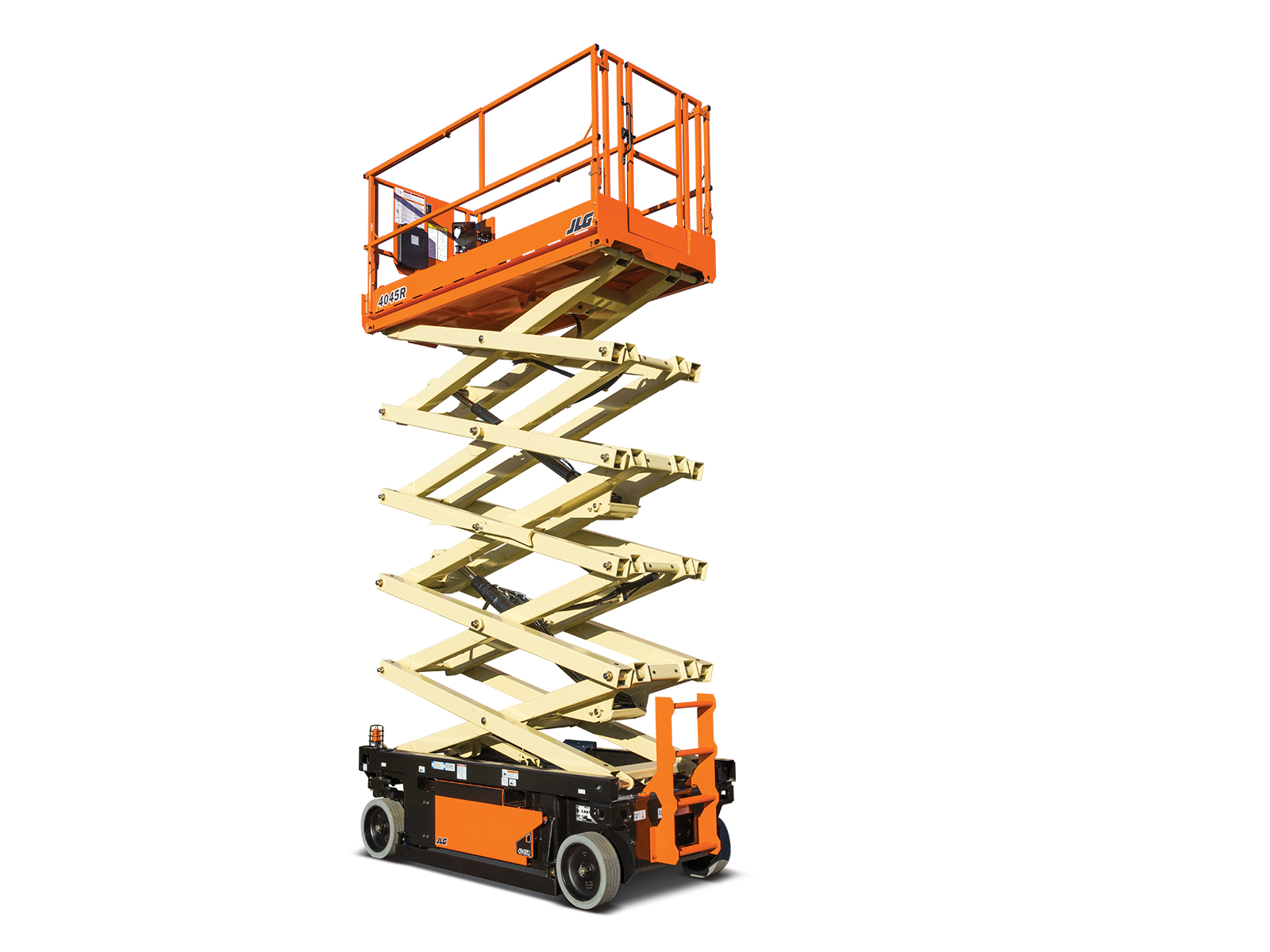 Key Features of the 45' Scissor Lift

One of the Narrowest Widths in its Class
Allows for Use in Warehouses and Distribution Center Aisles
Simplified – Reliable Design
Simple Pothole Protection System has Fewer Moving Parts to Reduce Service Calls
Built Rugged for Rental
All-Steel Platform and Steel Component Trays for Tough Jobs
Specifications
Product Overview
MAKE: JLG
MODEL: R4045
EQUIPMENT TYPE: SCISSOR LIFT
ENGINE TYPE: ELECTRIC
TERRAIN TYPE: CONCRETE
Product Features
PLATFORM HEIGHT: 40'
PLATFORM CAPACITY: 770 LBS
PLATFORM SIZE: 96 "L X 5' 9" W
DIMENSIONS: 96" L X 5' 9" W
STOWED HEIGHT: 4' 7"
MACHINE WEIGHT: 7,000 LBS