Bucket Lifts Help You and Staff Work Comfortably at Levels of Height
All Access Services has become one of San Diego's trusted heavy equipment suppliers because of our ability to get you the machinery you need on-time, and fully maintained. Bucket lifts (also referred to as boom lifts) are a very common piece of equipment that we rent for construction projects and contractor jobs of all shapes and sizes. With a fleet of bucket lifts ranging in various sizes and capabilities, we will have the right piece of equipment to help you get the job done efficiently and safely.
Our team understands that machine maintenance is critical for jobsite performance, which is why our mechanics meticulously maintain our entire fleet of bucket lifts to provide little to no-downtime, the operator and employees will be able to wake up each and every morning ready to perform the needed tasks. With every project, time is vital, and when a machine isn't working properly this can stall the entire project which is why we put a large focus on keeping the machines up to industry performance and safety standards.
Please fill out our online form to receive more information or call us today!
46' Bucket Lift for Rent

Bucket lifts have become a favorite choice of equipment for jobsite workers because of their ability to reach both horizontally and vertically, while maintaining a smaller work platform that allows the machine to fit in tighter spaces. Primarily used in outdoors jobs such as construction sites, tree trimming, HVAC, roofing, painting, and other contractor industries.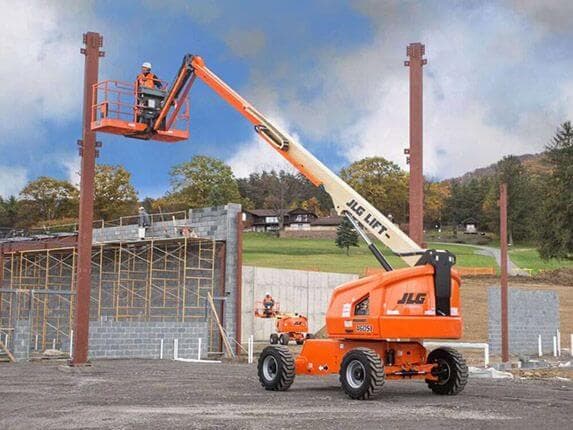 Features of the 46' Bucket Lift

Improved Multifunction Capability Increases Productivity
New Hood Design Provides More Durability and Serviceability
Larger Capacity at 600 pounds
Specifications
Product Overview
MAKE: JLG
MODEL: 460SJ
EQUIPMENT TYPE: STRAIGHT BOOM LIFT RENTAL
ENGINE TYPE: FUELED
TERRAIN TYPE: CONCRETE
Product Features
PLATFORM HEIGHT: 46'
PLATFORM CAPACITY: 600 LBS
PLATFORM SIZE: 96"L X 36"W
HORIZONTAL OUTREACH: 49' 6"
DIMENSIONS: 28' 4"L X 98"W
STOWED HEIGHT: 8' 4"
MACHINE WEIGHT: 16,600 LBS