Here at All Access Services, we provide boom lift rental services for Riverside County and all of Southern California. Our customer service is second to none and we take extreme pride in offering the highest quality and maintained heavy equipment rentals in the industry. Our friendly staff is here to answer any questions you may have and help you choose the right boom lift for your project needs. No matter if you need an articulating boom lift or a straight boom lift, our Riverside location has all the aerial equipment available for your needs.
We offer a free quote, please fill out our "Request Estimate" form or give us a call to speak with a representative!
What Does A Boom Lift Do?

A boom lift is a type of aerial equipment that has an elevated platform to lift workers, tools, and materials to varying levels of height. Boom lifts are commonly used in maintenance, construction, and other industries where work is required in difficult places to reach.
A boom lift consists of a platform attached to a hydraulic arm or "boom", which can be extended and maneuvered to reach a variety of heights and positions. It can be an articulated boom with hinges that provide increased maneuverability, or straight boom which allows for different positioning of the machine but with great reach.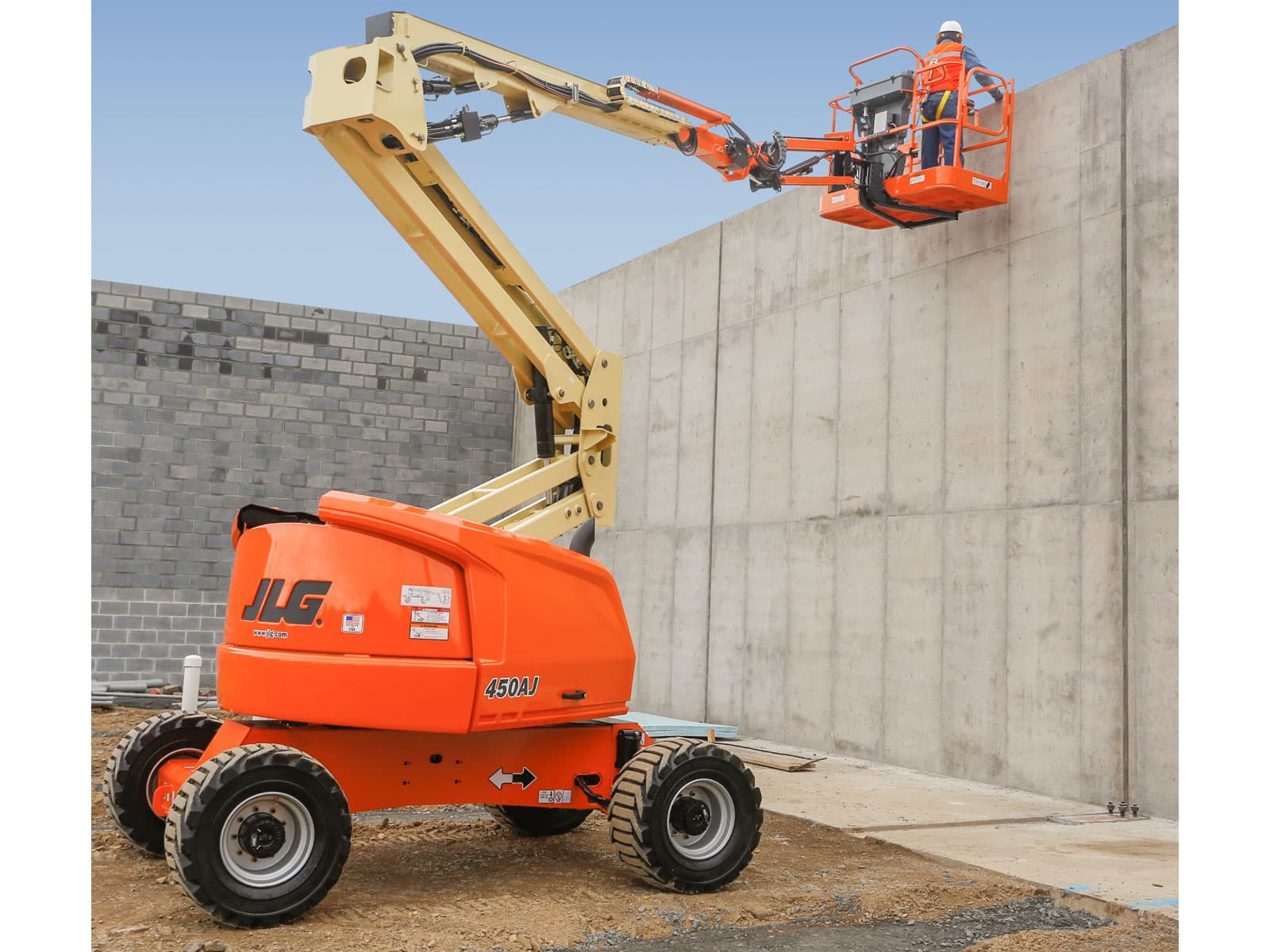 What Is The Difference Between a Boom and Scissor Lift?
A boom lift and a scissor lift are both types of aerial work platforms used for various construction, maintenance, and industrial applications. While they serve similar purposes, there are significant differences between the two:
Design and Movement
The most noticeable difference is in their design and movement capabilities. A boom lift, also known as a cherry picker or telescopic boom lift, features a hydraulic arm (or boom) with multiple sections that extend and articulate. This allows the boom lift to reach greater heights and maneuver around obstacles by extending horizontally and vertically. On the other hand, a scissor lift has a scissor-like mechanism that raises and lowers the platform vertically in a straight line, providing vertical movement only.
Height and Reach
Boom lifts typically offer greater height and reach capabilities compared to scissor lifts. They can extend vertically to significant heights, sometimes exceeding 100 feet (30 meters), and also provide outreach horizontally. This makes boom lifts ideal for tasks that require access to high or hard-to-reach areas, such as construction projects, tree trimming, or window cleaning. Scissor lifts, while they can also reach considerable heights, are generally limited to vertical movement and are best suited for tasks that require a stable platform at moderate heights.
Common Uses of the Boom Lift

Contractors choose boom lifts when a project is needed to be done at elevated heights. Not only can boom lifts make the work environment more efficient and safer, the increased stability of a boom lift can help workers reach a higher capacity.
Examples of projects boom lifts can help with:
Warehouse Services
Putting Up Scaffolds
Tree Triming
Painting Walls and Ceilings
Hanging Signs
And much more!
Choosing The Best Lift For Your Job
If you need something higher than a scissorlift, a boom lift is the next best choice. Boom lifts have two-wheel and four-wheel drive with tires and tread to help keep the equipment stabilized and the ability to maneuver to the places that need to be reached.
Boom lifts can be used outside and inside and also can be fueled by gas, electricity, or even a mix with hybrid power. They come in a variety of shapes and sizes that can reach varying levels of platform heights. Most lifts have self-levelling capabilities so they can be set up in a short amount of time and are ready to be used!
Questions Should You Ask Before Renting a Boom Lift?

Our customer service team is here to answer any questions you have to help you find the boom lift that will work best for your job or project.
Common Questions Include:
How high will you need the boom lift to go for your job?
What type of movements will be needed?
How many people will need to be on the lift?
How much work material will the lift need to carry?
Are there power sources on site?
How much space do you have?
There will certainly be more questions you may have but these will help get the answers to the platform height and type of boom lift you will need.
What Are the Two Types of Boom Lifts?

The arm-like piece that is connected to the platform is referred to as the "boom". It is a longer arm that uses hydraulics to extend to the heights that you need to reach for your job or project. The 2 primary types of boom lifts are telescopic boom lifts and articulating boom lifts, often referred to as knuckle booms.
Straight Boom Lift

A straight boom lift, also referred to as a "telescopic boom lift" or "cherry picker", is a versatile piece of aerial equipment used in a wide variety of industries such as maintenance, construction, and utilities. It has a straight extendable boom that can reach great heights, larger models up to 185 feet, providing access to hard to reach places. The booms can be raised and lowered vertically, giving operators the ability to maneuver the equipment safely. Straight boom lifts have great stabili yand design, offering improved safety and efficiency in working at levels of height, and are great for both indoor and outdoor environments.
Articulating Boom Lift

The articulating boom, also referred to as a "knuckle boom", is designed with multiple hinged sections giving it flexibility when working at elevated areas. The boom has the ability to articulate or bend at different angles, giving operators the ability to access challenging environments with ease. Any task that requires working at height, no matter if its construction or maintenance, articulating boom lifts provide a safe and efficient solution for allowing workers to navigate job site obstacles.
We offer a free quote, please fill out our "Request Estimate" form or give us a call to speak with a representative!