If you're in need of a boom lift for your next construction or maintenance project in San Diego, All Access Services carries a fleet of boom lifts available for rent at affordable rates. No matter if you need a boom lift for a short- or long-term basis, we can get you what you need. With over 3 decades in the equipment rental industry, we carry a wide range of boom lifts that will help your workers with their aerial access needs. All Access offers flexible rental options to accomodate your project timeline. No matter if you require a small boom lift for an indoor project or a larger one for an outdoor project, All Access has the equipment for you.
All Access Services has all sizes of electric boom lift rentals near you. Boom lifts are perfect for indoor and outdoor use. Boom lifts are articulating boom lifts and can get up and over obstacles. Our electric boom lifts range from 30 feet to 60 feet.
Big Tools.
Local Service.
So what is an Articulating Boom Lift?

A type of aerial lift, boom lifts allow for both horizontal and vertical reach. They are helpful pieces of equipment for outdoor jobs, industrial tasks and construction projects. Boom lifts allow for a higher reach than scissor lifts but typically have a smaller work platform.
What Does A Boom Lift Do?

Boom lifts are the perfect pieces of heavy equipment hat allows you to reach difficult working heights. Boom lifts provide a secure workspace as opposed to using a standard ladder or man lift. Boom lifts are affordable to rent and provide a perfect safety measure for work done at higher elevations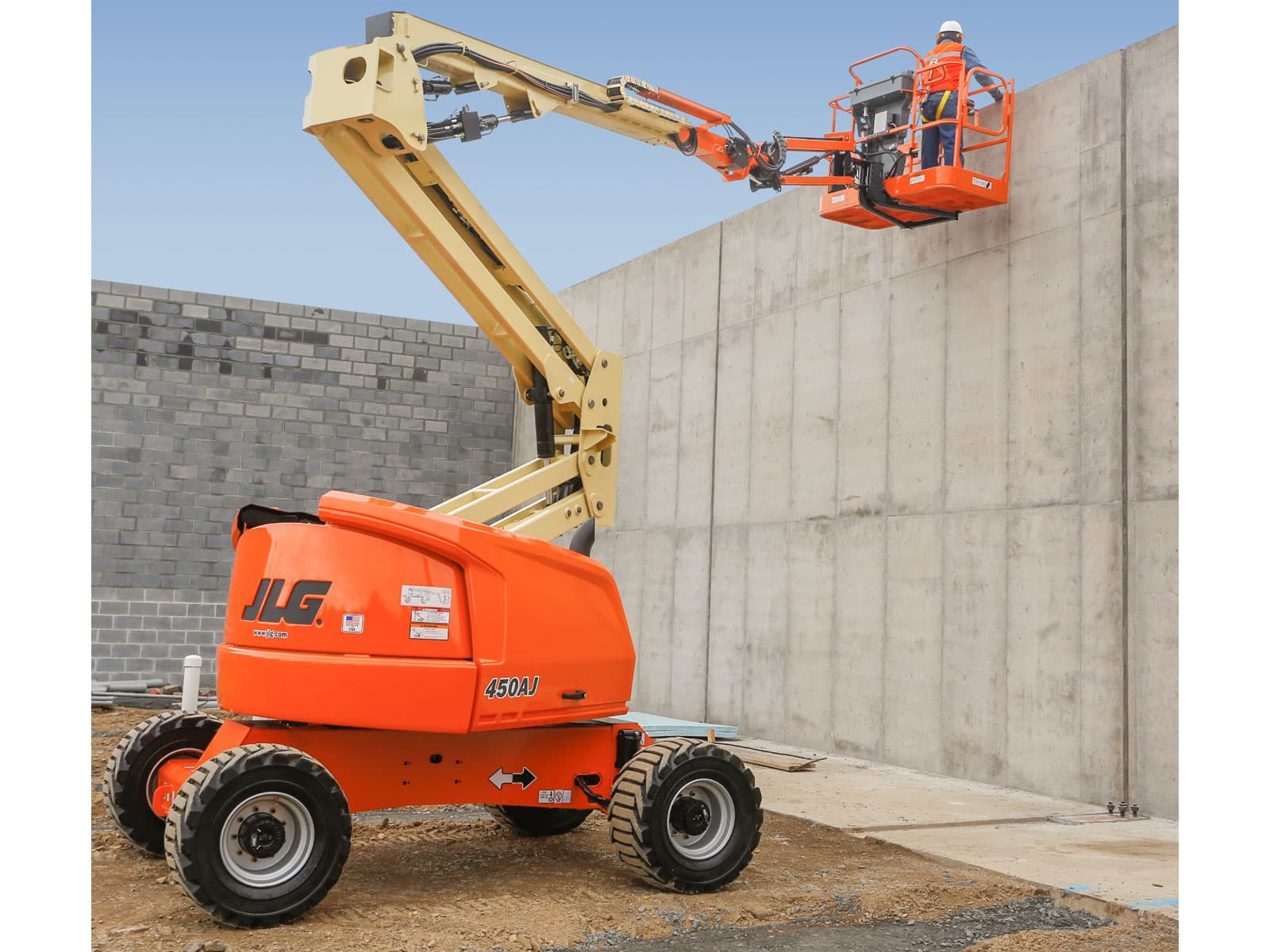 What Is The Difference Between a Boom and Scissor Lift?

The scissor lift is another piece of heavy equipment that is used for working at higher levels. The scissor lift tends to move strictly up and down, whereas a boom lift can provide forward reach. There are knuckle boom lifts and straight boom lifts so it depends on the flexibility you need for the working height.
Common Uses of the Boom Lift
Contractors choose boom lifts when a project is needed to be done at elevated heights. Not only can boom lifts make the work environment more efficient and safer, the increased stability of a boom lift can help workers reach a higher capacity.
Examples of projects boom lifts can help with:
Warehouse Services
Putting Up Scaffolds
Tree Triming
Painting Walls and Ceilings
Hanging Signs
And much more!
Choosing The Best Lift For Your Job
If you need something higher than a forklift, a boom lift is the next best choice. Boom lifts have two-wheel and four-wheel drive with tires and tread to help keep the equipment stabilized and the ability to maneuver to the places that need to be reached.
Boom lifts can be used outside and inside and also can be fueled by gas, electricity, or even a mix with hybrid power. They come in a variety of shapes and sizes that can reach varying levels of platform heights. Most lifts have self-levelling capabilities so they can be set up in a short amount of time and are ready to be used!
What Questions Should You Ask Before Renting a Boom Lift?

Our customer service team is here to answer any questions you have to help you find the boom lift that will work best for your job or project.
Common Questions We Will Ask to Ensure You have the Correct Boom Lift include:
How high will you need the boom lift to go for your job?
What type of movements will be needed?
How many people will need to be on the lift?
How much work material will the lift need to carry?
Are there power sources on site?
How much space do you have?
There will certainly be more questions you may have but these will help get the answers to the platform height and type of boom lift you will need.
What Are the Two Types of Boom Lifts?

The arm-like piece that is connected to the platform is referred to as the "boom". It is a longer arm that uses hydraulics to extend to the heights that you need to reach for your job or project. The 2 primary types of boom lifts are telescopic boom lifts and articulating boom lifts, often referred to as knuckle booms.
A Telescopic Boom Lift

Articulating boom lifts can also be referred to as straight boom lifts, and in some cases are called stick boom lifts. A telescopic boom lift has a single extendable arm that stretches out over a certain distance and we often recommend it for projects in open spaces or on rectangular structures.
An Articulating Boom Lift

These are often referred to by "knuckle boom lift". The difference between the articulating boom lift and the telescopic boom lift is that the articulating lift has different size "arms" that can help you reach tight spaces. We often recommend articulating boom lifts for jobs or projects that will have tight spaces or for complex structures!
Call us today or use our request a quote form and we will get back to you!