Maneuverable hybrid units that offer the load lifting capabilities of a forklift with the lifting range of a crane..
The 8000 pound telehandler plays a key factor on construction sites throughout the San Diego region. It is a versatile piece of equipment that allows operators and jobsite employees the ability to move large loads of materials to heights that would otherwise be difficult to reach. All of the telehandlers available for rent in our fleet are meticulously maintained to the highest industry performance and safety standards. Providing affordable telehandlers for construction sites is our job, we are here to help!
Our friendly staff can provide you a free estimate for a telehandler rental and provide drop off on the day/s you need it as well as drop off when the equipment is no longer needed. If you aren't sure what size you need, we will work with you to make sure you have the right telehandler to handle the jobsite tasks.
8000 Pound Telehandler Lift for Rent

Our telehandlers are available in 2 brands, JLG® telehandlers and SkyTrak® telehandlers. These telehandlers can reach the greatest heights of performance on the jobsite. Telehandlers can be used both indoors and outdoors and even in the most demanding terrains. These are the machines suited for jobs where heavy lifting productivity is critical.
Please fill out our online form to receive more information or call us today!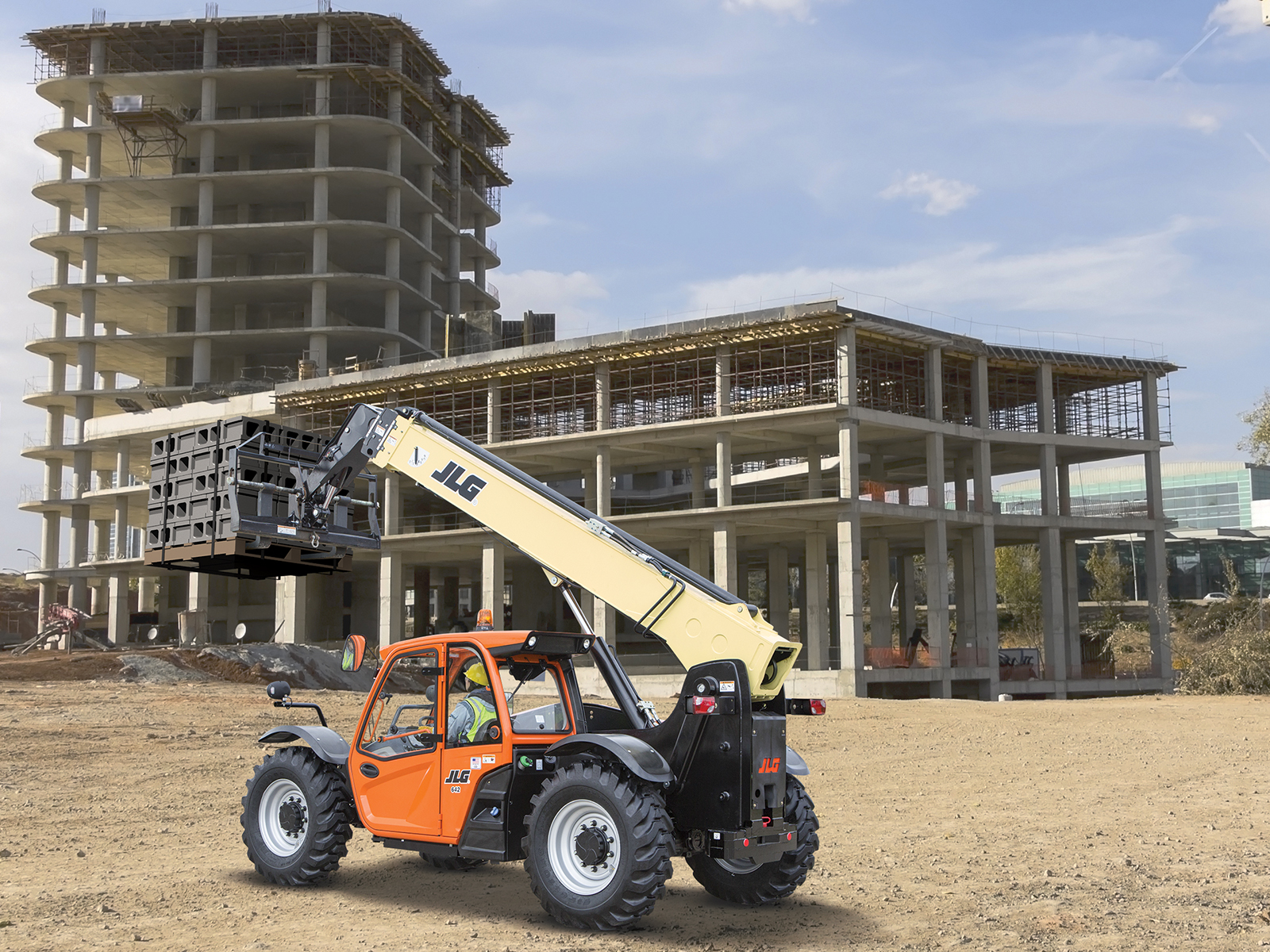 Key Features of the 8000lb Telehandler

New, Intuitive Single Joystick Controls All Boom Functions
Maximize Productivity with Improved Boom Speed
Redesigned Cab Includes New Dashboard, Integrated Arm Rest, and Optional AC
Quick Construction Telehandler for Rent Description

The answer is simple they are all the same thing. Its as the name says. It is a forklift that can reach or boom out. A forklift can lift a load straight up and down. A reach forklift can boom out as much as 55 feet. That is the up and out reach. If you went straight out it would tip over.
.
Specifications
Product Overview
MAKE: JLG
MODEL: 8042 Telehandler
EQUIPMENT TYPE: TELEHANDLER
ENGINE TYPE: FUELED
TERRAIN TYPE: CONCRETE
Product Features
PLATFORM HEIGHT: 26' 7"
PLATFORM CAPACITY: 8000 LBS
PLATFORM SIZE: 96"L X 36"W
HORIZONTAL OUTREACH: 49' 6"
DIMENSIONS: 28' 4"L X 98"W
STOWED HEIGHT: 8' 4"
MACHINE WEIGHT: 27,100 LBS