All Access Services provides scissor lifts to rent for clients throughout the County of Riverside. These are often used for construction projects, tree trimming, window cleaning services, and other various projects a company or individual may need.
All Access Services is the best place to find all sizes of Riverside scissor lift rental. Family owned and operated in Southern California scissor lift rental company. You get great customer service and affordable prices. We always stick to our word with pricing.
Call All Access Services today for the best prices on Riverside scissor lift rentals!
What is a scissor lift?

In broad terms, a scissor lift works like an elevator, but is able to drive around. Mainly the scissor lift uses hydraulics to raise and lower the platform and is set on a stack of scissoring arms.
Scissor lifts use either hydraulic or electric motors. Even fuel powered scissor lifts use hydraulic motors to drive the machines. The scissor lifts are perfect for raising and lowering the platform to reach various places on your project.
What is the most popular scissor lift?

The most popular scissor lift rental at All Access is our 19 foot electric scissor lift.
It is a compact lift about 32" wide and about 90" long. It will go through a standard man door. The 19' scissor lift will put your feet about 19 feet giving you a working height of 25 feet.
They work like telescopes to extend to heights
that would be difficult to reach otherwise.
How To Find The Best Scissor Lift To Rent?
The most important part of choosing the correct scissor lift is determining how high you need for the working height. The golden rule is take the working height needed and minus six feet.
We often see many customers pay too much with other companies because the order the wrong size. Our team will discuss with you the needs and make sure you get the proper height. The customer service team at All Access is here to answer any questions you have and provide exceptional service from call to delivery to pick up!
Are you working indoors or outdoors?
Are you working on concrete/ asphalt or dirt, grass or gravel?
Do you need to go through doors or get into tight areas?
Call our friendly staff and tell them your platform height and your working conditions and we will match you with the best scissor lift rental for you need.
General Riverside Scissor Lift Rental Features:

Increased Battery Life: Refreshed design includes electric drive, which delivers up to double the battery life of a standard scissor. Time Savings: Standard QuikFold rail system allows operators to fold the rails in a fraction of the time of a standard machine. Simplified Use & Service: Standard USB charger and phone holster improve the operator experience, while a high degree of commonality with other JLG® scissors simplifies service. More Options: Available as an indoor-only option (ES1932i).
Please use our online quote form for an estimate or you can certainly give us a call!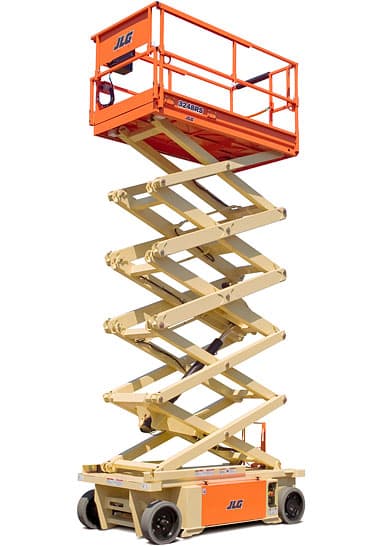 All Access carries scissor lifts for all areas in and around the Riverside County, including Hemet scissor lifts, Palm Springs scissor lifts, and Temecula scissor lifts. Clients of all sizes (including individuals) rely on the scissor lifts available for rent at All Access Services.
With a full commitment to our clients aerial needs, including Murrieta scissor lifts, Palm Desert scissor lifts and more!
Many Menifee scissor lifts have a compact and mobile design like Coachella scissor lifts, Moreno Valley scissor lifts making them easy to move and position in various locations.
Some Corona scissor lifts, Norco Scissor lifts may also include additional features such as extension decks, outriggers for increased stability, and power options for working outdoors or in remote locations.